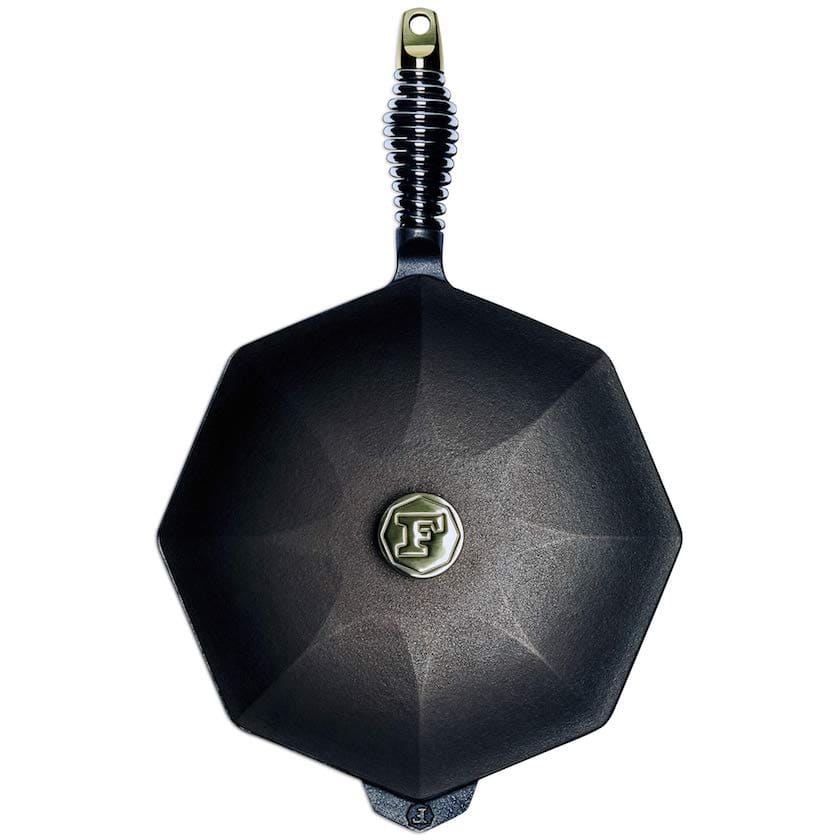 FINEX 12 Cast Iron Skillet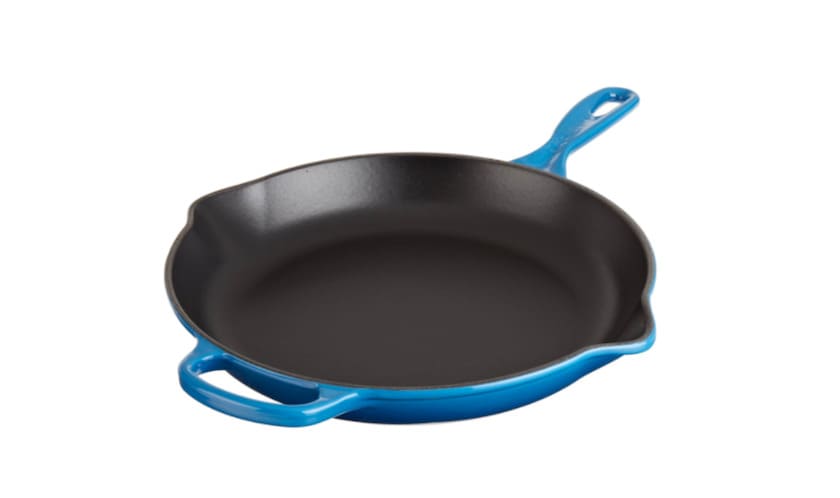 Le Creuset Enameled Cast Signature Iron Handle Skillet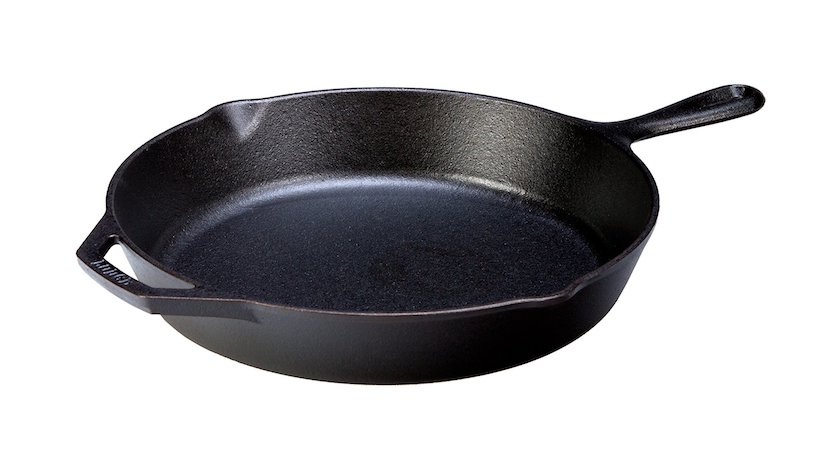 Lodge 12" Cast Iron Skillet With Pour Spout
Whether you are a veteran chef or an amateur foodie, a cast iron skillet is an essential item for your kitchen. It helps in undertaking many cooking tasks. With it, you can sear meat, fry chicken, or craft pizza. It produces crispier, warmer food, and can reach high temperatures.
Cast iron skillets are made with heavy-duty material for high durability. With proper maintenance, a good skillet can last a lifetime. If you want to enjoy seamless cooking, finding the best cast iron skillet is critical. One of the best things about cast iron is that it gets better with time, thanks to surface-seasoning.  
Cast Iron Skillet Buying Guide
Your cast iron skillet should be all-round and versatile. It should bake, brown, and sear. Here is a handy guide to help you choose the best cast iron skillet;
Weight
The weight of cast iron cookware is an essential factor to consider. Cast products come in different styles and sizes that determine their weight. Heavier skillets tend to be better than lighter ones. They hold more heat and provide a better cooking experience.
Modern cookware might be lighter than the cast iron giants of previous centuries. Of course, this is due to advances in the casting of metal. Whichever weight you decide to go for, make sure it is comfortable and can cook without much strain.
When buying a traditional cast iron skillet, consider the heavier ones. They have more material and can withstand heavy usage. If you decide to go for lighter ones, check out their iron specifications.
Size
The size of your skillet depends on the intended usage. Investing in a skillet above 10" is a good idea. If you cook food that needs the extra surface, having a deep skillet is imperative. For items such as pizza and eggs, you need a shallow skillet.
12" skillets are more common as they sear and release food well. If you are going for a larger skillet, make sure it's not overweight and tosses food well.
Enameled or Uncoated
Enameled cast iron appliances have fused glass particles to prevent rusting. The enameled cast iron is a great heat conductor and is easier to clean. Besides, it does not need seasoning, unlike uncoated cast iron.
Uncoated cast iron skillets require preseasoning before use. They get better with time as the seasoning proliferates. They are naturally non-stick, more durable, and can be used on the grill.
Generally, both types are great. But, enameled cast iron skillets are better for acidic foods. If you intend to use the grill, go for uncoated skillets.
Thickness
Your ideal cast iron skillet should be thick enough to withstand years of heavy use. Thin skillets tend to wear out very fast and are not suitable for immense heating.
When buying a cast iron skillet, choose around 0.125 inches. This is the ideal thickness recommended for skillets. Thicker skillets are more sluggish to heat and might keep you waiting for longer.
Handles
While cooking great food is the ultimate, being able to maneuver the skillet is essential as well. Your cast iron skillet should have a user friendly handle that does not burn. The handle material should withstand immense heating without burning your hand.
Also, you should be able to hold the skillet easily. Pans that have double handles allow easier cooking. However, they should not increase the weight of the pot to become heavy for a single waist.
When purchasing your skillet, examine the handle material to determine its heat resistance.
Best Overall: FINEX 12' Cast Iron Skillet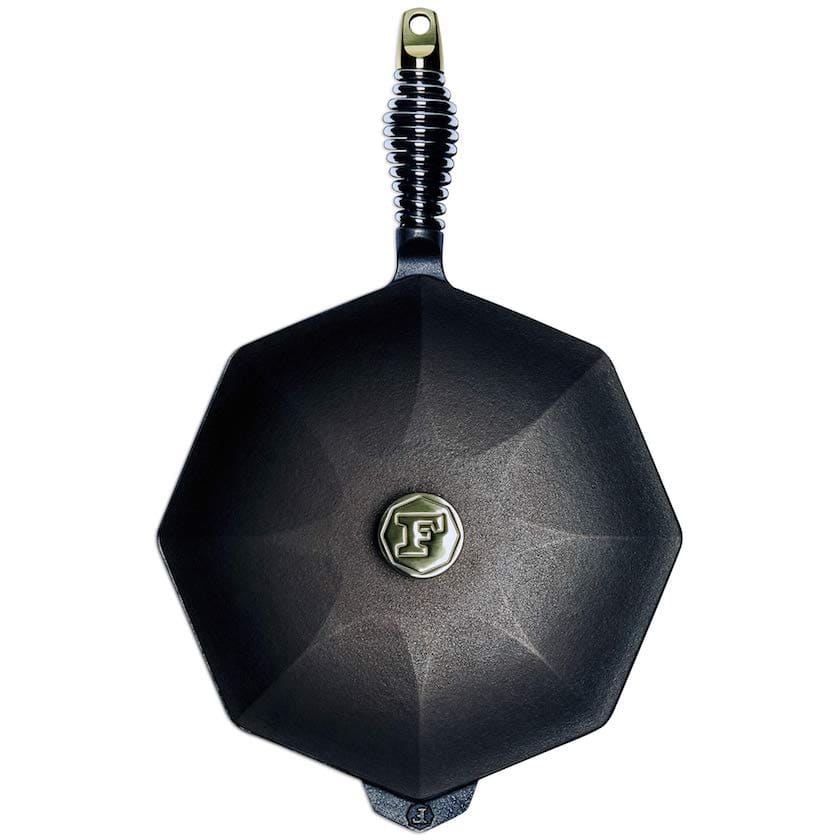 The Finex 12" is the best overall cast iron skillet. It is artisan-made and looks attractive. Its cooking surface is ultra-polished to allow the build-up of a non-stick seasoning. The flaxseed oil seasoning creates an excellent finishing.
This pan has an octagonal shape that allows you to pour liquid contents without spilling. It comes with a matching cast iron lid that contains flavor, especially when making sauce. This skillet is pre-seasoned to sear steak and produce a flavorful sauce.
The handle of this skillet is spring-shaped. It is comfortable to hold as it dissipates heat faster than the standard handles. Besides, its inside is machined to avoid sticking and allow easy cleaning. The ergonomic handle makes it easy to lift the skillet from the stovetop to the table. It is well finished with a brass cap to hang after cooking.
Like the antique skillets, this Finex cast iron skillet has a unique geometric shape. It experiences little to no drips and spills. The nearly non-stick surface releases food faster, making it easy to wash.
With maximum heat retention, this skillet is ideal for searing big salmon and steaks. Its extra-deep walls contain thick chops very well. Also, it bakes very well.
Do you mind food flavor when cooking? If yes, the Finex cast iron skillet is worth investing in. Its lid covers the pour spouts perfectly to allow slow simmering. With this lid, you can lower your burner's heat while maintaining the desired temperature.
Things we like
It Heats More Evenly. This skillet heats evenly to ensure food does not cook in spots. It is uniform in thickness to distribute heat to all parts. The majority of users prefer this cookware's heat distribution, especially when cooking pizza.
Enables Easy Pouring. Unlike rounded skillets, the Finex 12" is octagonally-shaped to pour contents well. If you want to store used oil or pour soup, you can do it through any of its edges.
Versatile. You can use this skillet for many purposes. It can buff muffins and cakes, cook eggs, and sear steak flawlessly. Besides, you can use it on electric, gas, and traditional stoves.
Unique Design. While the majority of skillets in the market are rounded, the Finex 12" has a unique octagon shape. Besides, it comes with an ergonomic handle that holds very well.
Things we don't like
Heavy. This pan might be unideal for people with small palms. Weighing about 2 pounds, it can prove difficult to use, especially for younger people.
Best Premium: Le Creuset Enameled Cast Signature Iron Handle Skillet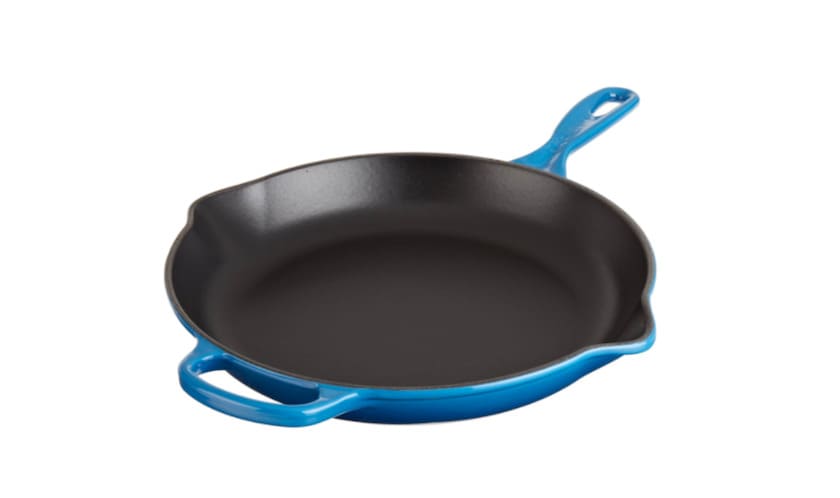 This enameled skillet is handy cookware for food enthusiasts. Featuring a helper handle, it is easy to maneuver around in the kitchen. The helper handle adds the ultimate control and comfort when lifting. It makes cooking fun, enjoyable, and a seamless task.
This skillet comes with durable, satin-black enamel. It does not require any seasoning, unlike uncoated skillets. The enamel feels smooth and exudes no glossiness, unlike light-colored ones. It is long-lasting and keeps looking good even after continued use.
Unlike many cast iron skillets, it is lightweight. Anyone, from young to old, can use this skillet comfortably. It doesn't need muscles to carry around hence great cookware for the young and old.
The Le Creuset enameled cast iron skillet is designed for high surface temperature cooking. For cooktops heating upto 500°F, it cooks with zero issues. Higher surface temperature is ideal for frying, searing, and grilling.
With time, this skillet builds up a patina on its surface. The patina enhances cooking and the release of contents. It should not be removed during cleaning as it improves the overall cooking performance.
Pros
Comfortable to Use. This skillet is among the most lightweight we've researched or tested. It weighs a few pounds, which makes it easy to lift from the stove to the countertop. It has a great, ergonomic handle that provides an excellent grip.
Ideal for High Surface Temperature. You can use this skillet on a high surface temperature easily. Its enameled surface can withstand long periods of use under high temperatures. Besides, it does not wear out even with the intense heat.
Cons
Requires Extra Care. Using this enameled cast iron skillet requires proper handling. While its enameled surface is designed to last long, it might damage due to thermal shock. This shock occurs when you plunge the hot pan in cold water.
Gets Sticky With Time. Some users feel that this skillet gets sticky after some time. Its enameled surface is a little bit grippy and porous. This makes it hard to clean after cooking. Also, you cannot use abrasive cleaners on its inner surface.
Best Budget: Lodge 12' Cast Iron Skillet With Pour Spout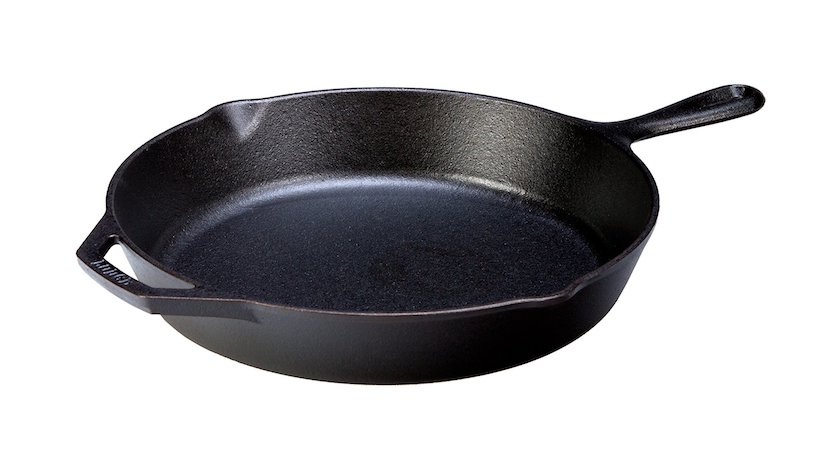 The Lodge 12" is perhaps the best budget skillet you can purchase. At $20, this skillet is cheap but profoundly reliable. Besides, it has handy features that make it a household favorite.
Unlike many skillets in the market, it has two spouts to ease the pouring of contents. The two spouts are well placed on the sides for both right and left-hand users. Its spout design enables pouring without overwhelming the user with weight.
The Lodge 12" is seasoned with oil to release food content quickly. Its natural, easy-release finish makes it suitable for sticky foods such as eggs. The cast has no imperfections or voids, and the walls are heavy and thick. Also, it's easy to clean, as you only need only soap and water to do the work.
This skillet is multipurpose and can handle many tasks. It can sear, fry, grill, bake, sauté, and broil perfectly. Also, it is compatible with electric and induction cooktops. With fast heating and excellent heat retention, it saves energy.
Things we like
Easy to Clean. The majority of users find this skillet easy to clean. With soap, water, and a soft scrubber, you can quickly remove any dirt on it.
Ergonomic Design. You don't have to worry about ugly-looking pans. It is well-rounded and has great-looking spouts. Also, it is naturally deep to hold more food.
Great Heat Retention. If you are concerned with the high energy bills, this is the right skillet for you. It heats in a short time and retains heat for long.
Versatile. Do you need a pan to use in the wooded camps or fry a sumptuous meal for your visitors? You can use this skillet virtually anywhere, whether at home or outdoors. It is easy to carry and takes negligible space in your backpacks.
Things we don't like
Low Handle Grip. For some users, this handle can be overwhelming. Those with small palms find it hard to use, especially when cooking a lot of food
Lodge 17' Seasoned Cast Iron Skillet Pan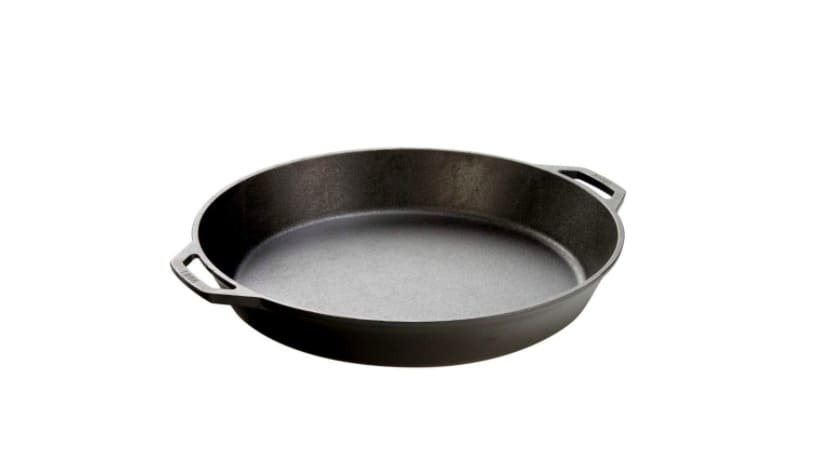 Made in the USA with utmost precision, this is the best-oversized cast iron skillet. It is highly versatile, long lasting, and gets better with continued use.
This multifunctional cookware is ideal for simmering, roasting, baking, and searing. Due to its even heating and perfect heat distribution, it can cook all sorts of foods better than a regular pan.
This skillet comes pre-seasoned, ready for use. Lodge uses vegetable oil rather than synthetic coatings to season its skillets. Vegetable oil makes a healthy seasoning that does not stick.
The 17" surface is big enough to cook larger dishes. You can use almost everywhere, from a glass top stove to a BBQ grill. The two ergonomic assist handles enable secure handling of the skillet. It does not come with the long, one-hand handle found in smaller skillets.
Things we like
Ideal for Large Families. If you want to prepare dishes for a large family, this is the right skillet for you. The 17" surface and 2" depth is big enough to cook a meal for a family of 7+.
Tough for Decades of Cooking. You can use this skillet as much as possible without having any problems with it. This cast iron skillet is multigenerational and has a long history that traces back to over a decade ago.
Does Not Require Special Handling. This cast iron skillet is simple to maintain. You can use multiple heat sources conveniently. Also, it does not require any particular washing procedure as you only need soap and water.
Things we don't like
Heavyweight. This skillet is heavier than its 12" counterparts. Weighing over 13 pounds, it can be overwhelmingly heavy to use. However, the two ergonomic handles make work easier.
Lodge Pre-Seasoned Cast Deep Skillet With Iron Cover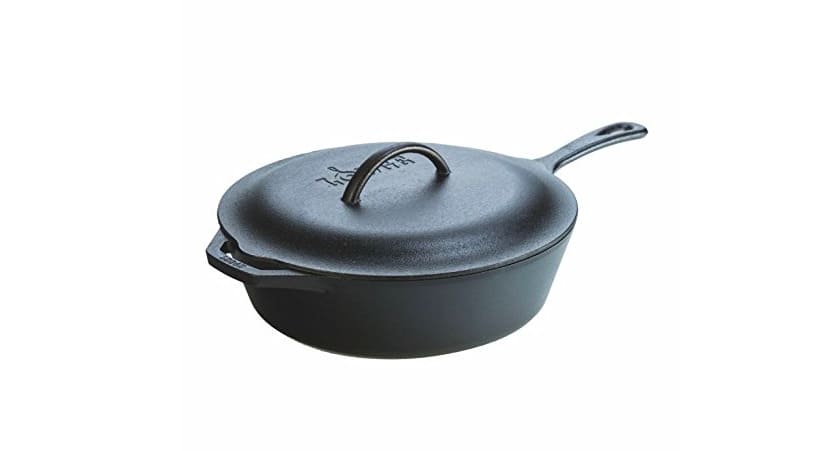 This 5-quartz pan brings a time-honored tradition and an excellent cooking experience. It is the best deep overall cast skillet you can get. The extra inches of depth makes it more versatile than the typical skillets. It is multifunctional and can be used as a boiler, fryer, and baker.
This skillet features an easy-release surface to ensure effortless cleaning. It is pre-seasoned with vegetable oil for immediate use. You can take it straight from the packaging to the stove.
This skillet comes with a fitting lid. It retains heat well and cooks food without scorching. The even heat distribution from the bottom to the sidewalls ensure food cooks uniformly. It gives you a non-stick surface without generating fumes. In this age of Teflon, this skillet is 100% natural and does not produce any harmful chemicals.
This skillet loves the oven, stovetop, and campfire. With a stylish black color, it looks great in your kitchen and provides nutritious iron.
Things we like
Deep and Large. While normal skillets are shallow, this Lodge masterpiece combines depth and size. Its 5-quartz size means you can prepare lots of food or bake even larger pieces.
Easy Grip. This skillet comes with an assist handle that makes it easy to carry around. The handle suppresses the skillet's weight, making it ideal for daily cooking.
Comes With a Lid. This skillet comes with a cast iron lid to retain as much heat as possible.
Things we don't like
Rusts With Time. This skillet might rust if not well maintained. You need to keep it in use to avoid developing some rust.
Frequently Asked Questions
How Can You Tell if a Cast Iron Skillet is Good?
A good cast iron skillet should feel somehow rough. If well-seasoned, it should be slick such that eggs can slide on it. Mostly, cast iron skillets have two layers of seasoning. A good enamel or seasoning layer should not come out after use. In fact, seasoning should get better with time.
What Cooks Well in a Cast Iron Skillet?
Cast iron cooks many types of food. You can sear meat, fry eggs, and chicken or even grill steak. Also, it bakes and braises equally perfectly. Cast iron is a poor conductor and absorbs heat faster, but retains it for long. Cast iron skillets hate acidic foods such as tomato sauce, deserts, and omelets.
How Do You Clean a Cast Iron Pan?
Cast iron skillets are easy to clean. You only need water, soap, and a soft paper towel. Scour the skillet to remove any rust that might have built upon it. After cleaning, rinse thoroughly with water and leave to dry.
Avoid using steel wool as it might strip the skillet's seasoning. Enameled cast iron skillets are dishwasher safe. Do not use any metal scouring pad on it as you might remove the enameled coating.
The Bottom Line
To get high-end, top-performance cooking, you need to have the right tools. All the above skillets have distinctive features that make them stand out. The Finex 12" is by no doubt the best cast iron skillet. It prepares tasty, delicious food. Also, it is budget-friendly and offers a great cooking experience. You can entrust it for a seamless, impressive job.