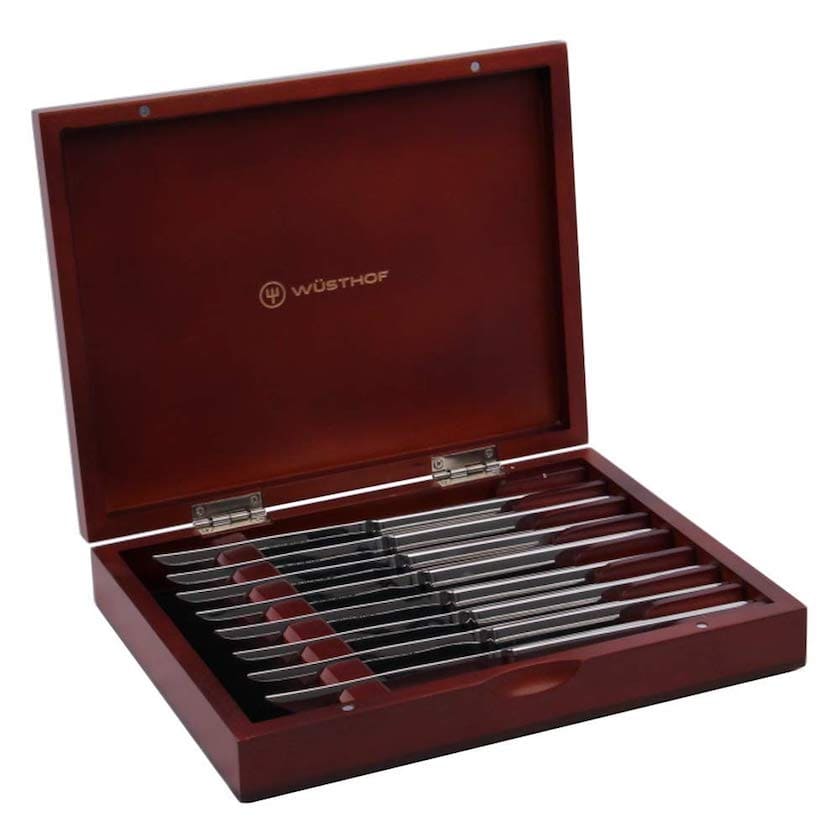 Wusthof 8-Piece Stainless-Steel Steak Knife Set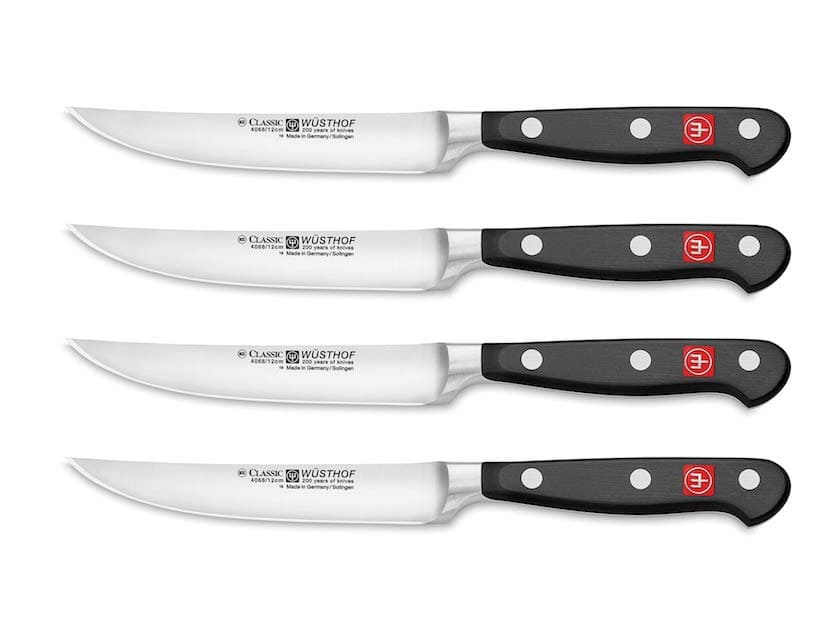 Wüsthof Classic Steak Knife Set, 4-Piece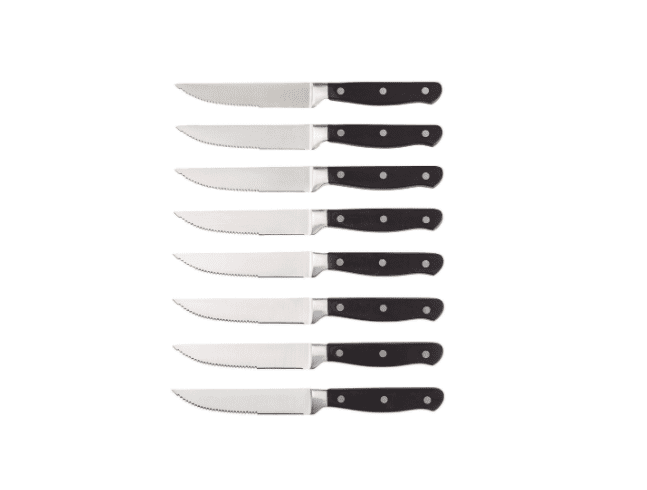 Premium 8 Steak Knife Set
A good steak knife makes for a very memorable eating experience. How else are we going to cut through medium-rare Sirloin steak with very little effort?
Are you looking for a good steak knife to cut through that medium-rare Sirloin steak? Finding the best steak knife set to match your needs can be overwhelming. There are too many to choose from. To help you out, I have researched and then tested some of the best steak knives on the market.
My top recommendation would be the Wusthof 8-Piece Stainless-Steel Steak Knife Set. There were also 5 other worthy contenders that stood out that I would also recommend. Depending on your personal preferences, of course.
Reviews of the 6 Best Steak Knives
Best Overall: Wusthof 8-Piece Stainless-Steel Steak Knife Set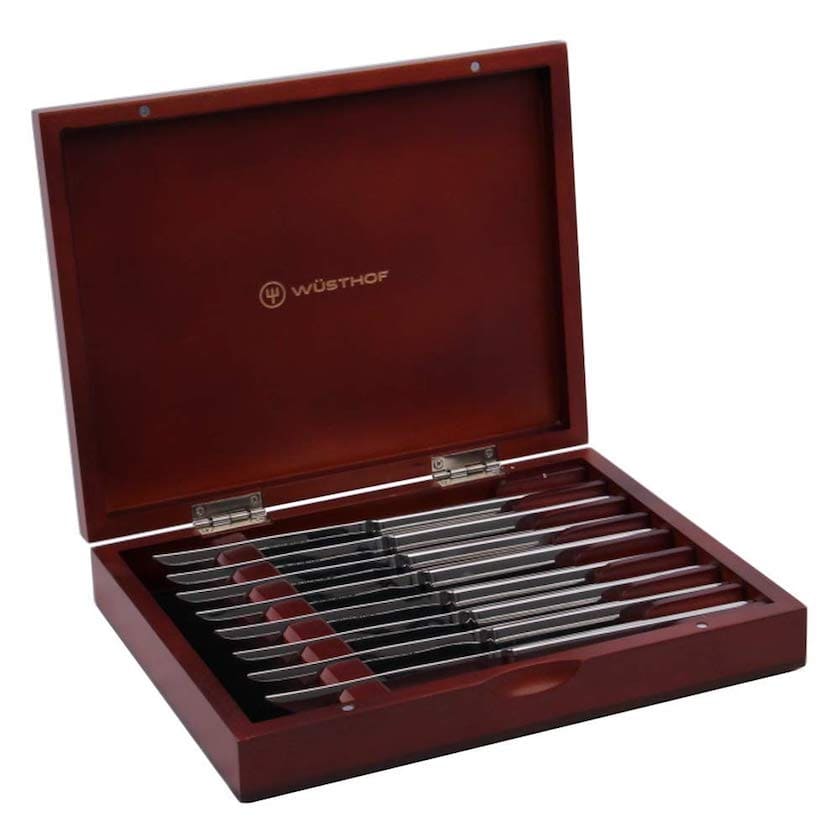 First up on our list, we have this 8-piece set from Wusthof. If you're searching for something elegant yet functional, this is one for you.
These knives are made of high-carbon stainless steel—precision-forged from chromium-molybdenum-vanadium steel. This specialized knife undergoes 40 manufacturing processes. From foraging to polishing to produce reliable and high-quality blades.
Despite the lengthy manufacturing process, Wusthof remains invested in sustainability. Using modern production practices and ensuring efficiency to manage its environmental impact. This includes reducing energy consumption, and filtering water and gases. Filtration allows them to return to the source environment, uncontaminated.
Additionally, Wusthof uses PrecisionEdgeTechnology (PEtec), which ensures exceptional sharpness.
These serrated blades measure 4.5-inches, a very comfortable size for your hand. They're sleek, precise, and also come with longer edge retention—resisting rust and similar damages. Also, their handles come with extended tangs for improved weight distribution.
This steak knife set comes in a velvet-lined wooden presentation box with a mahogany stained finish. Best of all, Wusthof offers a lifetime warranty with each buy.
Things we like
Time-tested company — Wusthof has been creating cutlery for a couple of decades. They're an authority on all things steak knives.
Durable steel construction — the knives undergo several production stages, ensuring durability.
Sustainably-oriented manufacturing — Wusthof utilizes energy-efficient manufacturing processes.
Superb sharpness — PEtec enables Wusthof to create ultra-sharp blades for precision cutting and slicing.
Longer edge retention — the blades are highly resistant to rust and stains.
Things we don't like
Made in China — if you're not too keen on outsourced manufacturing processes, this particular set comes from China.
Flimsy box — the presentation box is lacking in durability. The hinges won't withstand too much rough handling and may break prematurely.
Best Premium: Wüsthof Classic Steak Knife Set, 4-Piece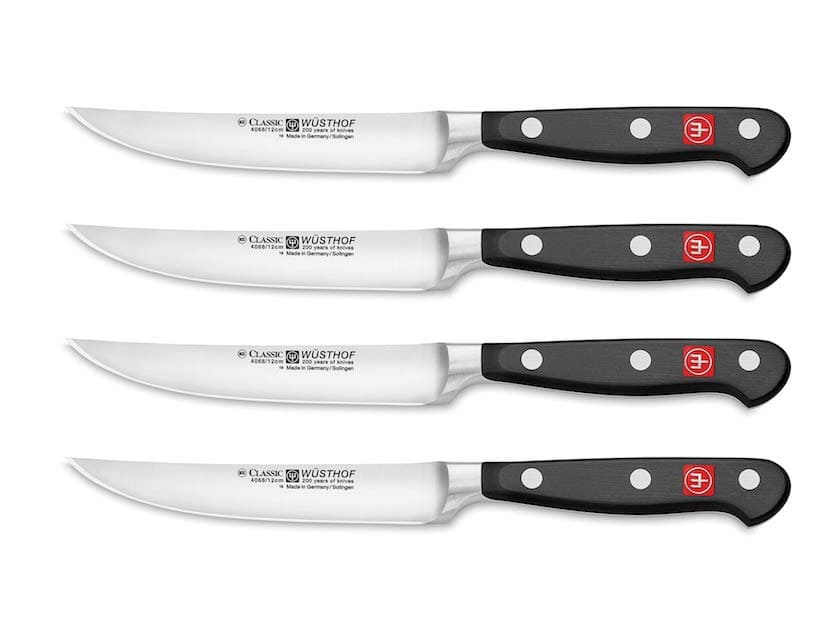 If you're looking for top-quality knives, I recommend this classic steak knife set from Wusthof.
It's pricier than the other blades on our list, but with the extra cost comes with superior quality. For one, Wusthof made these knives in its German facilities, using high carbon stainless steel.
The company utilizes state of the art PEtec technology. PEtec ensures the knives are ultra-sharp and require very little maintenance. Just keep in mind that they're not dishwasher-friendly.
Now, to the handles. These knives have traditional triple-riveted synthetic polypropylene handles. They are resistant to discoloration, fading, impact, and heat. For precision, balance, and enhanced control, the handles feature a full-tang design.
These knives come with a straight blade, enabling clean one-motion slices through the meat. Straight blades also keep from shredding or damaging the muscle fibers, keeping the meat's flavors locked.
Things we like
Made in Germany — with this set, you're paying for high-quality craftsmanship.
Impressive sharpness — using PEtec technology, Wusthof achieves outstanding and lasting sharpness, requiring little maintenance.
Durable handles — the traditional triple-riveted handles are sturdy and resistant to damages like discoloration and other wear and tear.
Well-balanced — with the full-tang design, the knives feel well-balanced in your hand – optimizing control and precision.
Smooth blade — thanks to the smooth blade, the steak knife can slice cleanly through the meat.
Things we don't like
Hand-wash only — tossing the knives into the dishwasher will quickly lead to rust.
Best Budget: Premium 8 Steak Knife Set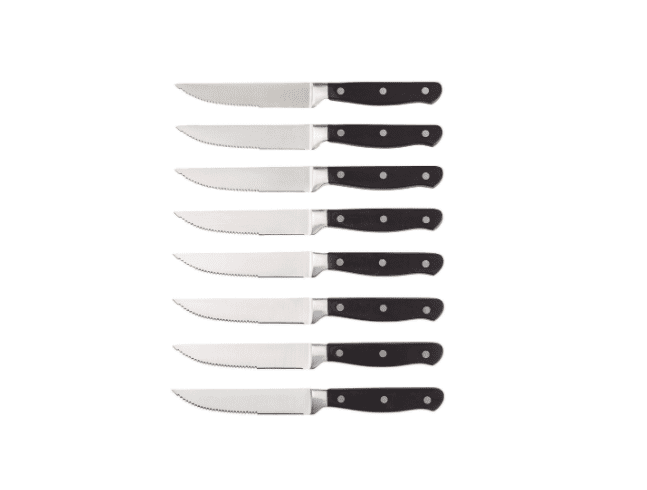 If you are on a budget, but unwilling to compromise on quality, you should look at AmazonBasics.
The AmazonBasics premium steak knife set consists of 8 high-quality pieces. Each knife has single stain-resistant steel, providing a full tang running from the tip to the base. Apart from the sleek appearance, this improves balance and control by distributing the weight evenly in your hand.
If you prefer sawing your meat to clean-slicing it, then the edges on this set are perfect. The blades are micro-serrated and don't require sharpening.
These steak knives come with ergonomically designed handles, enhancing comfort and facilitating a secure grip. They have a traditional triple-riveted design, which gives them a feel of elegance.
They also come with well-designed bolsters. These are wide and keep your fingers away from the blade.
The AmazonBasics steak knives come with a 1-year limited warranty and are hand wash only. They are also relatively larger than the others on the list.
Things we like
Single piece stainless steel — the full tang design ensures durability and improved control.
Micro-serrated edges — these edges make easy work of tough meats and vegetables.
Ergonomically designed handles — the handles improve comfort and security.
Triple-riveted design — besides adding to the appearance, the riveted design ensures longevity.
Wide bolsters — excellent for keeping your fingers away from the sharp edges while providing a stable platform for your forefinger when cutting through tough pieces.
Things we don't like
Large steak knives — the AmazonBasics aren't the most subtle knives.
Hand-wash only — using the dishwasher may rust the blades and rivets.
Cuisinart C77TR-6PSK Triple Rivet Collection 6-Piece Steak Knife Set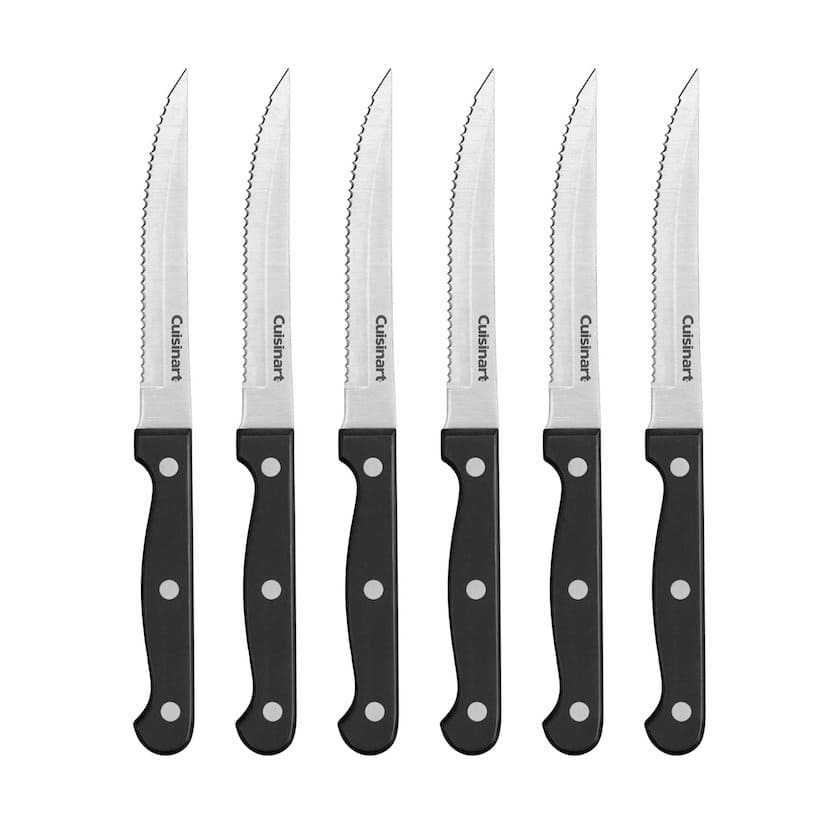 if you're looking for a steak knife with a serrated blade, then the Triple Rivet collection from Cuisinart is one! With this set, you receive six high-quality, 4.5-inch steak knives.
Each blade is made of durable high-carbon stainless steel for enhanced accuracy and precision. These knives taper into a pointed tip, perfect for slicing through meat and skinning.
One feature I especially found useful was the forged bolster. It's extra-wide and very durable, improving both safety and control. Perfect for cutting through various meats and vegetables.
The handles are ergonomically designed and finished with stainless steel rivets to secure the full-tang blades.
Included with the set is a lifetime warranty. The only thing I found wanting with this unit was the fact that the blades are susceptible to rust if washed in the dishwasher. Always dry them out properly and dab them with a bit of olive oil to improve their lifespan.
Things we like
Sleek blades — the serrated edges are sharp and taper for better slicing.
Durable steel — made with high-carbon stainless steel, the blades are tough and capable of withstanding heavy use.
Forged bolster — the safety bolster is extra-wide, protecting your hands while improving stability and control.
Ergonomic design — they're comfortable to hold, and the traditional stainless steel rivets enhance their durability.
Things we don't like
Not dishwasher-friendly — wash only by hand. Otherwise, rust may develop around the bolster and rivets.
Discoloring the handle — using the dishwasher may give the handles a grey-ish hue.
Shun Classic 4-Piece Steak Knife Set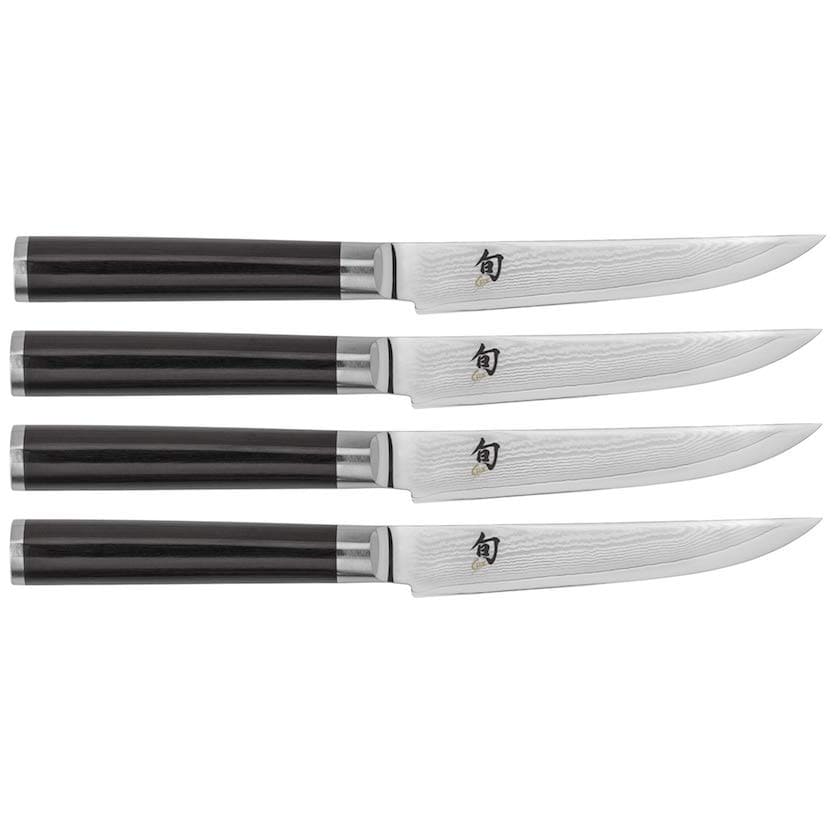 If you want a sleek and razor-sharp set, these steak knives from Shun are a fantastic option.
The smooth edges enable you to make clean cuts through meat, preserving juices and the fibers. For the handles, you have stunning Japanese ebony Pakkawood—wood infused with resin. This material is moisture-resistant and durable.
These Japanese steak knives are also pretty light. They're well-balanced in hand – enhancing usability and comfort. On the flip side, the handles might be too small if you have bigger hands. In such a case, the Wüsthof Classic Steak Knife Set would probably be a better buy.
Now, this 4-piece set isn't the most affordable, but they exude quality craftsmanship. Shun handcrafted the knives in Japan, using premium VG-MAX blade steel, coated with 68 Damascus cladding micro-layers. This makes the blade ultra-sharp, light, and thin.
Things we like
Razor-sharp — with 68 micro-layers, the blades are ultra-sharp straight out of the box. Still, Shun offers free sharpening services to verified customers.
Made in Japan — handcrafted in Japan, these knives are high-quality.
Smooth edges — the blades enable you to make clean cuts through the meat, preserving flavor and juices.
Wood handles — the Pakkawood handles are elegant, durable, and light.
Lightweight construction — these steak knives are ultra-light in the hands, enhancing control and comfort.
Things we don't like
Small handles — this may not be true for everyone, but it's fair to mention that the handles are significantly smaller than your average steak knife.
DALSTRONG Steak Knives - Set of 4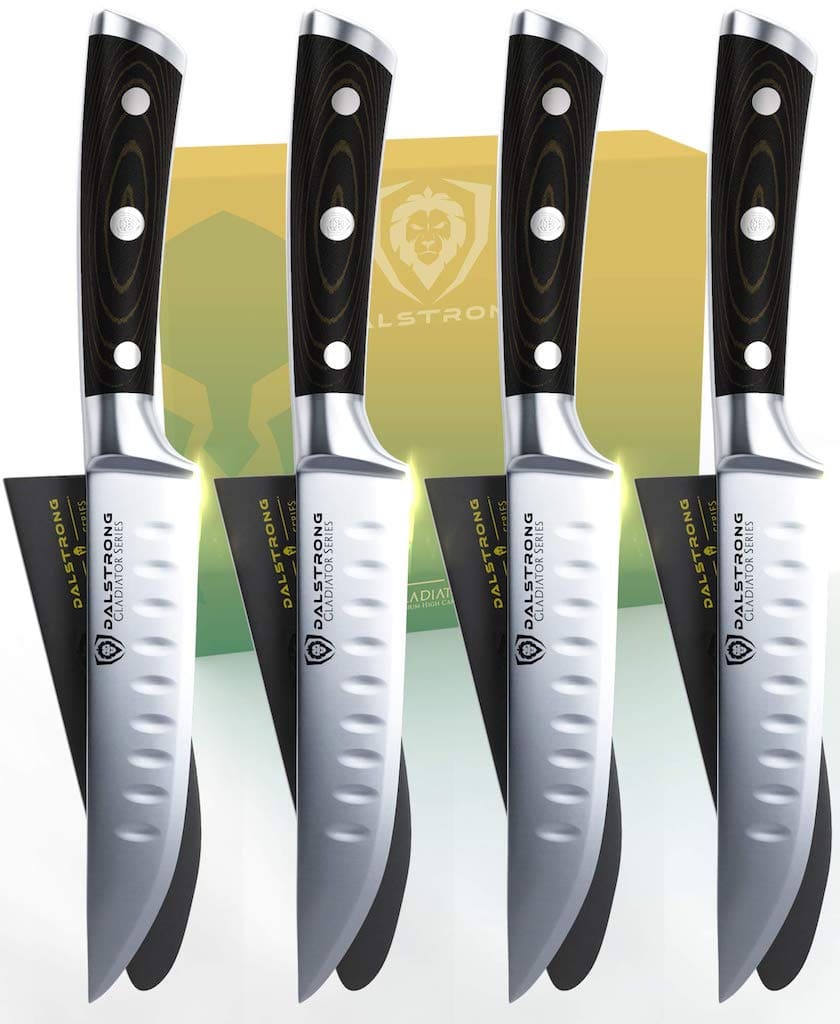 Normally, we wouldn't include a 2nd best product, but this Dalstrong serrated steak knife was too good to exclude.
It exhibits outstanding craftsmanship with cutting-edge technology and excellent materials.
Made of imported high-carbon German steel, they are so sharp that they cut through the steak as if it is room-temperature butter. They include engineered serrations at roughly 14 to 16 degrees on each side. This enables them to make clean cuts repeatedly without dulling.
I especially loved the hand-polished satin finish. These blades double as works of art on the table.
They're also carefully tapered, improving hardness and flexibility, and minimizing slicing resistance. To enhance safety, because they're so sharp, the tips are rounded.
Another point of praise is the handle. These knives come with luxury Pakkawood in a black finish, and a triple-riveted design.
Their handles offer more than beauty. They ensure a comfortable, secure grip for easy maneuverability.
Dalstrong strongly believe in their products and include a money-back guarantee.
Things we like
German steel construction — high-quality imported steel ensures durability and better performance.
Slanted serrations — thanks to the angled design, these blades cut clean and effortlessly.
Satin finish — the look of the blades is stunning. They're hand polished and require little maintenance.
Minimizes slicing resistance — the tapered construction optimizes hardness and flexibility.
Luxury handles — Pakkawood is both durable and beautiful. These handles are also resistant to water and fading.
Things we don't like
Susceptible to rust — the blades may become rusty if not washed and dried correctly. Avoid putting them in the dishwasher!
Choosing the Best Steak Knife: Tips and Tricks
There's more to a steak knife than sharpness. Not only will the right unit help you cut through your meat, but it will also complement your décor. Blade design also influences the eating experience. Some knives are designed to slice cleanly through the meat, locking its juices; others are engineered to squeeze the juices out of your meat.
That said, your unique needs should inform the blade you buy. There is no one-size-fits-all solution. Identify your individual needs and go for the knife that best addresses them at the most competitive price.
Below are some of the features you should consider next time you're out knife shopping.
Blade Material
The metal making the blade determines three things:
● Maintainability
● Durability
● Usability
Some materials are easier to sharpen, others last longer, others cut smoother, and some are more durable than others. In this regard, there are two common blade types:
● High Carbon Steel
● Stainless Steel
High Carbon Steel
These knives are very easy to sharpen. What's more, once sharpened, it'll take a while for them to dull. High carbon steel sharpens to an excellent finish, making it very popular among people looking for a knife for clean cuts.
The biggest drawback of this material is that it rusts easily. Typically, these knives are not dishwasher safe. Hand wash them and dry them thoroughly before storing them. It also helps to dab a bit of olive oil onto the sharp edges.
Stainless Steel
Stainless steel may not be as easy to sharpen, but it's a lot easier to maintain. Most stainless-steel blades in the market are dishwasher safe, making them very popular among restaurants. They can get as sharp as they are high-carbon equivalents; it just takes more effort.
If washability is more important to you than a cut's precision, you should probably go with stainless steel.
Type of Edges
The type of edge determines how meat reacts to a cut: the smoother the edge, the cleaner the cut, the lower the chance that cutting will squeeze juices out of your meat. A blade's edge also informs how long the blade will remain sharp.
There are three main types of blade edges:
● Serrated
● Plain
● Hollow Edge
Serrated Edges
Serrated edges saw through the meat, pushing out the juices and flavors. Other than this particular eating experience, they also stay sharp longer than plain edges. On the flip side, once dull, they are harder to sharpen.
A knife can have standard serrations or micro-serrations. In the latter variation, the jagged edges — teeth — are closer together. Micro-serrated blades stay even sharper than traditional serrated edges, but are way harder to sharpen once they dull.
The most common reason why people go for serrated knives is to cut tough meats; they are better than straight blades where the meat is sinewy.
Plain Edges
Plain edges are excellent for tender meat, where a serrated blade would just turn the meat mushy. They cut clean through meat without squeezing out the juices, if that's what you prefer.
They can be sharpened to a finer degree than their serrated equivalents, but they also lose their sharpness faster. The choice between the two usually boils down to a matter of preference. If, however, maintainability is high-priority for you, then plain edges would be your best bet.
Hollow Edges
Hollow-edged blades come with indentations. As the blade cuts, air pockets are created between the knife and the meat. This allows for much cleaner cuts and keeps food from sticking to your knife.
Type of Handle
Unlike the typical kitchen blade, a steak knife will always find its way to the dining table. Therefore, you want a steak knife that is more than just performance; you want one that will appeal to the eye.
Let's look at some common handle types:
Wood Handles
Wooden handles are comfortable and can be styled to match any decor. They look and feel more premium than plastic handles, but come with one major drawback; they are harder to maintain.
If they are not dried out properly after cleaning, the wood begins to rot. For the best of both worlds – buy Pakkawood handles, Pakkawood is resin-impregnated wood. It retains the appeal of traditional timber, but with much higher water resistance.
Polyoxymethylene (POM) Handles
POM is engineered plastic that is stronger than traditional variants. They are relatively dormant, making them resistant to solvents and salts in the kitchen.
One major downside is that they still feel a little 'plasticky'. That said, it sometimes comes down to the manufacturer: Some manufacturers make premium looking POM handles.
The steel handles
These handles are not as readily available as wooden handles. However, they are more durable and have a premium feel and look to them.
Since steel is a good conductor of heat, you may want to avoid this handle if you plan to use the blade extensively on a sizzling plate.
Japanese Handles
Japanese handles are premium features. The biggest difference to their Western counterparts is that these handles are removable. Typically, the blade wears down slower than the handle. Changing the handle enhances your blade's life, therefore.
With the Japanese knife, the handle is hollow and wooden. A pre-heated knife blade is then beat into the handle to make the knife.
Steak Knife FAQs
Now that you understand the different features steak knives have to offer, let's answer some of the most commonly asked questions.
Can You Use Steak Knives for Other Things?
Yes. A steak knife can be used in place of a traditional kitchen knife. If anything, steak knives are just tougher and better-looking kitchen knives.
If you need to cut some cheese, butter, or veggies, these blades will do.
How Long Do Steak Knives Last?
With the proper handling, a good steak knife set should be good for a couple of decades.
Steak knives are built to be durable. Unlike kitchen knives that are used on the chopping board, steak blades cut meat on ceramic and sizzling plates, which are much harder. That said, your knives will only last as long as the care you give them.
Do You Sharpen Steak Knives
Yes. Like every other knife, a steak knife needs the occasional sharpening.
The way you sharpen your blade differs across different knives. For traditional plain-edged knives, the average sharpening stone will do. For serrated edges, however, let the professionals do it for you. Putting these knives to a sharpening stone only destroys the blade.
Who Needs a Steak Knife Set?
For the best experience, everyone should own a steak knife set.
Different types of steak knives offer different advantages and varying eating experiences. A steak knife set ensures that you have the right knife for each occasion. For example, you'll have a serrated knife for when you want to eat tougher meat; and a plain-edge blade for when you feel like tender beef.
In a Nutshell
Steak knives have evolved well beyond functionality; they are now designed to match your decor as well.
Choosing a blade must likewise look beyond functionality. In this regard, Wusthof 8-Piece Stainless-Steel Steak Knife Set ticked most of our boxes. It's ergonomically designed and feels quite comfortable in the hand. It is sharp right out of the box, thanks to PEtec technology. The serrated edges are very durable and it'll be a long time until you need to sharpen the set.
The Cuisinart Triple Rivet Collection Steak Knife Set was similarly impressive with its sturdy high-carbon blades. They might not be dishwasher-friendly. But despite being tedious to clean, these blades will last you through a couple of decades.