Electric Deli Food Slicer Commercial and for Home use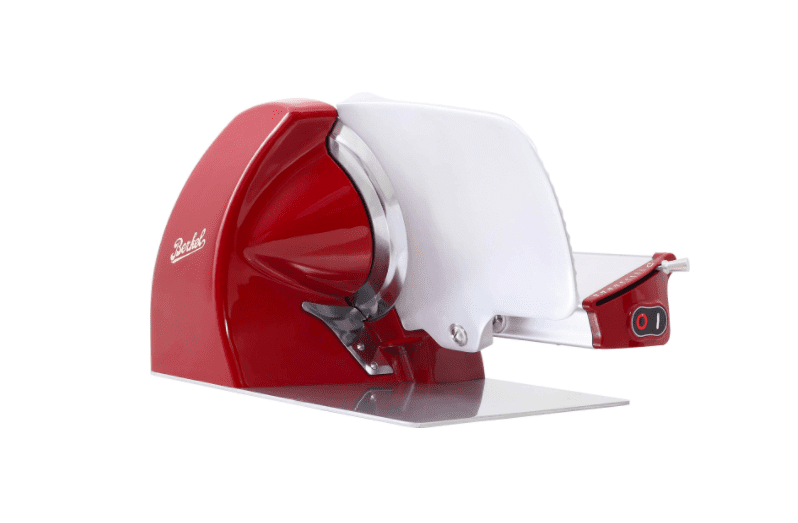 Berkel Home Line 250 Food Slicer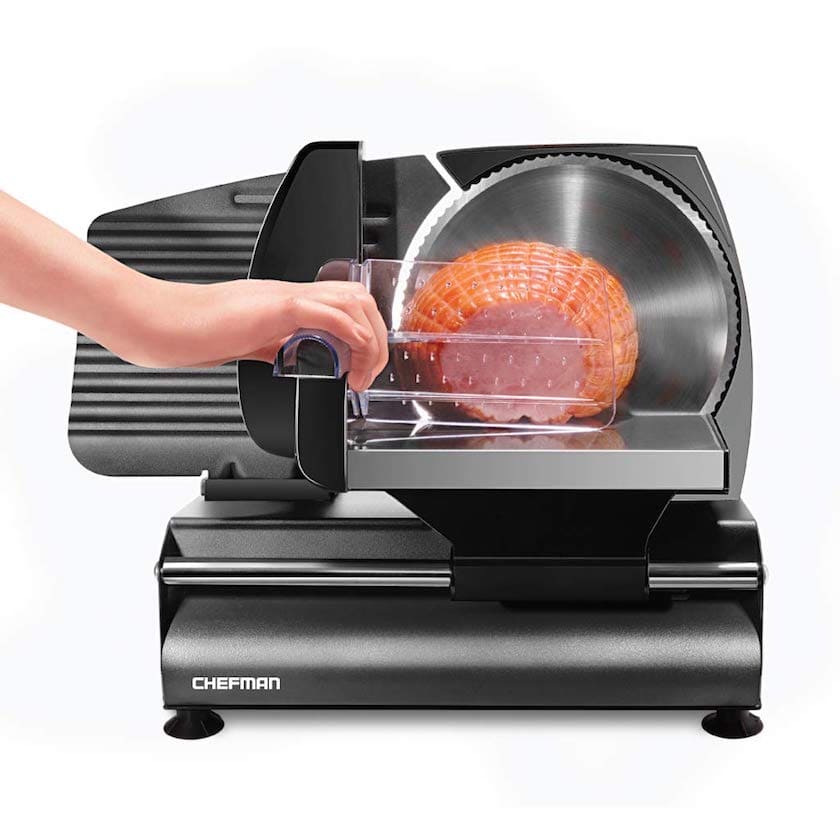 Chefman Die-Cast Electric Deli & Food Slicer
Are you looking for an effective way to cut through your meats before sticking them between two loaves of bread? If so, you need a good slicer to help make your life easier.
Beyond slicing deli meats, it can be used to slice cheese, shred lettuce and slice vegetables. Investing in a quality meat slicer is critical. It saves time while giving you perfect food slices.
We've researched and tested a variety of meat slicers and narrowed them down to the 5 best meat slicers. With the BESWOOD 250 Meat Slicer being most outstanding.
Meat Slicer Buying Guide
Meat slicers can be expensive. Purchasing the right one makes work easier and saves time. Here are some handy tips to help you get the best meat slicer.
Questions to Ask Before Buying
What's your major consideration when choosing a meat slicer? You need to ask yourself these questions:
How Often Will I Be Using This Meat Slicer?
The frequency at which you plan to use the slicer should be an important buying factor. Meat slicers are designed either for heavy or light-duty tasks. If you plan to use it for less than 2 hours, light-duty slicers are ideal. However, if you are buying for all-day use, you need a heavy-duty slicer that can slice aggressively.
What Am I Going to be Using the Meat Slicer For?
All tasks you intend to use this slicer for should help you decide which one to purchase. If you are buying to slice all sorts of food ingredients, look for a versatile slicer. Similarly, if you want to slice frozen meat, look for a slicer designed for that purpose.
Understanding how you intend to use the slicer will help you narrow down your choices.
Manual vs. Electric
While electric slicers have a ton of benefits, manual ones also come handy.
Manual meat slicers are easy to use. They don't have motors, and you only have to push the blade down to cut. However, they can get cumbersome with time.
Electric slicers utilize more advanced technologies. Unlike the manual ones, they come with electric motors that power rotating blades. They are ideal for churning out many slices but are more expensive than manual ones.
If you want fast slicing, go for an electric slicer. It's more precise and makes work easier. However, if you don't have a high budget and don't have to work slices large batched, try a manual one.
Power
Electric meat slicers have different power capabilities. It is recommended to go for a meat slicer with at least 100 watts. Slicers with lesser capacity might never accomplish the task.
Also, low-wattage slicers are likely to overheat. Therefore, choose slicers with higher wattage. These slicers are more heavy-duty and sturdier.
Blade
No one wants a soft, brittle blade. It is essential to look for a slicer with a quality blade that can cut through the toughest of meats. Before choosing a slicer, look out for the material of the blade and whether it's serrated or smooth.
Material
The best slicer blades are made of either chromium or stainless steel. These materials are sturdy and have a longer life.
Stainless steel blades are the best because they are 100% corrosion resistant. Also, steel can cut almost all types of food ingredients. Slicers with built-in blade sharpeners are the best as they do not require constant sharpening.
Serrated vs Smooth
Blades come with either smooth or serrated edges. Each type of blade is beneficial in its own way.
Serrated blades are stronger and more suitable for thick foods such as bread and tough meats. Smooth blades are ideal for lean meat, vegetables, and fruits. You can opt to buy an extra blade to switch between both options.
Safety
When choosing a meat slicer, user safety should come first. This is because they have incredibly sharp blades that can cause dangerous accidents.
Look for slicers with safety features such as blade guards. A blade guard shields your hand from getting near the blade. Some blade guards cover the entire blade, exposing the cutting edge.
Cleaning
The slicer you are about to purchase should be easy to clean. No one wants to deal with foodborne illnesses resulting from dirty slicers. While some slicers are easy to clean, others require more time.
You should be able to dismantle the slicer and clean it part by part. A slicer without removable parts is never easy to clean, as dirt sticks in corners and crevices. This might result in unwanted illnesses.
Some slicers come with dishwasher safe parts. These are easy to clean as you only need to throw them in a dishwasher wait as they clean.
Noise
Noisy meat slicers can be uncomfortable to use. If you are sensitive to noise, some meat slicers can be totally difficult to use.
When choosing a meat slicer, look for quiet models. They can be more expensive, but they won't make your house feel like a lowkey factory.
Durability
You should only choose a slicer that can last long. Long-lasting slicers are made with durable parts that do not need replacement.
Look for slicers made with durable metals such as steel or aluminum. While a higher price doesn't necessarily mean higher quality, always be keen on material construction. Also, look at what previous buyers had to say about the product's durability.
Consider food slicers at least a one year plus warranty. This is because you can return or exchange the product in case it gets faulty before the warranty expiry.
Below are the best meat slicers we found from our research and testing.
Best Overall: Chromium-plated Carbon Steel Blade Electric Deli Food Slicer Commercial and for Home use
The BESWOOD 10" slicer has an innovative design that meets modern slicing demands. It has all sorts of convenient features and safety standards for a great electric slicer. Approved by the NSF, FDA, and ETL, this our pick for the best overall meat slicer.
This slicer features a very sturdy, commercial-grade construction with high cutting precision.
Its components are made of heavy-duty, stainless steel that stays strong even after years of constant slicing.
This slicer's blade is made of premium chromium-plated material for maximum durability. It is both heat-treated and chrome-plated to add longevity and strength. Built onto the top are sharpening stones that let the slicer to self-sharpen while in use. With this self-sharpening mechanism, tuser doesn't have to sharpen the blade by hand.
To ensure maximum user safety, the blade has a locking carriage that keeps the blade covered when not in use. Additionally, a blade guard covers the whole blade, exposing only the cutting edge.
The 240-watt motor delivers up to 280 revolutions per minute. With such high power, this slicer can cut almost everything. Not just meat and cheese. Bread, vegetables, and fruits are all fair game as well.
Things we like
Sturdy Motor and Blade. This blade comes with a powerful 240-watt motor that powers the blade at all times. The blade is hard enough and can withstand long periods of use without compromising functionality.
Extra Safety Measures. The BESWOOD 10" has an added special on/off safety switch that protects you from power shocks. In case of a power surge, the slicer turns itself off. On the other hand, the blade guard covers the other blade, minimizing any chances of contact with your body.
Easy to Clean. You can dismantle this slicer and clean it part by part. With soap and water, all its components clean pretty well. The whole process takes less than 25 minutes, and you are done.
Quiet Operation. This slicer comes with a unique noise reduction mechanism. The premium V-belt minimizes vibrations during operation, making slicing more adventurous. Unlike other common slicers, it doesn't feel like you are in a wood factory.
Things we don't like
Heavyweight. At 33 pounds, it's heavier than the majority of 10" slicers. If you plan on using it, designate a fixed position where you don't have to move it anyhow.
Best Premium: Berkel Home Line 250 Food Slicer, Adjustable Thickness Dial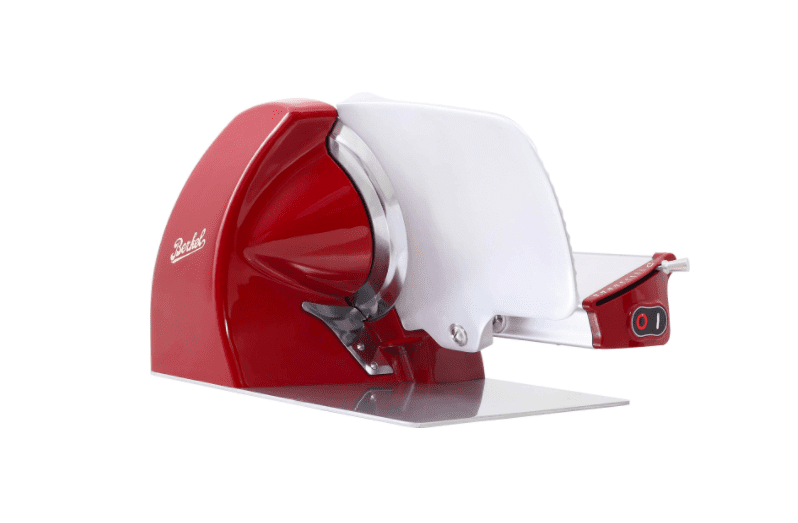 Made in the USA by Berkel World, this slicer is revolutionary in the world of meat slicers. It's a premium slicer with an ergonomic design that adds style to your kitchen. This slicer combines functionality and safety with innovation.
Powered by a powerful 115V 60HZ electric motor, it provides an amazing performance. The 0.25 CV engine ensures that the user can slice as much as possible. This performance is bettered by a built-in sharpener that keeps the blade operating efficiently.
The Berkey Home Line 250 has an innovative design that makes it unique. Its originality is highlighted by the smooth finish that features essential, rounded lines. The special aluminum alloy used in making the slicer gives it an elegant and attractive look.
Some of the slicer's finest technological features include a push-button with LED indicators. Besides, it's designed with an inclined food plate to make it easy to use. The fine thickness adjuster ensures that the user gets slices of the desired size.
Things we like
Classy Look. One thing you will notice about this meat slicer is its pleasing appearance. Both the red color and fine finish makes it look neat and attractive. The glossy wine color adds more decoration to your kitchen .
Super Blade. This slicer comes with a stainless steel chrome blade. Stainless chrome is ideal due to its durability and corrosion resistance. It stays sharp and can function properly for a long period.
Easy to Clean. Unlike complex machines, the Berkel 250 is easy to clean. You can dismantle it easily and wash some parts in a dishwasher. With this machine, you don't have to worry about hidden dirt that may compromise your hygiene.
Safety. This slicer comes with a plastic guard that shields you from the blade. It ensures zero contact with the blade, minimizing any chances of injury.
Things we don't like
Heavyweight. Weighing about 49 pounds, many users feel that it is too heavy to move around. If you don't intend to use it in a fixed position, it might feel cumbersome.
Best Budget: Chefman Die-Cast Electric Deli & Food Slicer For Home Use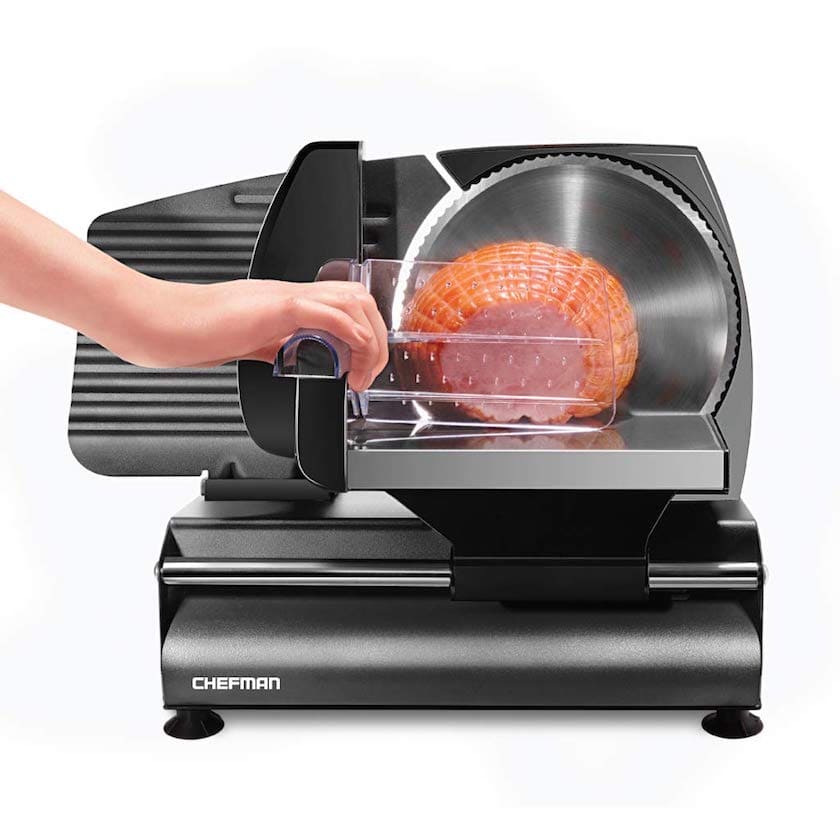 If you're on a budget and still want a powerful meat slicer, then this meat and food slicer is the one for you! It is a rather compact slicer designed to slice meat and cheese, alongside other foods such as fruits, bread, and vegetables. It comes with a sleek, compact design to fit kitchen countertops. Also, it's one of the safest machines that you can have.
Its high performance 180W motor ensures that this slicer delivers amazing results. While it was designed for home use, it has enough power to be used as a stand in commercial purposes.
High slicing performance is also enhanced by a 7.5" die-cast blade. This blade has serrated edges to enable it to cut tough pieces easily.
An adjustable thickness dial allows the user to customize the slicer to get the desired sizes. This dial adds finesse and precision to the cut slices. The 0 to 0.5" slice thickness range makes it ideal for various purposes.
This slicer comes with non-slip cup feet and a blade guard to ensure maximum safety. The non-slip feet hold it in one position, giving it a firm grip. A food pusher alongside a blade safety guard protects the user's hands from the sharp blade.
Things we like
Stability. With non-slip feet, this slicer stays in the same position on the countertop. It enables you to slice your food more comfortably without getting it back in position every time.
Lightweight. Weighing less than 10 pounds, it ranks among the most lightweight slicers in the market. You can move it from one place to another effortlessly.
1-year Guarantee. This slicer comes with a 12-month warranty that you can redeem in case it gets faulty.
Versatility. The Chefman Die-Cast Slicer can cut as many food ingredients as possible. Whether you want to slice meat, vegetables, or fruits, this slicer is all-round. Its 7.5" blade cuts standard slices, regardless of the type of food.
Things we don't like
Not Ideal for Commercial Use. While is a budget meat slicer, it is efficient for commercial purposes. If you plan to use it for heavy-duty purposes, you may have to reconsider a sturdier option.
Noisy. Many users feel that it's quite loud. During operation, the motor rotates in a manner that creates a lot of unwanted noise.
Manual Meat Slicer for Home Cooking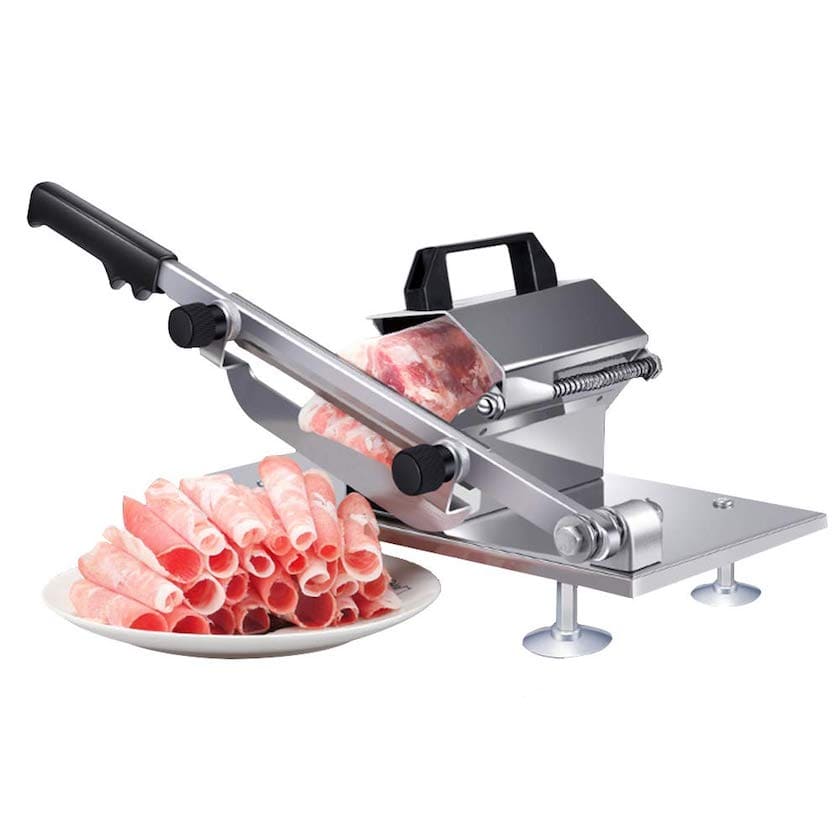 Not everyone wants or needs an electric food slicer. There are plenty of decent manual slicers that can do the job. This Befen model takes manual slicing to another level. Reminiscing the antiques used in traditional deli shops, it is our recommended pick for the best manual meat slicer. For frozen beef, lamp, ham and chicken, this is the ultimate slicer. With this meat slicer, tradition meets innovation.
This durable slicer is made of high-quality stainless steel. Stainless steel is easy to clean and requires only regular soap and water. With the right maintenance, it can chop frozen meat for many years.
This slicer comes with a wide range of accessories. Its box include the following;
10 meat bags
Spare blade
2 suction cups
Allen wrench
Separate meat holder
The availability of replacement parts means the user doesn't have to worry about wear and tear.
The adjustment knob mechanism enables the user to achieve the desired slice thickness. The outer knob sets the desired thickness, while the inner knob is used for tightening.
Suction-cup feet keep the machine firm during slicing. You don't have to keep adjusting the slicer in position when using.
Things we like
Multipurpose. While this slicer looks like it's designed only for meat, that's not the case. It can slice a wide range of foods, from fish and onions to cabbage.
Solid Blade Guard. This slicer comes with a sturdy blade guard for safety. When operating carefully, it's hard to cut yourself. All you need is to keep your fingers away from the cutting edge.
Things we don't like
Works Only for Frozen Meat. This slicer is ideal for cutting frozen meat. For fresh meat, it doesn't turn up well. Besides, it has a bit of a learning curve before you can operate effectively.
CUSIMAX Meat Slicer, Removable Stainless Steel Blade and Pusher, Adjustable Knob for Thickness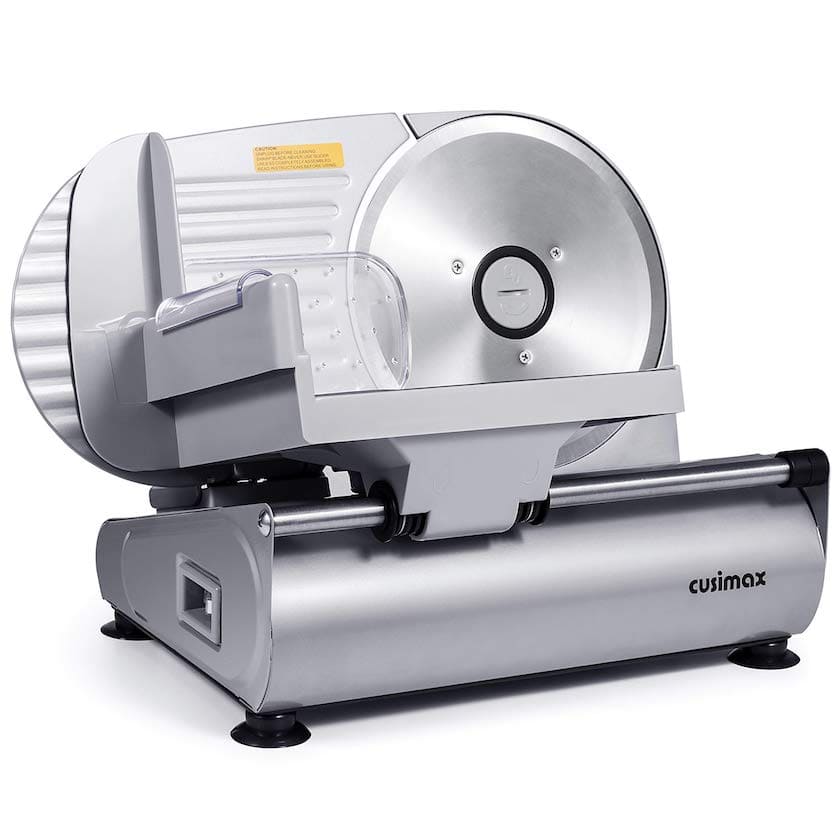 The CUSIMAX 7.5" meat slicer is another pick we thought was worth a mention. It is a versatile slicer designed with quality and functionality in mind. It slices almost everything, from meat and cheese to vegetables and fruits.
This slice has an adjustable knob to produce the desired pieces. Besides, it's blade is powered by a 200-watt motor that ensures sharp and consistent slices. It can deliver slices all of all sizes, ranging from 0.04 to 0.6 inches.
The CUSIMAX 7.5" food slicer was designed with cutting-edge technology to give the user a stable operation. This tech features a track design that allows easy removal of blades for cleaning. Alongside it is a belt drive and a bearing mechanism that keeps the blade on maximum efficiency.
This food slicer can be adjusted up to ¾ inches. For large pieces such as fruits, it works pretty well.
Things we like
Compact Design. This food slicer has a compact design that suits smaller spaces. Unlike large slicers, it can fit nicely on your countertop.
Easy Cleaning. This meat slicer is dishwasher safe, making your work easier. Besides, the hidden track design allows you to easily remove the blade for more precise cleaning.
Requires No Lubricants. Its bearing structure enables smooth operation, without necessarily using any lubricants. This makes it easy to operate and maintain.
Things we don't like
Slow Blade. We felt that the blade was slower and took time to slice through food. The blade loses some power while slicing.
Frequently Asked Questions
Can Meat Slicers Cut Raw Meat?
Meat slicers are designed to cut both raw and cooked meat. However, it is essential to ensure no contact between cooked and raw meat. To slice raw meat perfectly, ensure that it's firm, as floppy meat makes rough slices.
How Thin Can a Meat Slicer Cut?
The efficiency of slicing meat varies from one slicer to another. Standard electric meat slicers can cut meat up to 0.5 mm, while manual slicers can cut up to 0.6 mm. On the higher end, slicers give up to 1" thick portions.
What Food Items Would We Use a Meat Slicer For?
Versatile slicers can cut different food ingredients rather than meat. The majority of slicers in the market can cut bread, fruits, and vegetables. With a meat slicer, you can cut cabbage, onions, tomato, and eggfruit. All you need is to ensure the slicer is sturdy enough to cut through those food ingredients.
The Bottom Line
This guide will help you choose the best meat slicer for your needs. All the products mentioned above have unique features that make them ideal options.
The BESWOOD 250 Slicer is inarguably the best meat slicer in the market. It has a wide range of features such as sturdy construction, safety approvals, and advanced blade technology. If you are thinking of having a meat slicer, it is the perfect one for you. You can trust it for thin slices and many years of daily use.