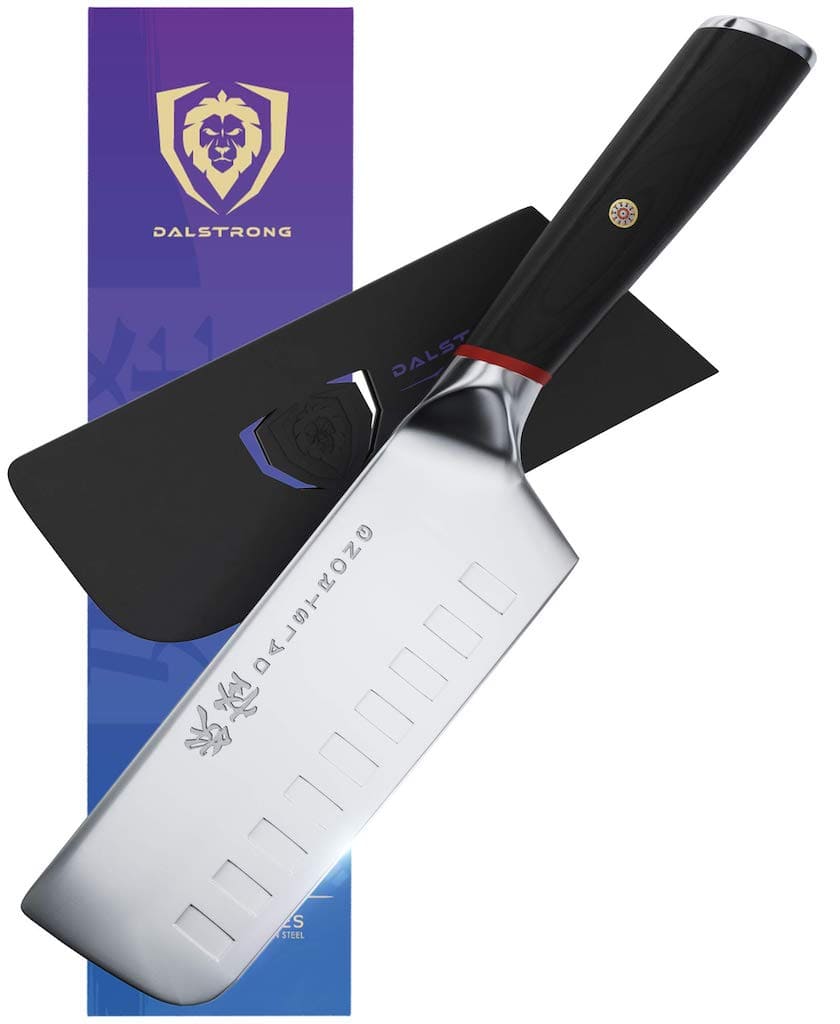 DALSTRONG Nakiri & Vegetable Knife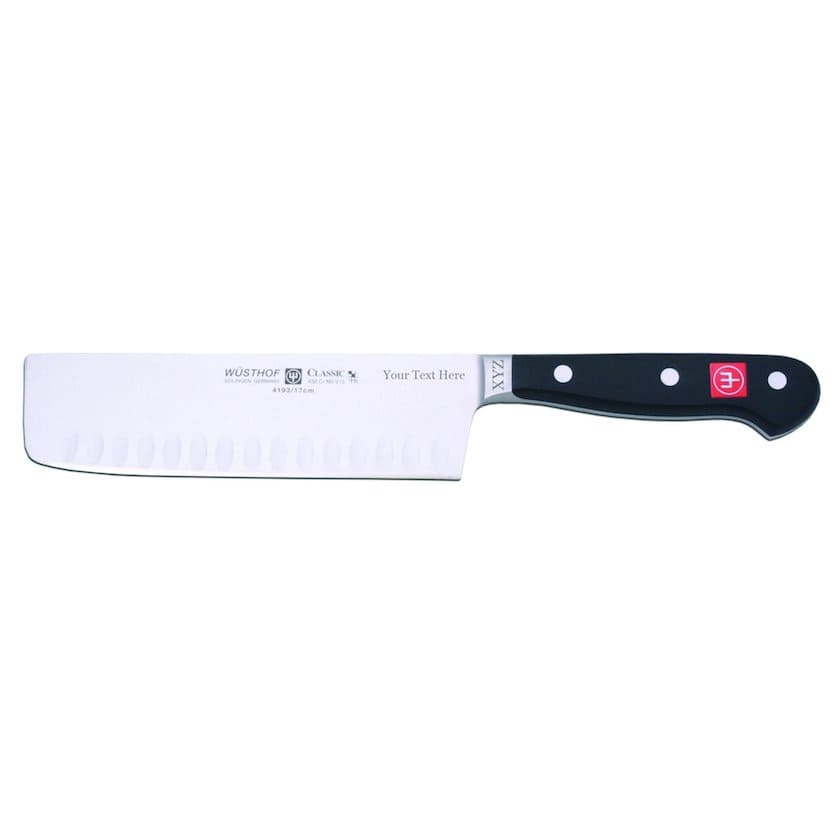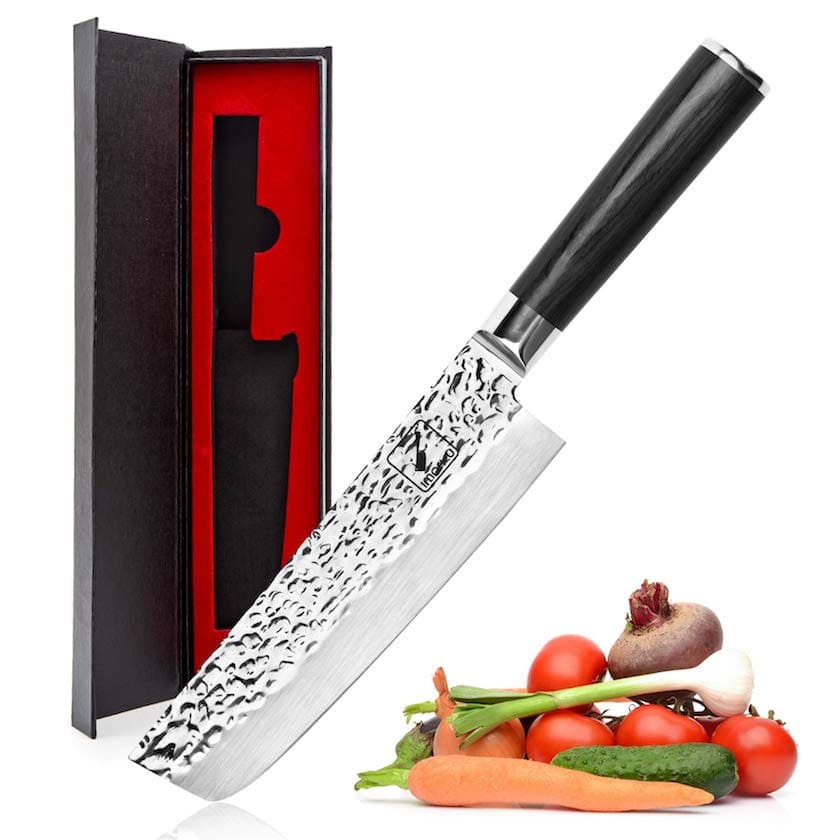 imarku Chef Knife - Pro Kitchen Knife
Also known as a Nakiri Bocho, a Nakiri is a Japanese-style knife used to chop vegetables. It features squared-off tips and a straight blade edge that allows easy cutting without applying much force. Its thin and lightweight design makes it ideal for preparing all types of vegetables.
Chopping vegetables can be a cumbersome task. However, Nakiri knives come in handy to ease this task. With a good Nakiri knife, creating a wide range of different dishes becomes easier. They are highly durable and easy to use, thanks to the traditional Japanese blade-forging processes.
There are many options to choose from when it comes to the best Nakiri knife. Based on our research and testing we found 7 nakiri knives that stood out. Among them, the DALSTRONG 6″ Phantom Series was our pick for the best overall Nakiri knife. It is masterfully forged and delivers amazing performance for a very long period. But everyone will have their own requirements.
Read on to learn more about the popular Nakiri knives to add to the kitchen.
Things to Consider When Buying a Nakiri Knife
Before picking a Nakiri knife to suit your needs, consider the following factors.
Blade Material
Nakiri knives are mostly made of stainless steel. However, not all stainless steel is equal. Nakiri blades are made of either low or high-quality carbon steel. Varying amounts of carbon determine the quality and durability of the blade.
Low carbon steel blades aren't durable. They are softer and need regular sharpening. Besides, they dull much quicker.
On the other hand, high carbon stainless steel blades hold on for a long time. They are easy to sharpen and require less maintenance. If you want a durable Nakiri knife, look for one with high carbon stainless steel.
Blade Length
The length of the blade is a key consideration if you want a smooth chopping experience. Ideally, a Nakiri blade should be at least 5" to make cutting work easier.
Also, too long blades aren't ideal for chopping. A standard blade shouldn't exceed 8" for precise cutting. Besides, larger blades are heavier and make chopping work more cumbersome.
Finishing of the Blade
Since Nakiri blades are designed for chopping veggies, the nature of blade finishing matters a lot. This is because vegetables tend to stick on edges during chopping. The right blade finish prevents sticking, making work easier.
Hand-hammered finishes are less likely to stick food since they reduce drag during cutting. You are also likely to experience less sticking with Granton-edged blades. The air pockets on the blade sides allow for quick-release of food.
Blade Handle
A high-quality handle is essential. It improves performance and delivers a comfortable feeling during use.
Ergonomic handles with contours provide a good grip and are easy to use. When choosing a knife, look for contoured edges as they make work easier and more effortless.
Ensure the handle provides a firm grip. Avoid slippery handles as they may lead to unwanted injuries.
Also, consider the blade material as well. Generally, metallic, plastic, and wooden handles are the most common options. Regardless of the type of material, ensure it operates perfectly.
Durability
Choosing a durable blade is highly beneficial. No one wants to shop for a new blade every year. Its overall construction determines the durability of a knife.
Forged knives are highly durable. The extreme heat which molds the steel creates a strong blade that isn't prone to bending. Forged blades are considered more quality than stamped blades.
Stamped knives are made with machines that stamp the blade from a piece of steel. The edge is sharpened to achieve a similar thickness. While stamped blades aren't considered as durable as their forged counterparts, they can perform exceptionally well.
Maintenance
It's always advisable to consider the ease of maintenance when purchasing a blade. Some blades corrode more easily than others hence the need for regular maintenance. If you are not ready for regular cleaning and drying, it's advisable to choose a corrosion-resistant blade.
Low carbon stainless steel may require regular sharpening, unlike their high-carbon counterparts. If you mind frequent sharpening, it's advisable to prefer forged knives as they stay sharp for a long period.
Benefits of Using a Nakiri Knife
There are so many kitchen knives to consider, but why should you go for a Nakiri knife? No matter how you want to chop with it, it always delivers. Here are some of the advantages of using a Nakiri knife;
Entry Level Type of Knife
This knife is very simple to use and handles very well, providing comfort to the user. You don't need any technique or skill to use this knife. It's the typical knife you will find in every Japanese home.
Light with Generous Blade Length
The majority of Nakiri knives have a length range of 5-7". They aren't too heavy or too light. You can chop with it effortlessly, unlike other heavy blades.
Clean Cut
Nakiri knives are typically thinner than ordinary knives. The flat profile makes them ideal for cutting vegetables into thin, desirable strips.
Unlike other knives that crush or damage veggies, Nakiri avoids all that. You don't have to worry about those thin cuts of onions as it produces thin, clean cuts.
Even Slicing for Precise Cuts and Delicate Food
A Nakiri knife enables you to make precise slices of vegetables. It's easy to control even when making speed cuts. Also, it has a high level of sharpness that allows you to make very thin cuts.
Frequently Asked Questions
What Is The Nakiri Knife Used For?
A Nakiri knife is used in home kitchens to slice, cut, and mince vegetables and fruits. While a Nakiri knife is used to chop vegetables, it is not ideal for chopping meat and hard materials.
What is the Difference Between a Nakiri Knife and a Santoku Knife?
A Nakiri knife is used specifically for chopping vegetables. It is thin and not suitable for use on hard materials. On the other side, a Sankotu knife is multipurpose. It can chop vegetables, fish, fruits, cheese, and even meat. Ideally, a Sankotu knife is more versatile than a Nakiri.
What Is The Difference Between a Nakiri and an Usuba Knife?
A Nakiri and a Usuba differ in the shape of the cutting edge. A Nakiri is sharpened from both sides, while a Usuba is sharpened from one side. With a Nakiri, you can cut from the left or right-hand side. The Usuba is a single-beveled blade sharpened on one side.
How Do You Maintain a Nakiri Knife?
It's easy to maintain a Nakiri knife. All you need is to wash and dry it. If the knife isn't in use, apply a thin layer of oil on the edges to prevent corrosion and rust. Regular sharpening is also essential to keep the knife's performance on the top level.
Best Nakiri Knife
Ready to choose a Nakiri knife? Having tested and researched on 40+ nakiri knives, here are our 7 picks for best nakiri knives on the market.
Best Overall: DALSTRONG Nakiri & Vegetable Knife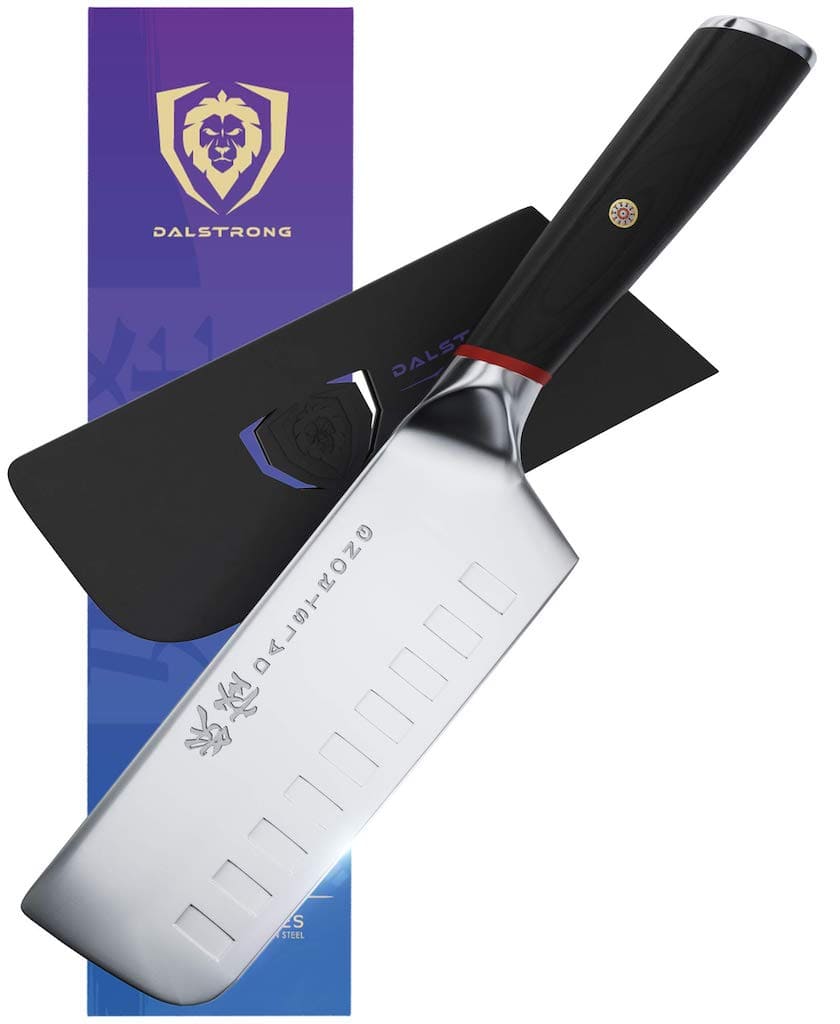 This is our pick for the best overall Nakiri knife. It is a chef's favorite due to the high cutting precision that it provides. Forged from AUS-8 steel, it combines power, beauty, and performance to give the ultimate cutting experience.
The Dalstrong Phantom Series 6" Nakiri knife comes with highly efficient PakkaWood handles that provide a great grip when cutting. The hand-polished cap creates a counterbalance that feels like an extension of your body rather than the normal kitchen knife. Besides, the Japanese D-handles are well-crafted to tuck seamlessly into the palm of your hand.
The sculpted designs on the knife's surface are not only for aesthetics but also for preventing sticking of veggies during cutting. It is beautifully hand-polished and refined with more detailed engravings to give the ultimate beauty. Mostly, it's common among chefs who prepare vegetables in bulk.
This blade is tapered for flexibility, durability, and minimal surface resistance.
Things we like
Peak Performance. This knife is ultra-sharp and sturdy enough to deliver high performance. Also, it's carefully tapered to handle with ease and cut effortlessly. It will perform bulk tasks without any complexity.
Ergonomic Design. This knife's blade is beautifully engraved to provide both performance and elegance. It's coupled with a rich black Spanish Pakkawood handle that looks precise and fits perfectly into your palm. The subtle luxury is further enhanced by the brass and copper additions on the handle.
Low Maintenance. You don't have to keep working on this blade at all times. As long it's clean and isn't exposed to rust, it can perform seamlessly on the top level. It stays sharp and cuts with high precision even with minimal performance.
Things we don't like
Too Long Handle. While the knife's blade is ergonomic and has a great grip, some users with smaller hands may find it too long compared to normal kitchen knives.
Best Premium: Wusthof Classic Nikiri Knife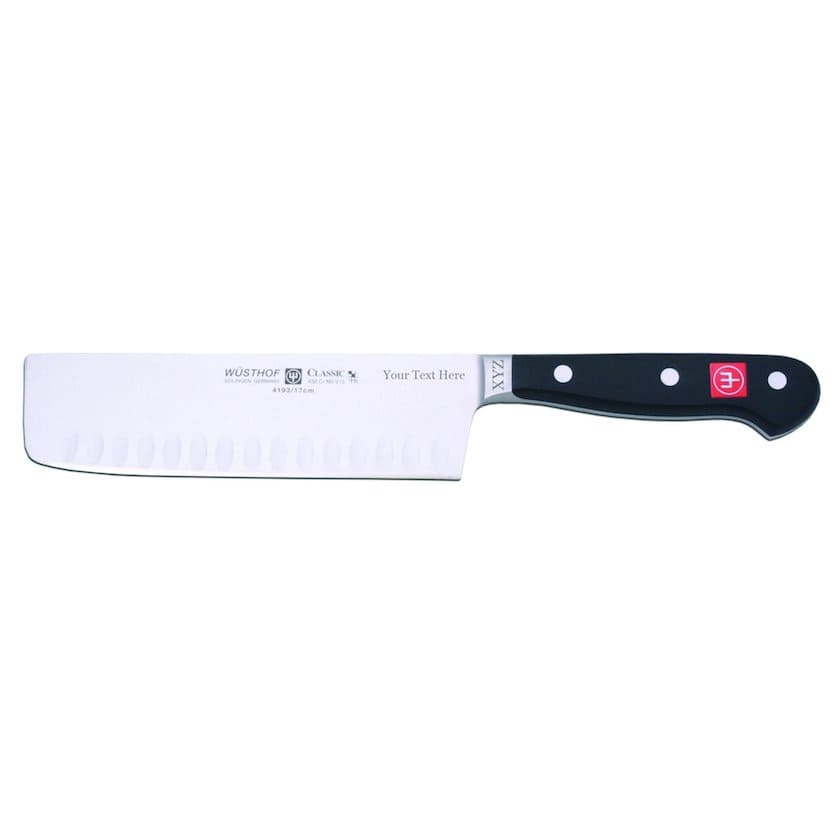 Forged from a high-carbon stainless German steel, this is one of the most versatile knives you can choose. It's stronger than normal Nakiri knives and can cut and slice through boneless meat. It boasts high-quality craftsmanship, durability, and safety.
The sturdy handle features highly durable synthetic polymer material. The handle is riveted with no joints to minimize any impact during cutting. For daily use, it performs superbly due to its exceptional balance. To prevent the user from getting injured, this knife is enhanced with a finger guard for protection.
To ensure the blade cuts through veggies perfectly, it has added indentations on the 7" edges. Thanks to Wusthof's Precision Edge Technology, this knife is extra sharp. It's sharpened by precision robots and stays sharp even after years of daily use. A special disc is used to give the knife a smooth final polish.
Things we like
Precision Cutting. This blade offers unique, consistent cuts. The knife features a thin edge for non-stick cutting of vegetables.
Easy to Use. The Wusthof Classic 7" Nakiri knife is very comfortable as the handle design makes it easy to use. If you are looking for the go-to knife, it provides a seamless cutting experience.
Long-Lasting Performance. Made with cutting-edge technology, this knife is highly durable. The chromium-molybdenum-vanadium steel used to manufacture this knife is sturdy and does not deform easily. Besides, you don't have to keep sharpening it, which contributes to a long-lasting performance.
Things we don't like
Heavy. This blade is heavier than the majority of Nakiri knives we tested..
Best Budget: imarku Chef Knife - Pro Kitchen Knife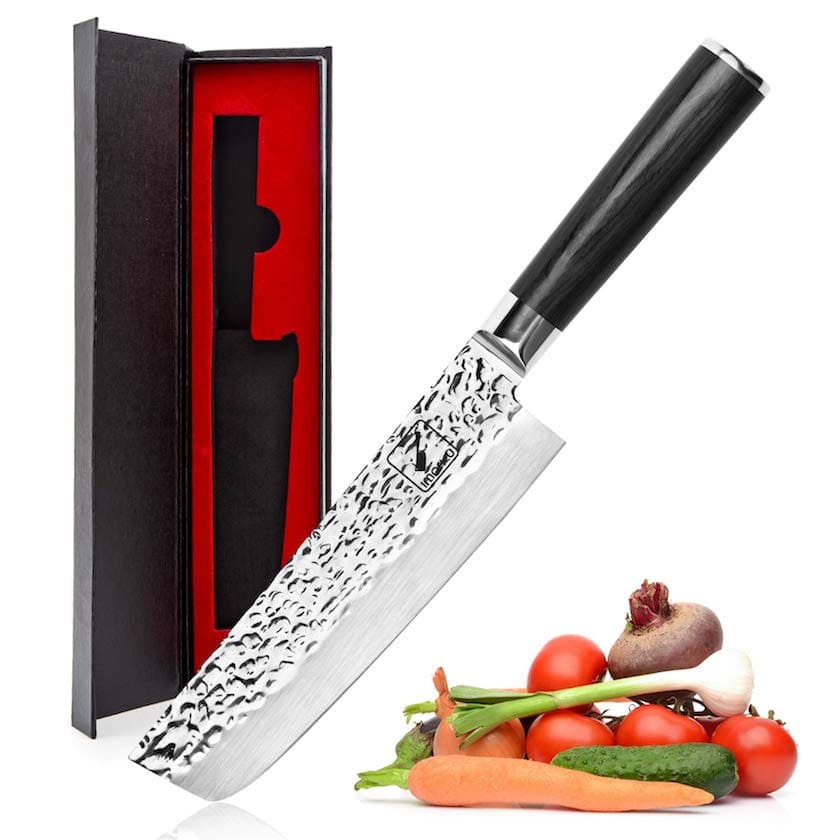 Made of high-carbon stainless steel, this is our pick for the best budget Nakiri knife. For its price, it features the ultimate craftsmanship, detail, and ergonomics. It is multipurpose and can chop, slice, and mince vegetables to pure perfection.
Mixing the traditional Japanese blade design and modern state-of-the-art kitchen cutlery, the 7" Imarku Nakiri knife is practical, pretty, and easy to use.
This blade features a hammered finish that prevents food from sticking. Its hammered indentations reduce drag during use. It provides a smooth feel while cutting through vegetables.
The sleek design and dented pattern running across the kitchen gives it an aesthetic appeal. This is coupled with a stable and sturdy Bamboo handle that provides a firm grip.
Things we like
Easy to Maintain. If you are looking for a blade that won't be a headache during maintenance, you must consider the Imarku 7-inch Nakiri knife. While it's not dishwasher safe, it's easy to clean. To maintain its crisp appeal, hand-wash with mild soap and clean water.
Lifetime Warranty. This knife comes with a lifetime warranty against manufacturing defects. It's so precisely made to withstand decades of daily use.
Lightweight. This 7" Nakiri knife is easy to manipulate around the kitchen. It chops, minces, and slices effortlessly. Weighing only 8.8 oz, it's easy to lift and carry around.
Things we don't like
Slippery Handle. We found the handle to be slippery, especially after some period of use.
Shun Cutlery Classic Nakiri Knife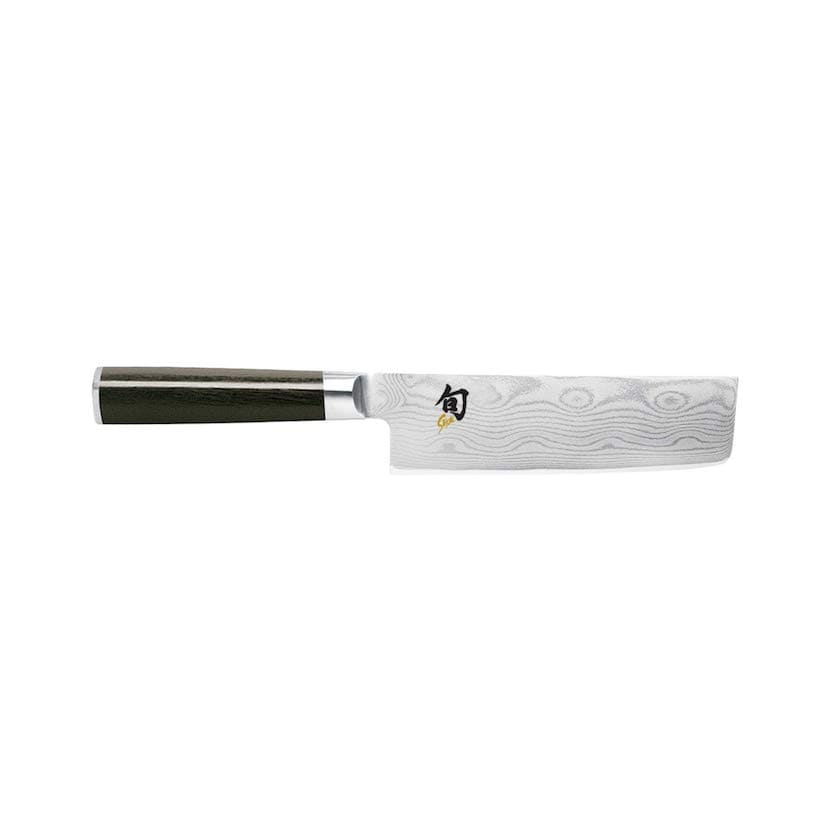 Handcrafted in Japan, if you're looking for something elegant then this is our pick for the best premium Nakiri knife. It blends beauty and functionality with elegant handcrafting.
The blade features 67 layers of VG-MAX steel enhanced beautifully with a Damascus finish. It's not only sharp but also sturdy and durable. To give users absolute guarantee, Shun provides a lifetime warranty for this knife. It is non-stick and can penetrate through food with ease.
With a PakkaWood handle providing a lovely style, this knife looks beautiful and is a great addition to any kitchen. It does not shrink thanks to the patented Shun-specific Pakkawood's technology. For maximum grip, the handle is porous and well-rounded.
The Shun Classic Nakiri knife is forged from lightweight white steel. White steel not only produces clean cuts but is also corrosion-resistant. To make the knife resilient, Shun adds chromium to white steel.
The hand-hammered blade is also aesthetically pleasing. It is polished to perfection to produce a sturdy knife that can provide effortless cutting for long. It has great control, which helps produce clean cuts.
Things we like
Superb Control. If you want a great cutting experience, you need a blade that handles perfectly with minimal slip. This knife feels comfortable and comes in handy for mundane kitchen tasks.
Clean Cuts. Shun designed to cut through all vegetables perfectly. Whether you want to slice a cucumber or make salad, this knife is very versatile. It is lighter with razor-sharp edges and Damascus contours to cut smoothly.
Traditional Blade-Making Technology. This blade is traditionally crafted to add a vintage appeal to your kitchen. It's handcrafted in Japan to maintain the ancient blade tradition. Besides, it blends well with modern kitchen cutlery.
Things we don't like
Handle Not Suitable for Small Hands. People with small hands may find it hard to use this knife. The rounded Pakkawood feels less comfortable and reduces its handling.
Tojiro Kitchen Knife F-502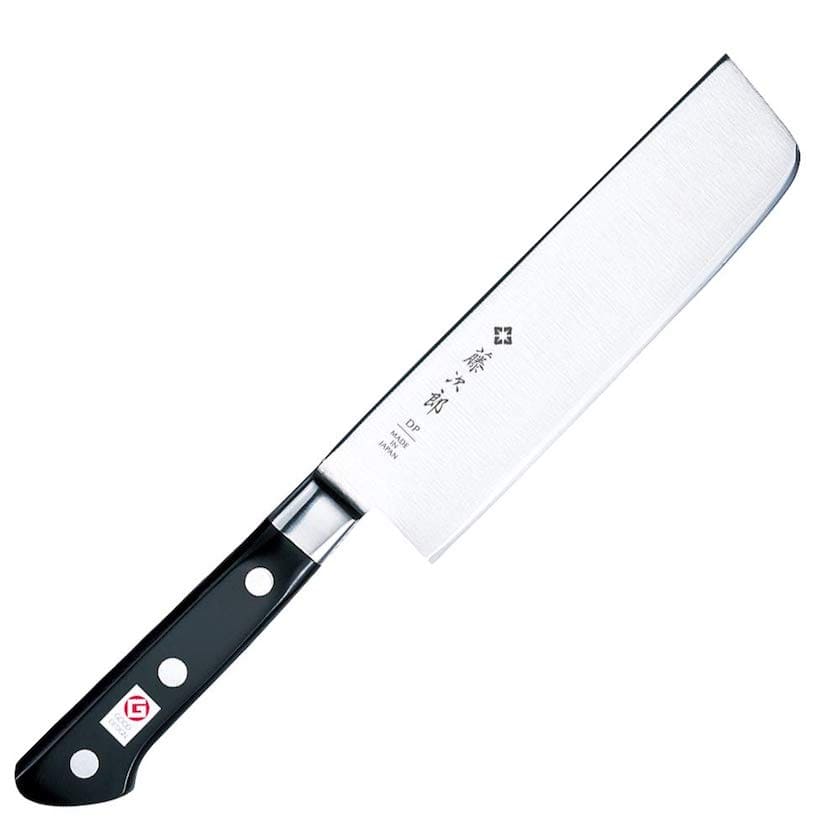 The Tojiro F-502 is an ideal option to put into consideration when choosing a Nakiri. It comes with a great overall design and well-beveled edges that slice and dice vegetables perfectly.
This Nakiri knife's handle is manufactured expertly to fit in your palm for excellent control to provide a perfect grip. The elegant yet simple handle feels very comfortable on the palm. You get fatigue-free cutting thanks to the triple-riveted ergonomic handle.
This is one of the most durable Nakiri knives. It is made of VG10 Cobalt Alloy Steel with an outer layer of chromium. Measuring 60 Rockwell Hardness, it can slice hard veggies with utmost precision.
The fully-forged construction provides a seamless transition from your handle to the blade, giving both balance and durability.
The distinct mosaic pin of brass and copper adds a luxurious touch to your kitchen. This knife looks stunning on the countertop and blends perfectly with your cutlery.
Things we like
Easy to Sharpen. Chromium-plated VG-10 steel sharpens easily. Besides, a single sharpen offers lasting performance.
Razor-Sharp. The premium-quality steel allows for razor-sharp cuts. It cuts nicely without destroying the shape of your vegetables. It stays sharp for long, even with rigorous daily usage.
Comfortable. When you get accustomed to this knife, it feels like an extension of your arm. It's lightweight and has a fitting grip.
Things we don't like
Quick Rusting. When not well-maintained, this knife is prone to rusting after several months of use. It would help if you kept an eye on it, washing with only soap and water and coating with vegetable oil after drying.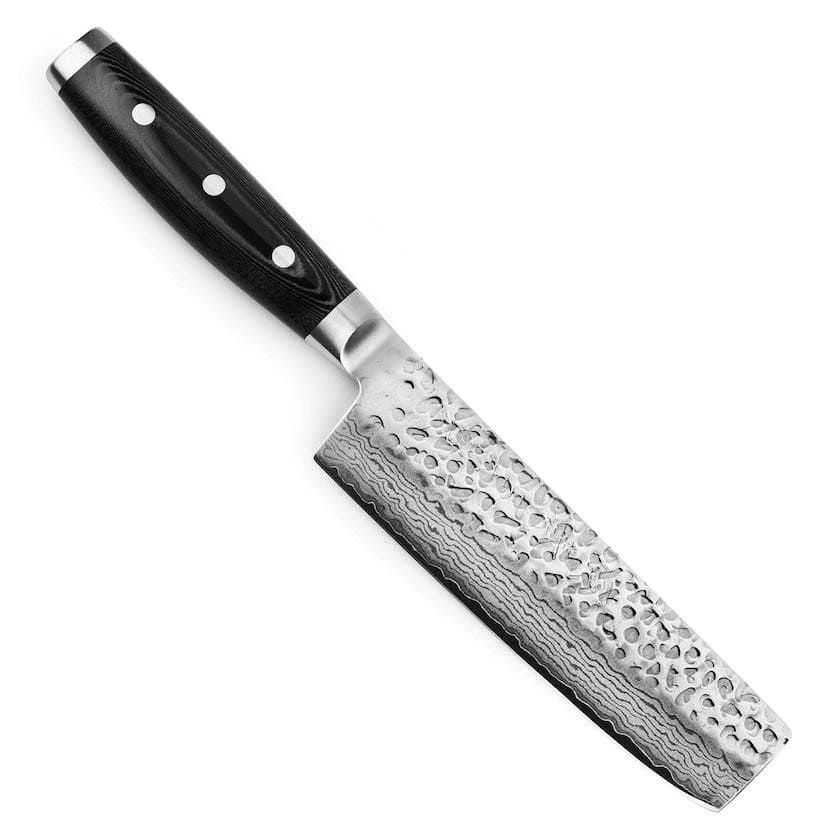 Handcrafted in Japan by expert artisans, this is the best Damascus Nakiri you can buy. This 37-layer Damascus has a hand-hammered finish with a Rockwell Hardness of 61. It's ideal for cutting through a variety of dishes, from salads to vegetables.
Weighing only a mere 8.2 oz, it is lightweight and easy to maneuver around the kitchen. It cuts, slices, dices, and minces with seamless performance. It can perform numerous tasks in the kitchen without any difficulties.
The blade is constructed with a VG-10 Damascus steel that looks appealing and overly impressive. The machine-pressed Japanese characters further enhance the beauty of this knife. It brings the traditional aspect into the contemporary world.
The knife's handle features three stainless rivets that bolster the black canvas micarta with the full tang. The fully enclosed full tang construction ensures durability, balance, and strength. It provides a super easy grip for maximum comfort.
Things we like
Impressive Design. The blade has small carvings on the surface which add aesthetics to functionality. The carvings are well-distributed on the blade edge, giving it an attractive appeal. The hammered characters bring about the ancient Japanese knife culture.
Easy to Use. Thanks to its lightweight design and perfect handle, this blade is easy to use. Besides, it's compact and easy to carry on outdoor travels.
Durable. This Nakiri blade is made of the notoriously tough VG-10 stainless steel. Hand forging and hammering produce a tough blade that you can use for ages.
Things we don't like
Knife Chippings. Since this product is hand-crafted, it's possible to find a chipped blade. However, this is rare, as all blades pass through rigorous testing.
The Bottom Line
Nakiri knives are durable, strong, and have impressive designs. They deliver seamless cutting, chopping, and dicing of vegetables.
Choosing a reliable and versatile blade will improve your cutting experience. With so many options, you should be careful to select a knife that can perform your tasks effortlessly.
Overall, The Dalstrong 6" Phantom-Series Nakiri is perhaps the best nakiri knife if you want to balance top quality with price. Though, if you really want the ultimate experience of using a premium quality nakiri, opt for the Shun Cutlery Classic 6.5" Nakiri Knife.