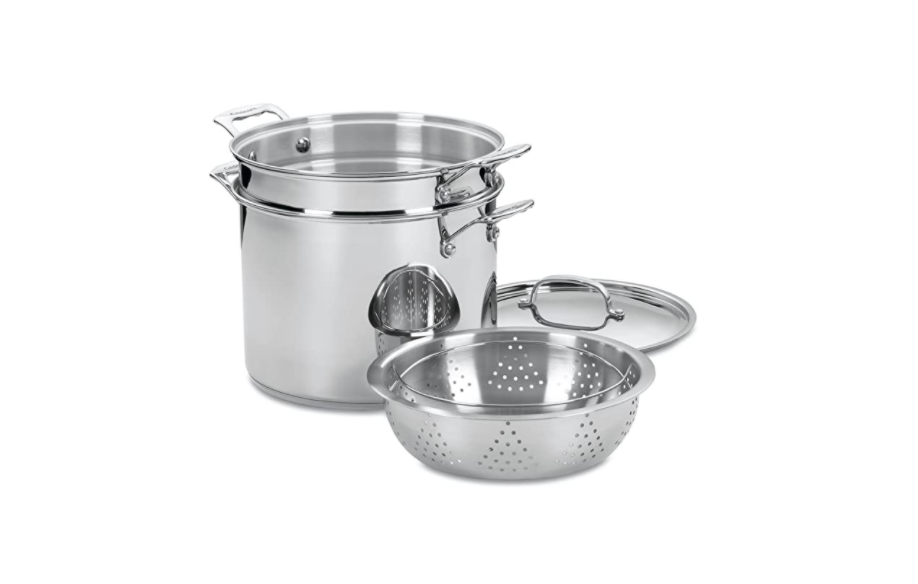 Cuisinart 4-Piece 12-Quart Pasta/Steamer Set - Best Cuisinart Pasta Pot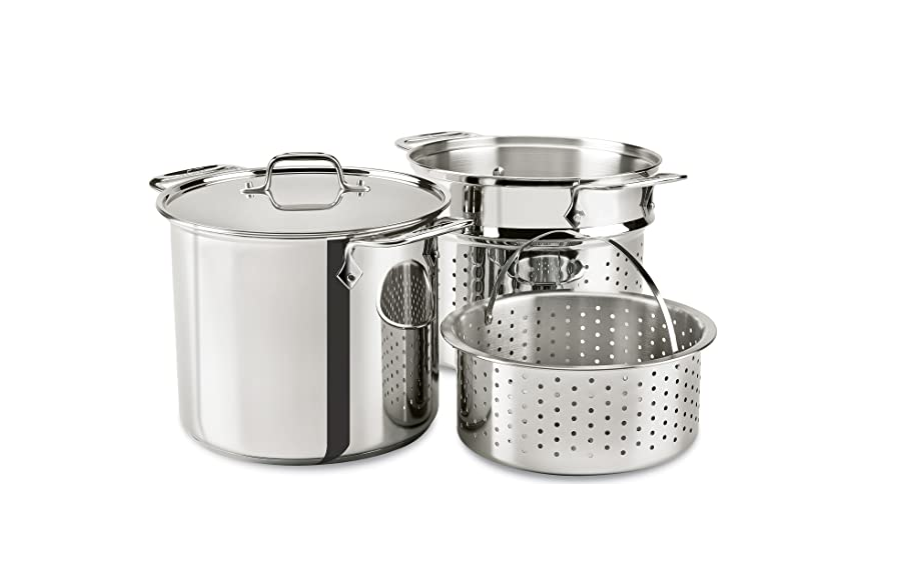 All-Clad Stainless Steel Multicooker - Best Premium Pasta Pot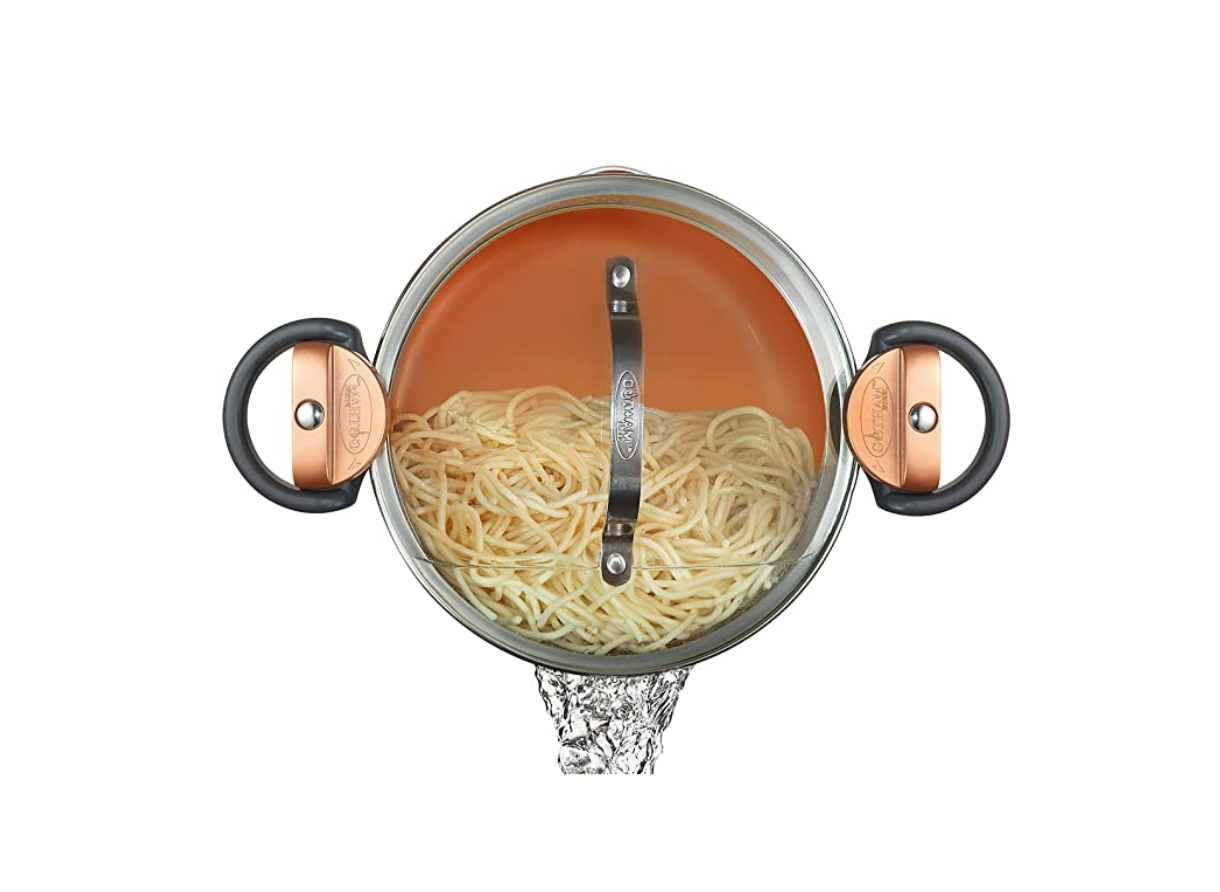 Gotham Steel 5 Quart Multipurpose - Best Budget Pasta Pot
Choosing a pasta pot is overwhelming! This is why we have done some of the research for you. Below is a list of the best pasta pots to meet your individual needs.
I've put together an option for all chefs. If you are a new chef, an accomplished chef, or a mom trying to put a meal on the table we have you covered!
Best Pasta Pots
Best Overall: Cuisinart 4-Piece 12-Quart Pasta/Steamer Set - Best Cuisinart Pasta Pot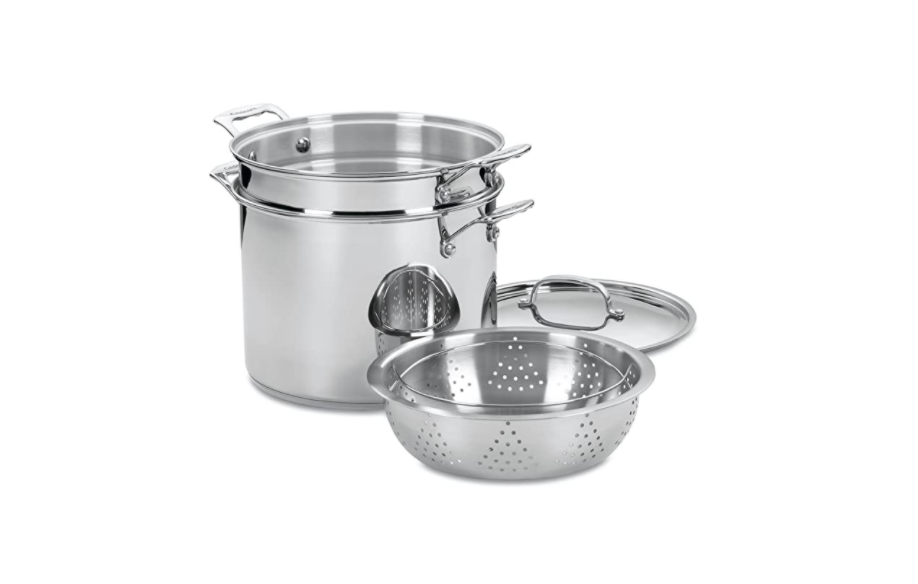 Some people don't even realize that Cuisinart is a brand name and not an actual kitchen tool. The Cuisinart name tends to bring up the idea of quality among those serious about cooking. The best Cuisinart pasta pot is the 77-412 Chef's Classic Stainless 4-Piece 12-Quart pot.
There are quite a few features when you consider that this is a four-piece set. Let's start with the quality and materials of this product. This pot is made with stainless steel that both looks and feels professional. Aside from looking sharp, the stainless pots distribute heat and quickly. This will make sure that your meal cooks appropriately.
When it comes to safety features on this Cuisinart set, you will notice that the cool grip handle will stay cool while cooking. The handle itself is riveted to give you a much better grip on the product while pouring and lifting as well.
The Cuisinart Stainless Pot comes with a tight-fitting lid and a strainer as well. You will be able to complete a variety of kitchen tasks with this stainless steel pot, in addition to making outstanding pasta.
To top it all off, the Cuisinart pot is dishwasher safe. Since this pasta pot is made with a high-quality stainless, you will notice that it cleans perfectly. Stainless will not discolor or change the taste of your food in any way. The only real downside to a Cuisinart product is the price. However, this is a pot you will likely pass down to your children. When you consider the value of that, it's hard to complain about the price.
Things we like
Stainless steel construction for quality, long term durability, and consistency in cooking.
Safety handles do not get hot when cooking.
Built for multi-purpose. This four-piece Cuisinart set comes with everything a chef needs to make pasta and more.
Dishwasher safe for easy cleanup.
Things we don't like
Price – being a Cuisinart product, it is a little more expensive than other brands.
Best Premium: All-Clad Stainless Steel Multicooker - Best Premium Pasta Pot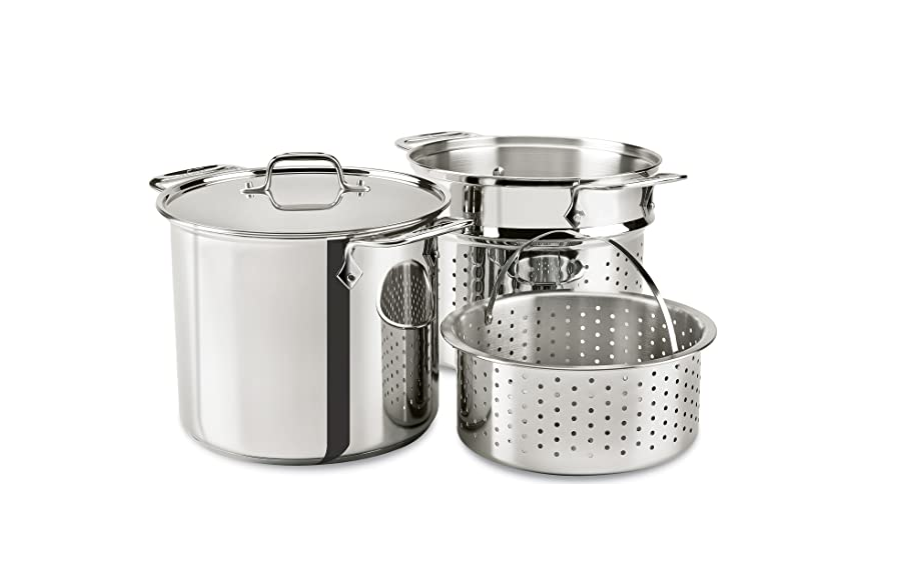 If you are the type of chef that wants only the best of the best products in your kitchen, then we have an excellent solution for you. This All-Clad E9078064 multicooker is an 8-Quart pot that will hold up to the highest demands of any chef.
It has a classic looking design made almost completely with stainless steel. There is a thick aluminum warp-resistant base. The reason behind the aluminum base is that the pot should heat up a bit faster. We did find that to be the case when we worked with this pot; it was ready faster than we expected.
This is not a nonstick pot, but the highly polished stainless works almost the same way. You should be able to quickly clean and put this pot away after a trip through the dishwasher.
If you need a versatile option that can help steam food or drain your pasta, you will need a strainer pot. You will have plenty of easy to grab handles on the All-Clad pots. This will make straining and working with your food that much easier. The only downside is that the handles can get a bit hot. Nothing a good pair of kitchen gloves couldn't help with.
Something that makes this All-Clad Pot a bit more special is that it is also oven and broiler-safe to 600 degrees. With a lifetime warranty, this could be the only pasta pot you buy in your lifetime.
Things we like
Lifetime warranty. With an All-Clad Pasta Pot, you will get a lifetime warranty.
Multi-use. This is a multi-pot solution that gives you many options for steaming and straining as well.
Dishwasher & oven-safe. The All-Clad Pasta spot is both dishwasher and oven and broiler safe (up to 600 degrees).
Premium value. The All-Clad Pots are only priced slightly higher than other options. But you get a pot that could last for your entire life.
Things we don't like
Needs mitts. The handles on these pots are pretty traditional. You'll need some mitts to protect your hands.
Non see through lid. The top of the pot is stainless steel, so there will be no peeking in at your dish.
Best Budget: Gotham Steel 5 Quart Multipurpose - Best Budget Pasta Pot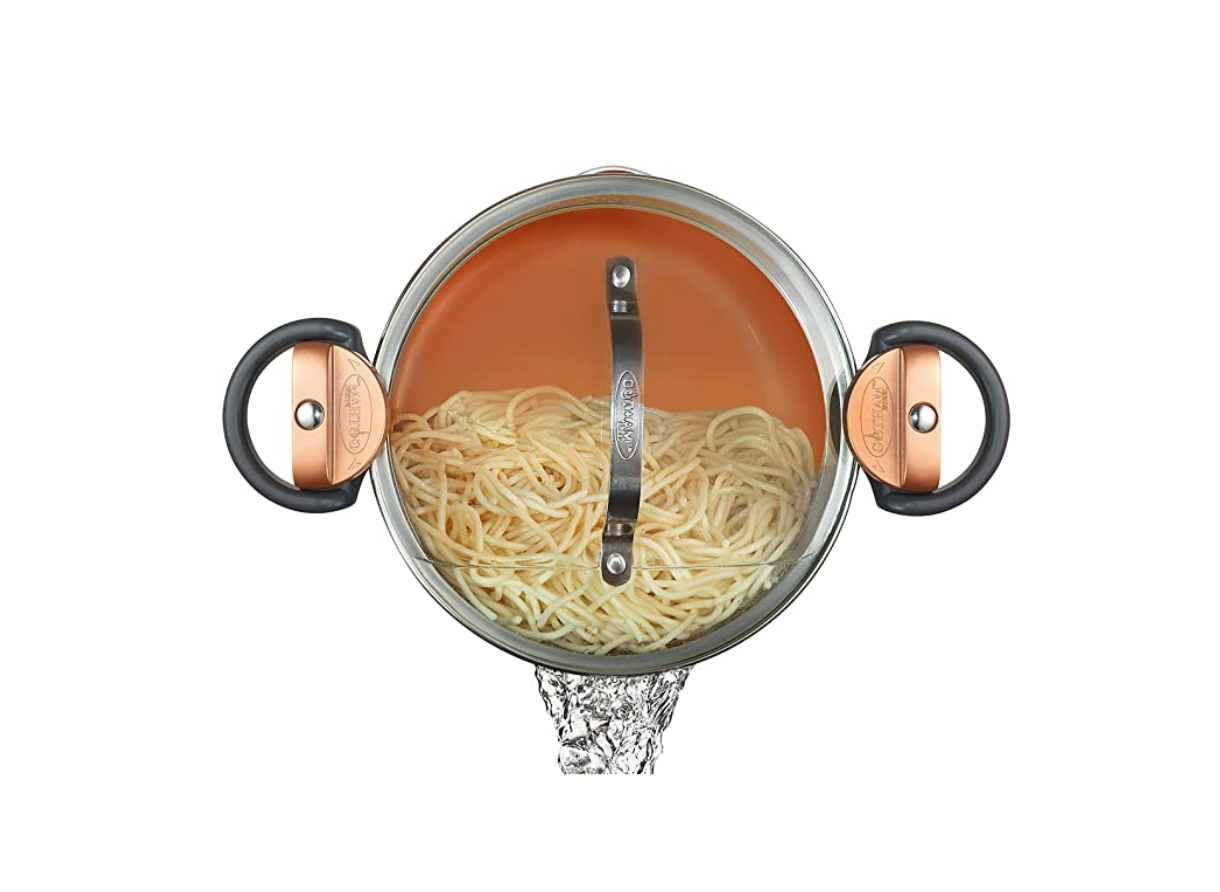 From the top of the line premium product, we move right along to the best budget pasta pot. If you want a quality pasta pot that is not going to cost you an arm and a leg, the Gotham Steel 5 Quart is an excellent choice.
Right off the bat, you will notice that this is a five-quart pot. It will not have the same capacity as some of the other pots that we have reviewed. The Gotham Steel does come with some very high-quality features, especially for that price!
The Gotham steel 5 quart comes with twist and lock handles that help you drain this pot with ease. All you have to do is place the top on, twist the handles and start dumping the water out. With the transparent glass lid, you can check on the progress and have a great idea of when it is time to drain without having to remove the lid.
The straining holes are both large and small, so regardless of what you are cooking, you will have no issues draining out the water.
This Steel Titanium and Ceramic coated pot does well in the dishwasher and the oven as well. The problem that you will find is that this pot does not do well with an induction stove. If you happen to have induction heating, then you should look for another pot.
Things we like
Affordable. The Gotham Steel 5 Quart comes at a very fair price, especially for all it offers.
Twist & lock handles. The twist and lock lid makes straining the water out of this pot extremely easy to do.
Non-stick. The non-stick ceramic with super strong Titanium makes it the perfect go-to kitchen item.
Things we don't like
Does not work with induction heat.
Smaller pot size. Whilst great for individuals and small families, consider a larger pot if you need to serve more than 3 people.
Weight. Gotham steel is a bit heavy compared to other options on the market.
Bialetti 07265 Oval 5.5 Quart Pasta Pot - Best Pasta Pot With Strainer Lid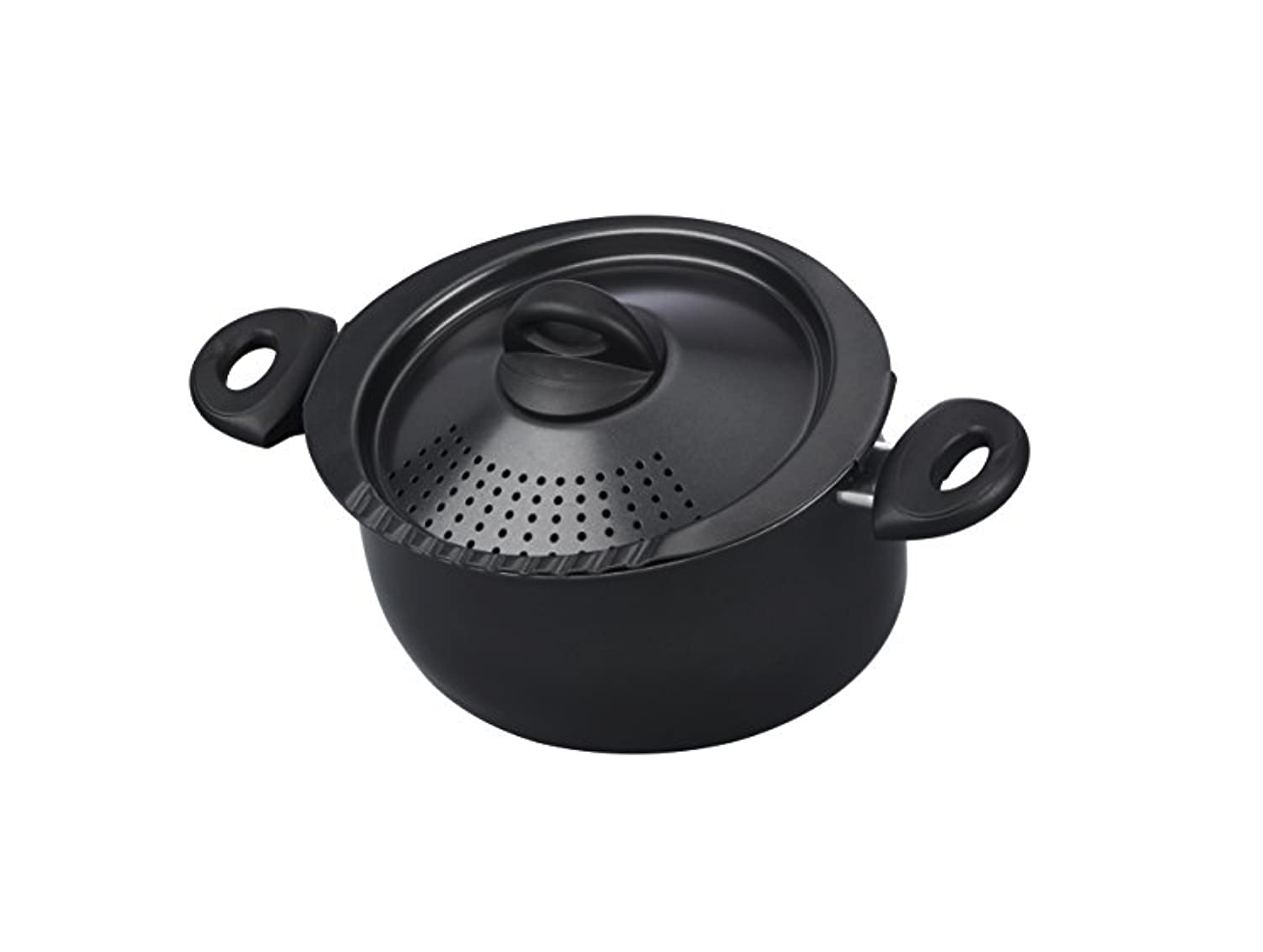 When preparing dinner, the dishes start to accumulate quite quickly. Clean up comes along with the job of making dinner. Sometimes having a pot with a strainer lid can save you just a little bit of time. Not having to wash a strainer and a pot is one of those little things that make cooking that much more enjoyable.
The Bialetti 07265 Oval 5.5 Quart Pasta Pot with Strainer Lid is an even-heating aluminum pot. When you are ready to strain this pot, you simply twist and lock the lid in place. This is both a convenient and safe feature. Trying to strain a pot while holding the lid in place can get cumbersome and dangerous as well.
The oval design on the Bialetti allows you to cook longer noodles without having to break them. For a true chef, this is a must-have feature. Another great thing you will notice about the Bialetti is the heat resistant handles. The handles make this pot even more comfortable to manage while you are straining.
Our favorite feature we saved for last. The Nonstick interior on the Bialetti is a tremendous benefit. The Nonstick will help you cook without having to coat this pot in heavy oils and butter. For an authentic Italian taste, you need a nonstick pot.
It's hard to beat the pricing on the Bialetti pot. You can also choose several colors should you not be set on the black. There is also a stainless option available, but you will have to pay a little more money for that.
We love this pasta pot for a quality option with a strainer lid. There are only one or two small things that you must consider before purchasing. The first is that this pot is not dishwasher safe. The fact that it is nonstick means that it will only take you a few seconds to wash. Still for some, not being dishwasher safe is a deal-breaker.
Things we like
Strainer lid is included to help you use fewer dishes than you usually would.
Safe design with handles that do not heat up and a secure fitting strainer lid.
Nonstick pot makes for easier cleanup and cooking overall.
Things we don't like
The Bialetti pasta pot with strainer lid is not dishwasher safe.
Limited lifespan – nonstick pots have a limited lifespan and will need to be replaced after some time.
Size Five Quart pots may be a bit small for a larger family.
Cook N Home 4-Piece 8 Quart Cooker - Best Multi-Pot Cooker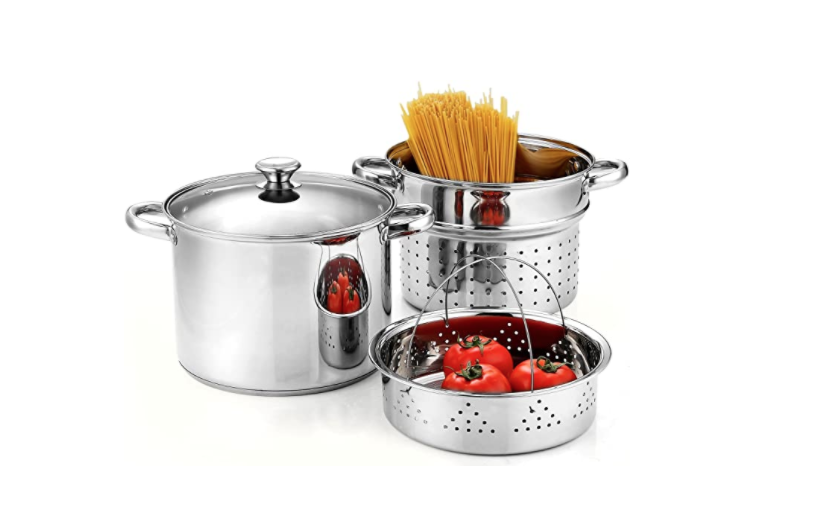 Next on our list is our favorite multi-pot cooker, the Cook N Home Stainless Steel 4-Piece Pasta Steamer. This pot comes with an 8-quart stockpot, steamer insert, pasta insert, and a tempered glass lid. This is a great complete solution if you are new to cooking, or you want to downsize and just have one functional and high-quality multi-pot cooker.
The Cook N Home has an aluminum disc on that bottom that will help the food cook a bit more evenly. The stainless steel construction of these pieces will help it last a very long time. Sometimes what happens with sets that come with a large number of pieces is that some of them will be high quality, and others won't.
We like that each piece of the Cook N Home seems to be made with higher quality materials that should hold up over time. The tempered glass lid allows you to check in on your creation without having to release all of the heat. This is an excellent feature for people that like to monitor their food or make technical meals that require constant attention.
If you are cooking for a large group of people, you will have the ability to choose the 8 quarts or even the 12-quart pot. After you cook for that larger group, the cleanup will be easy as all parts of the Cook N Home are dishwasher safe.
Things we like
Multi-pot gives you lots of cooking equipment all for the price of one.
The tempered glass lid allows you to check in on your food.
Comes in either the 8 or 12-quart design so you can feed a larger group if you so choose.
All four parts of this multi-pot are high quality and dishwasher safe.
Things we don't like
Faulty lid. There may be some minor quality control issues with the lid on this pot. In any case, the manufacturer has been very responsive to taking care of it.
Calphalon Contemporary Hard-Anodized Cookware - Best Pasta Pot With Steamer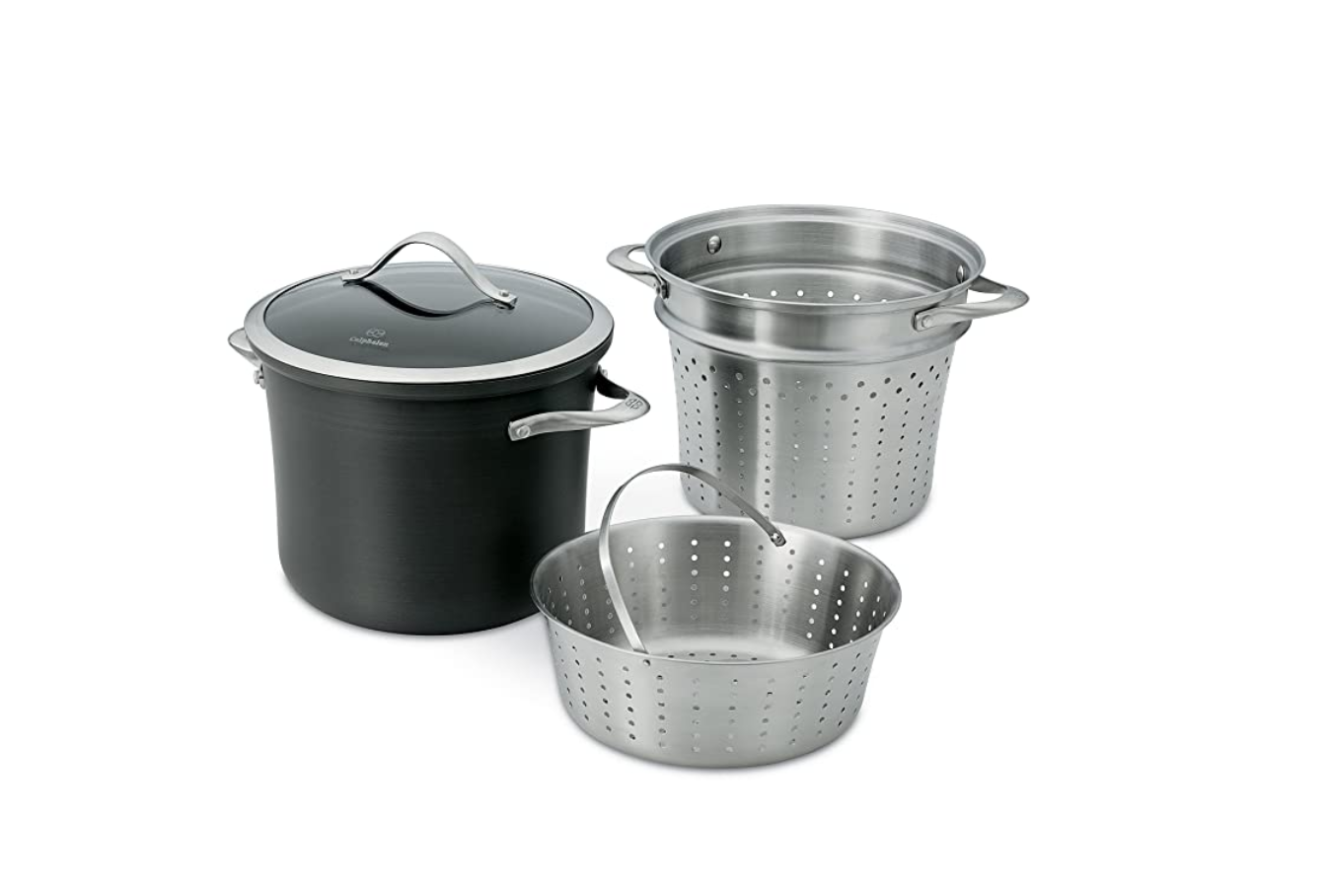 Sometimes you need your pasta pot to be more than just a pasta pot. If you are looking for a pot that will function as a steamer as well, the Calphalon Contemporary is a great option. Calphalon is a reliable name when it comes to pasta pots and cookware in general. One of the best things about the Calphalon brand is the fact that it is nonstick.
The inside of the Calphalon has three layers of nonstick coating. The combination of these three layers makes this pot very easy to work with. Even when steaming the nonstick function is extremely important. Depending on what you are steaming, there will be residue in the pot that could easily stick should this nonstick coating not exist.
The Calphalon pots come with a lifetime warranty, and they are also dishwasher and oven safe. This is a tremendous benefit when you are looking for an all in one solution.
Since the Calphalon pot is made with heavy-duty aluminum and it has the nonstick covering, it can also get a bit heavy. The handles get a bit hot, and you must be prepared for that when you are going to be straining or dumping this pot. Some people enjoy the durability and weight of this pot. Others find a stainless steel option to be a better fit.
Things we like
Steamer basket makes cooking seafood and vegetables very easy.
Lifetime warranty from Calphalon proves the durability and quality of this product.
On-stick coating makes this an excellent steamer pot for seafood.
Things we don't like
Weight. The pot can be a bit heavy.
Hot handles.You must watch the handles on the pot because they get quite hot.
Rachael Ray Brights Hard-Anodized Non-stick Pasta Pot - Best Oval Pasta Pot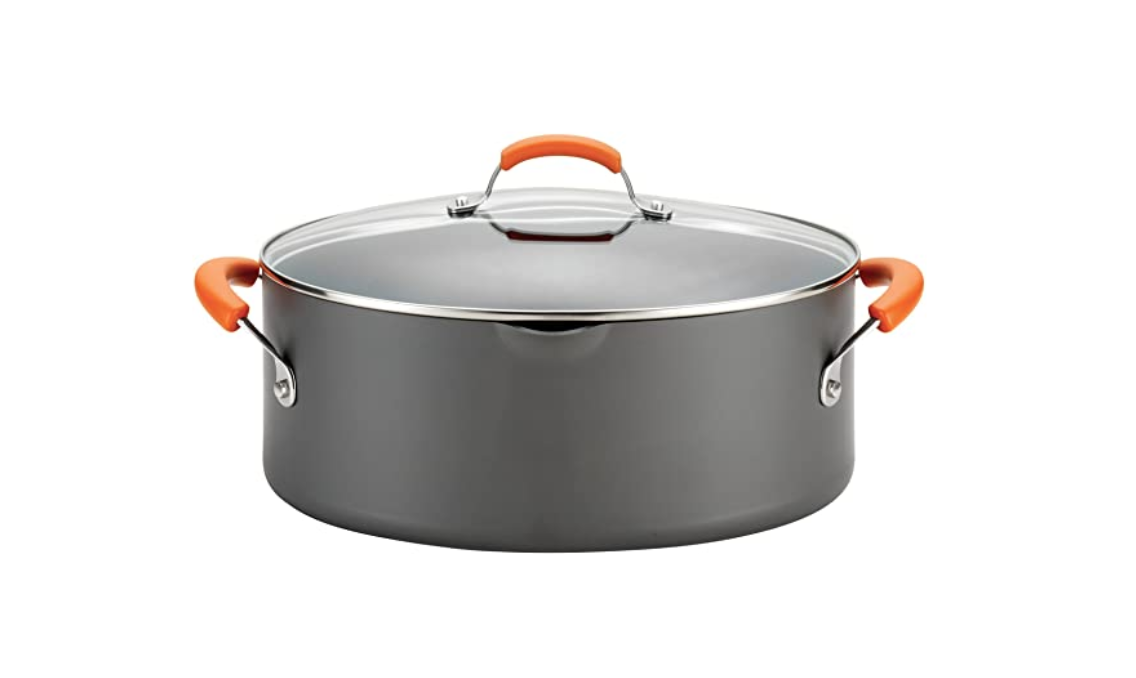 If you don't currently own an oval pasta pot, it may be time to add one to your lineup. The best oval pasta pot that we could find is the Rachael Ray Hard-Anodized Nonstick Pasta Pot. The fact that this pot is oval is not the only thing that makes this pasta pot stand out.
Oval pasta pots allow more giant size noodles to cook without having to break them. For cooking lasagna or spaghetti, you will not get the authentic meal if you have to break your pasta noodles while cooking.
The Rachael Ray pot is both durable and nonstick. If you are looking for a pot that provides very even heat, Rachael Ray is a great option. Many of the pots we have reviewed are oven safe, this pot is as well but only to 350 degrees. It's also important to remember that this pot is not suitable for induction heat.
When it comes to safety and handling, we love the rubberized riveted stainless steel handles that help when it's time for straining.
The handles will get warm but not hot. Although this design does not have a strainer top, it does have a pour spout that makes it a bit easier for draining, pouring and cleanup as well. Speaking of cleanup, you can put all parts of this pot in the dishwasher.
Things we like
Oval shapes make it much easier to cook longer pasta noodles.
Great safety features and handles for easy pouring and straining.
Nonstick pot in the 8-quart size makes this an excellent pot for cooking a family meal.
Things we don't like
Will not work on an induction stove.
An oval pot sometimes is an awkward fit on a smaller round burner.
Buyers Guide
Now that you have a better idea of the pasta pots that are available on the market. We will try and help you narrow this down a bit with some of the factors we used to research these pasta pots.
Size
Most commonly, you will see pasta pots available in 5 quarts, 8 quarts and 12 quarts. You may think that the bigger pots are better because you can feed a larger group of people, but this is not always the case.
When it comes to straining a large pot, you need to be prepared with how heavy this pot will be. If you are not a strong person and you attempt to strain a 12-quart pot on your own, it can get quite dangerous. If you are mostly cooking for two people, make things easier on yourself and go with the 5qt pot.
Strainer or No Strainer
As you saw from our reviews, some pots like the Bialetti come with their strainer lid. This is a lovely feature, and as long as the top is sitting on properly, you can save yourself a step and an extra item to wash. This is not a must on a pasta pot, but it's certainly an excellent convenience.
Our advice would be not to spend extra on a pot that has a strainer lid. If you found a pot you liked that happened to have a strainer lid, go for it!
Safety
I know you're probably thinking, its pasta how dangerous can things get. The unfortunate truth is that without the proper safety precautions in place, cooking pasta can get pretty dangerous. The most important factors to watch out for when it comes to safety are the handles and the weight of the pot.
Even some of the smaller pasta pots can get quite heavy. Look for handles that will not heat up. Another essential factor with handles is the ability to grab on properly. If you choose something that does not have a ton of safety features, just make sure you are aware when you get the pot and keep yourself safe in the kitchen.
To Check Or Not To Check?
Are you someone that opens the oven 42 times while your banana bread is cooking, or do you wait until the timer goes off? If you are a checker when it comes to cooking, don't choose a lid that you can't see through.
Every time you take the lid off of your pasta pot, you are just making you and your guests wait a little longer to eat. If you need to check, purchase a glass lid that you can easily see through to check your food.
Clean Up
Not all pasta pots can go in the dishwasher. This was never a deal-breaker for us because they just take up so much room in the dishwasher anyway. However, if you want something that goes into the dishwasher and you don't feel like scrubbing, check this before purchasing. Many of the stainless steel pasta pots are dishwasher safe.
Price
It's hard to tell if a pasta pot is good just because it is more expensive than another. Most of the pricing is going to have to do with size and material more than it will have to do with quality. The stainless steel pots are usually more expensive than other options, but they tend to hold up a very long time.
Stainless steel pots also cook a bit more evenly. If you only need to buy one stainless steel pot, but it lasts you for 30 years, it's hard to call it expensive. When you compare this to a pot that only lasts for five years, it's a good deal.
Top Pick
Although we had a winner for all different categories, there is a clear winner on this list. The best overall pasta pot is the All-Clad Stainless Steel Multicooker. Although this was our most expensive premium model, you will get a tremendous amount of value with this product. It is a versatile pot that can last you a lifetime. When you think about paying a few dollars more for an option you never have to replace, it's hard to see the downside.
If the All-Clad is a bit more than you want to pay, then the Rachael Ray Oval Pot is a great alternative. This pot won't work with induction heat. It still has all the functions and features of a perfect pasta pot for a chef of any level.