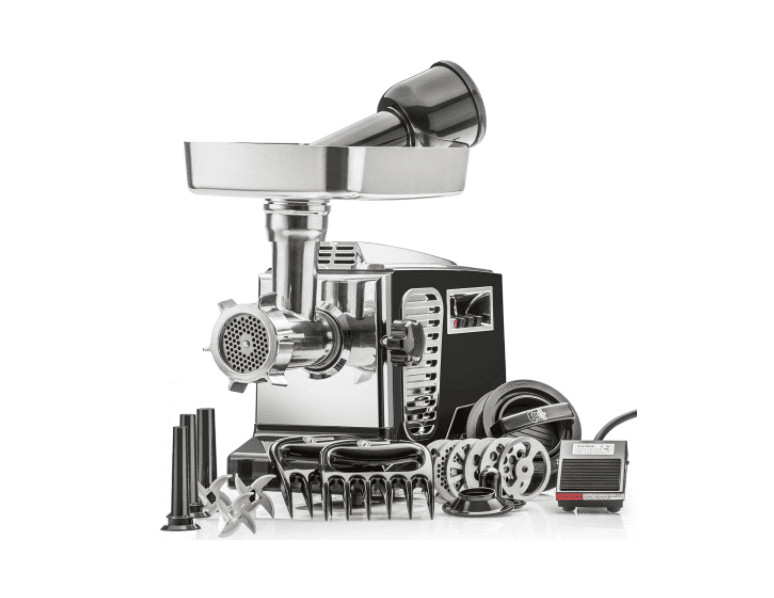 Electric Meat Grinder & Sausage Stuffer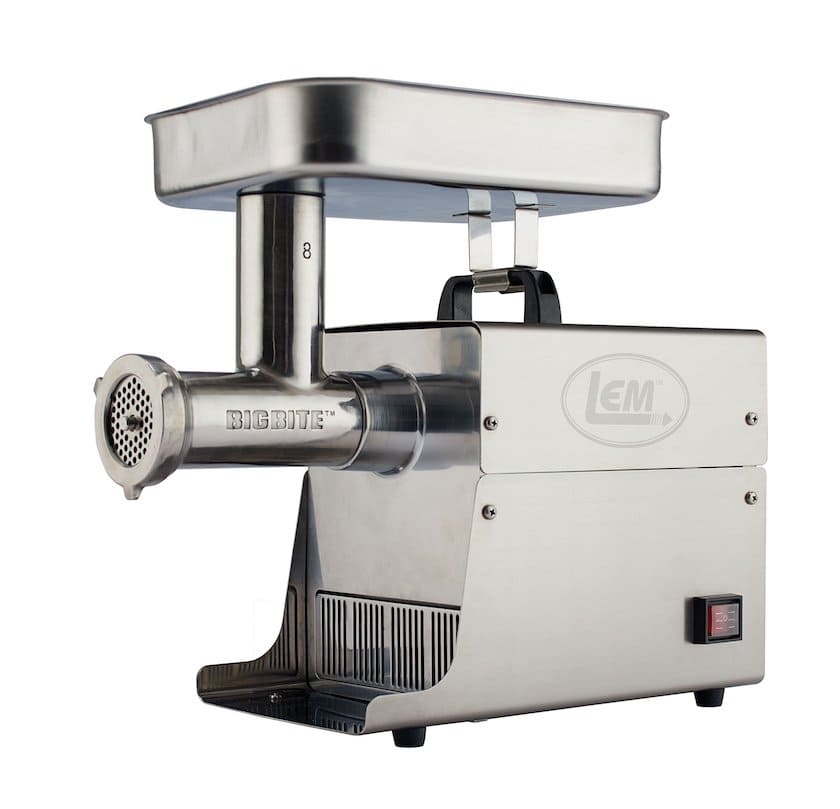 Stainless Steel Big Bite Electric Meat Grinder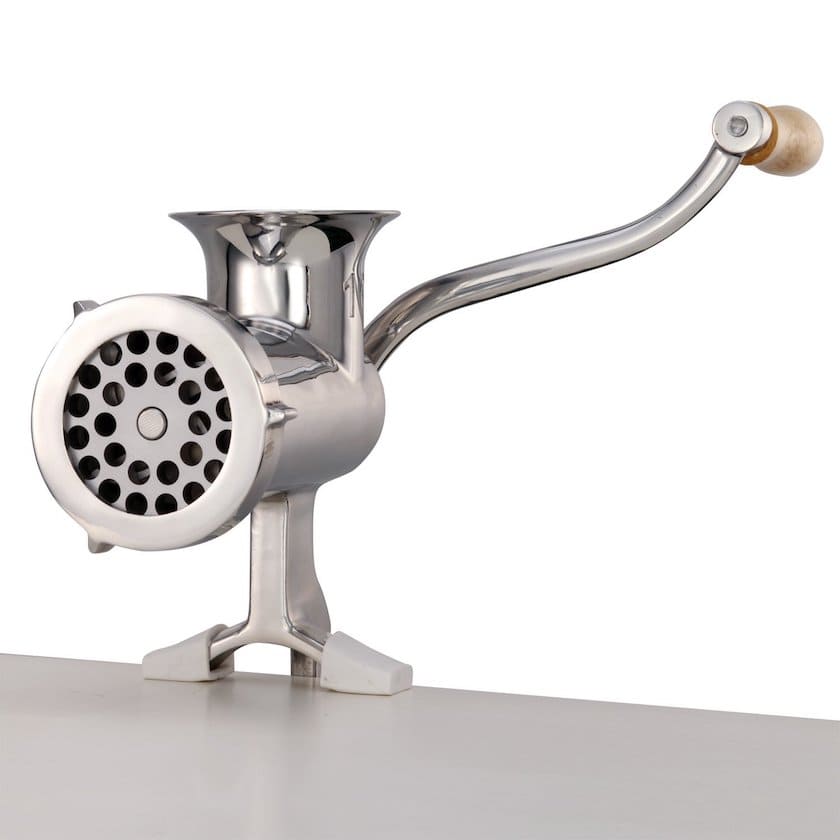 Stainless Steel Clamp-on Hand Grinder
Nothing beats freshly ground meat. Once you taste fresh-ground, you'll never go back to pre-made. That's why you should consider buying a meat grinder. The cuts taste better because no preservatives are involved. You are also sure of what you're biting into, more horsemeat anyone?
That said, mince is only as good as its grinding unit.
Most people shy from buying grinders because of the upfront price. The truth, however, is that these machines are quite economical in the long run. Pre-made meats cost more than their unprocessed equivalents. After some time, these differences add up and justify the meat grinder's cost.
For the best experience, you need the best meat grinder by your side. So, how do you determine what unit is best for you?
Best Meat Grinders in the Market
To find the best meat grinder, you'll have to go through several units sorting the hot from the not. If you already own a KitchenAid mixer, I would recommend getting started with metal KitchenAid Food Grinder attachment.
Lucky for you, we've done the hard part. Here are our picks for the best electric meat grinders you can buy:
Best Overall: Electric Meat Grinder & Sausage Stuffer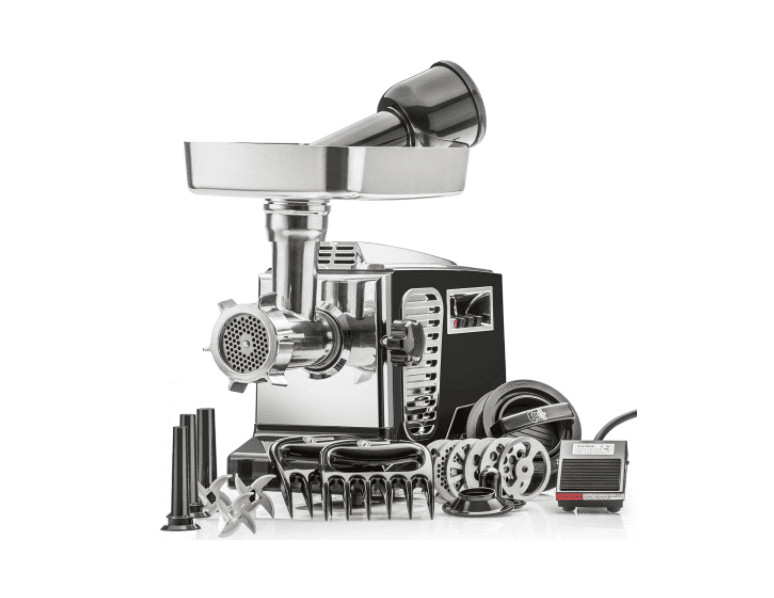 This grinder has three power settings, and a peak output of 2000W, that's about 2.7 horsepower (HP). It should grind through sinewy cuts and soft bones with ease.
Turboforce II doubles as a sausage grinder with a foot pedal that allows hands-free operation. A convenient feature when you're stuffing your bangers. Alternatively, you can use push-buttons to switch the system on or off when your hands are too busy to be helpful for longer than a few seconds.
This grinder comes with a lot of accessories, very impressive for its price. With each purchase, you get:
A stuffing adaptor and three different-sized stuffing tubes
Kubbe attachment
Meat pusher that also stores sausage tubes
Five grinding plates
A beaner plate for stuffing your bangers
Three cutting blades
A foot pedal
Patty maker
Shredder claws
The option to adjust for speed ensures that you only use as much power as you need. Consequently, you can use this grinder for both home and basic commercial purposes: Low setting for home use, where power consumption is a concern. High-setting when you need to make your bangers fast.
Things we like
Advanced cooling system: The Quad Air Cooling system enables the unit to run cooler than most similar sized products. This approach to cooling is enough to double the unit's life.
Futuristic styling: The Turboforce II is designed to catch the eye of the onlooker. The colors and overall styling are engineered to complement all kitchen counters.
Uncoated grinding head: This unit's four-part grinding head is made of uncoated food grade aluminum. You don't have to worry about coat chippings contaminating your meat.
Single-person sausage-making: With the Turboforce II, you can switch to leg operation and free your hands for sausage stuffing.
Exceptionally durable: This rig's exterior is made from high-quality titanium. It's sturdy and durable enough to last you through a couple of decades.
Things we don't like
Rusty blades: Some customers complained that the blades rust rather too quickly. Consider applying olive oil to the edges after every wash.
Hard to clean augers: The tray and augers are not dishwasher safe.
Best Premium: Stainless Steel Big Bite Electric Meat Grinder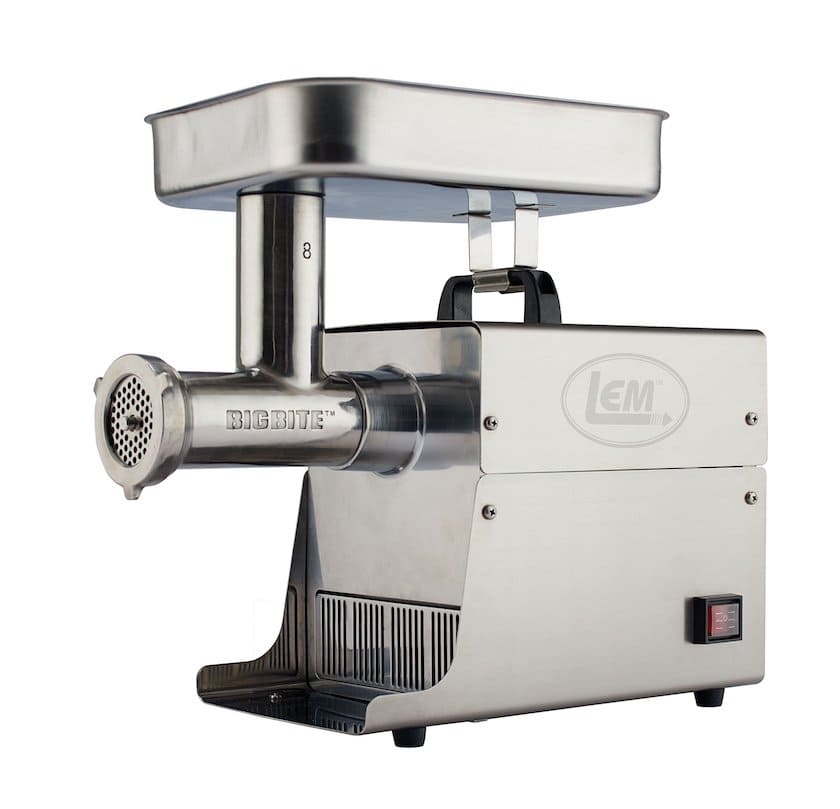 The 17791 is an ergonomically designed stainless steel meat grinder weighing 28.7 pounds. The weight keeps it steady while it works, making it ideal for use on marble countertops and other slippery surfaces. This grinder comes with a heavy-duty handle to manage the weight, which enhances the machine's mobility—given you can manage the load.
This unit has a wattage of 373W, about 0.5 horsepower, giving it sufficient power to grind through tough meats and soft cartilage. When grinding just meats, expect a grinding capacity of about 7 pounds per minute. With sinewy or cartilage-filled meats, expect about 4.75 pounds per minute, on a good day. If you want more power, the STX Turboforce II may be a better alternative.
Things we like
Exceptionally durable: This grinder is made of high-quality steel making it very sturdy. It also features all-metal gears and a modernized steel finish to minimize fingerprints.
Rifling head pattern: This head pushes meat forward with minimal user interaction. Consequently, you enjoy faster grinding times without any extra stress to the grinder.
Relatively quiet: This is a very silent unit for its size and power, thanks to excellent motor lubrication. LEM's advanced lubrication system ensures that the grinder doesn't overheat as fast as it's equivalents, translating to longer grinding times.
Fast operation: Quick grinding times are almost always synonymous with high power consumption—not so with this product. Its extended augers streamline the movement of meat into the grinder, improving grinding times without impacting power consumption. These augers are custom-designed to push meat 30 percent to 50 percent faster than the average auger.
5-year warranty: With each purchase, you get a 5-year warranty and a lifetime of dedicated customer support.
Things we don't like
A little hard to set up: This unit doesn't come with setup instructions. Some customers found it a little complicated to dismantle when they needed to clean it.
The safety guard is too close: The guard's placement makes it hard to feed the auger.
Best Budget: Stainless Steel Clamp-on Hand Grinder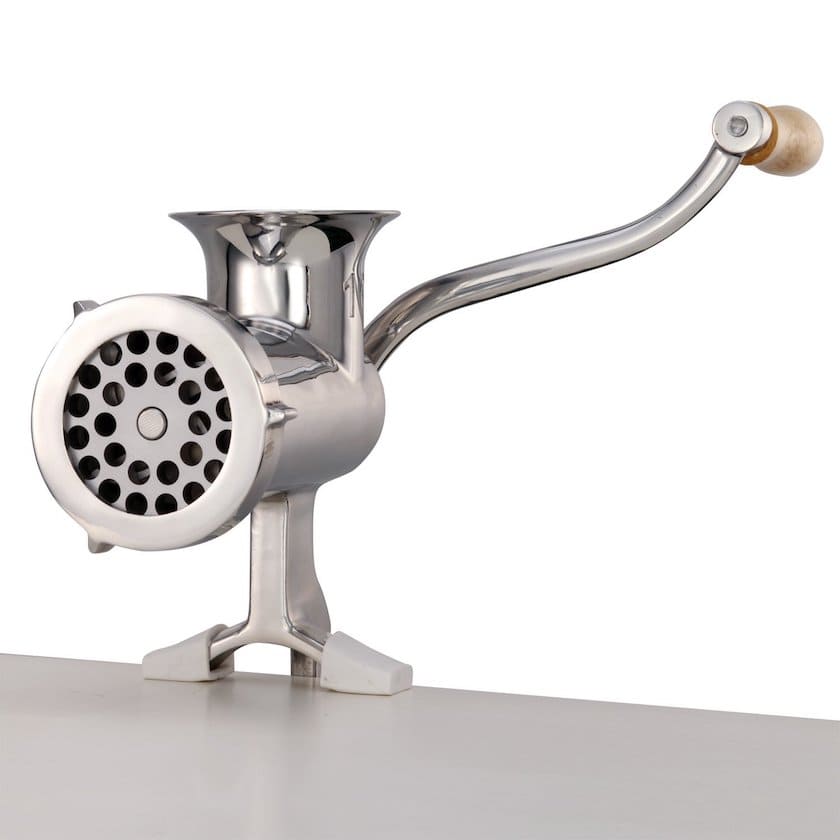 This all stainless steel hand grinder comes with 2 stainless steel plates, 1 stainless steel knife, 1 stuffing star, and 3 stuffing tubes. Hand grinders are also cheaper than their electric equivalents, so this is excellent if you're on a budget.
If you want an electric variant on a budget, consider the KENOME KitchenAid Grinder Attachment. Only remember that you'll also need a KitchenAid or a similar structured mixer.
The grinders units are precision designed and fit together without requiring much expertise from the user. Despise being hand-operated, I was impressed by how little energy was needed to operate the unit.
This LEM product features a stainless-steel construction that enhances its durability and rust-resistance. Weighing in at 7.95 Lbs, it's portable enough to carry to your hunting expeditions.
Things we like
Ease of assembly: This unit is easily assembled and disassembled for easy carrying and cleaning.
Sturdy clamp: The clamp has a wide opening to enhance the grinders mounting. The rubber feet ensured that the unit stayed fixed on my slippery marble countertop even as I worked on sinewy meat that required some effort.
Polished steel finish: A polished steel finish complements most kitchens. It fits in with most design styles adding to the allure of your kitchen's style
Good sausage maker: The 3 stuffing tubes allow you to make sausages of different sizes.
Wooden handle: The crank has a wooden non-slip handle that enhances your grip as you work.
Things we don't like
Too much clearance: The clearance between the housing body and auger could be reduced. As is, some pieces of meat are not making it past the auger.
Rusty blade: Some customers complained that the blade rusts too fast. Consider drying and dabbing olive oil onto the blade after every wash.
Electric Meat Grinder & Sausage Stuffer STX Turboforce Classic 3000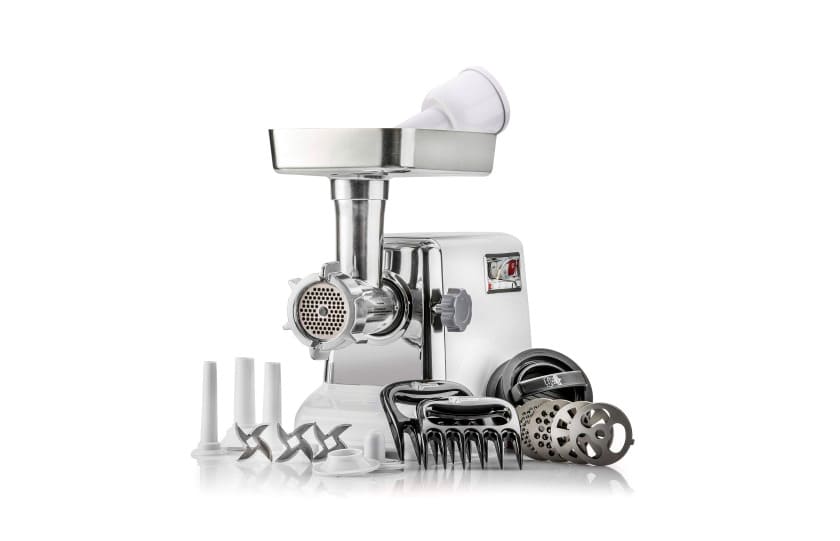 The STX Classic 3000 is a heavy-duty home-use unit. It has a locked wattage of 3000 Watts but operates between 800W–1200W. Ideally, this should be enough to grind 180 Lbs to 240 Lbs of meat per hour.
This grinder has three operational speeds: High, low, and reverse. Adjust your gears for the desired grind texture. The Classic 3000 has a circuit breaker for enhanced safety when in operation. Unlike the typical kitchen grinder, usually a Size #5 or a Size #8, this unit is an impressive Size #12. Couple that with the 2 ⅛ inches hopper opening for feeding the meat, and you have a kitchen unit capable of grinding larger portions of meat than the average kitchen grinder.
Things we like
Easy to control: This STX unit comes with a four push-button control panel. Switching between speeds and turning the unit on and off is as easy as pressing a button.
Enhanced durability: The STX 3000 is made of stainless steel and food-grade aluminum. It is sturdy enough to handle rough handling and safe enough to work with meats.
Advanced Variable Intake (AVI) technology: The augers come with AVI technology, which allows the unit to work with larger-sized chunks.
Excellent sausage stuffing: It comes with 3 sizes of stuffing tubes, 1 beaner, 1 kibbe maker, and a slow speed setting for sausage stuffing.
Faster grinding: This unit comes with 2 ⅝ inches grinding plates. Being a Size #12, this grinding diameter ensures it grinds meat faster than similar powered kitchen units.
Things we don't like
Doesn't grind cartilage: This unit is not very good with sinewy meats, cartilage, and soft bones.
Unsuitable for commercial use: The STX 3000 is designed for average kitchen use, commercial usage will overwork and reduce its lifespan.
Stainless Steel Big Bite Electric Meat Grinder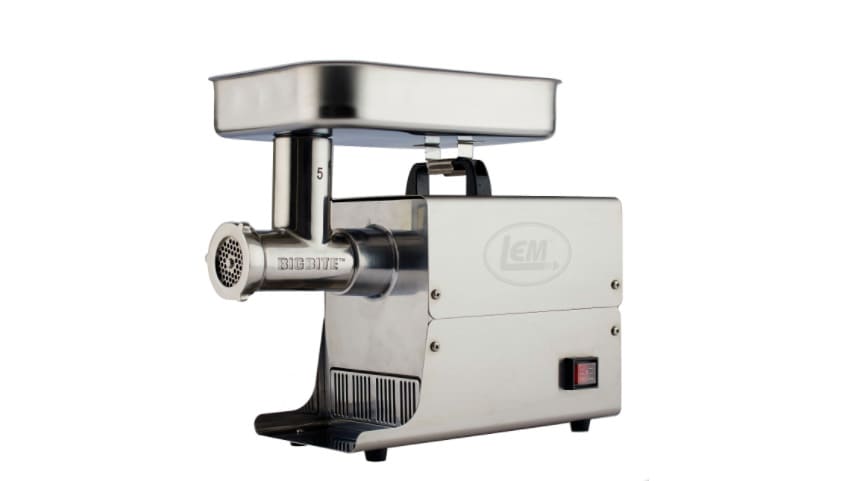 This LEM unit runs a 110V motor at a frequency of 60Hz. It should handle your kitchen needs without too much noise or power consumption. This grinder also comes with a built-in circuit breaker that protects the motor from electric damage.
LEM products are designed with game meats in mind. This 0.35 HP unit should be enough to grind sinewy meats and the occasional cartilage. Powerful as it may be, you don't want to grind tough bones, it's not engineered to handle such loads. For more power, try the LEM 17791 Big Bite Size #8.
With each purchase, you get a lifetime of customer service and a 5-year warranty.
Things we like
Stainless-steel housing: The all stainless steel motor housing is quite sturdy. It protects the delicate grinding mechanisms from damage. The metal's weight also keeps the grinder firmly grounded as it works through tough meats. You can use it on slippery countertops without risking a fall.
Big Bite Technology (BBT): The head's design and BBT approach gives excellent second grinds and eliminates almost all stomping. It also improves the grinder's sausage stuffing capability.
Advanced motor technology: The motor is permanently lubricated by design. Consequently, this rig runs cooler and quieter than your average 0.35 HP grinders. From my experience, it grinds hard meats quieter than most grinders do with lean meats.
Power efficiency: I was pleasantly surprised that this LEM's 110V motor managed to grind as much as 7 Lbs of meat per minute. Such performance is rarely possible with low consumption rigs.
Extended augers: The extended augers pull meat faster than typical augers. Consequently, you get faster grinds without pushing the motor to its limits.
Things we don't like
Rusty plates: The plates do seem to rust a little too quickly. Dabbing a little olive oil onto the plates after cleaning them fixed this issue for me.
No reverse: This grinder has no reverse function. You'll have to disassemble it every time it jams.
PRO-CUT KG-22-W Meat Grinder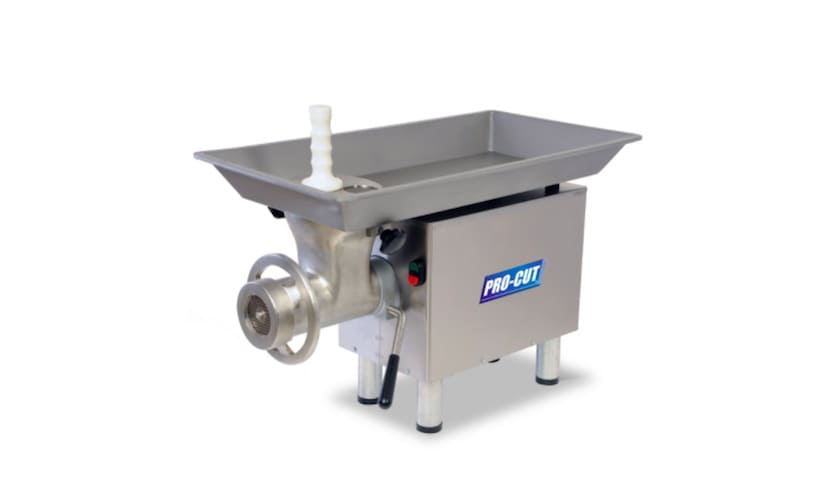 This 1 HP grinder runs on a powerful motor capable of producing upwards of 1,700 Lbs per hour. Such performance makes it an excellent option if you're looking to process meat commercially.
The unit is stylish and will complement any surface it's placed on. It has no sharp corners by design, and that will minimize the risk of injury. What I liked most about this grinder was its extra-large tray. It proved very helpful when dealing with large volumes of meat by reducing transfer time.
Additionally, it operates at 100V and a 60Hz frequency. It should connect and run from the average household power outlet.
Things we like
Versatile product: This unit easily doubles as a food processor. By switching between plates, you can make dips, marmalades, jellies, purees, and the like. You can purchase 12 more plates if you want to utilize its food processing capabilities to the maximum.
Washerless operation: A washerless design ensures consistency in grinding output. It also minimizes maintenance costs by reducing the number of things that could go wrong.
Easily cleaned: This system is easily dismountable to allow you to clean it efficiently. It has a release lever that ensures quick removal of the headstock.
Small-sized: For a commercial grinder/ food processor, this unit is pretty small. It has a footprint of about 31 inches by 11.5 inches, making it excellent for small businesses. Despite its size, it's powerful enough to compete with bigger grinders.
Enhanced safety: There's a permanent safety guard on the feeding area to improve safety without affecting the rig's grinding capacity. Always use the company provided stomper for maximum protection.
Things we don't like
Soft auger: Some clients found the auger too soft to grind frozen meats and bones. Let your meat thaw before passing it through this product.
Too heavy: At 132 Lbs, its not easily portable.
Best Meat Grinder Attachment for KitchenAid
If you own a KitchenAid mixer, I would recommend getting one of these attachments to test the waters. For those that already own a KitchenAid mixer, these two attachments both stood out. I think the KENOME KitchenAid grinder attachment edged it in terms of overall value for money and all the accessories you get with it.
But the GVODE grinder attachment was better for purely the grinding aspect.
Stainless Steel Food Grinder Accessories for KitchenAid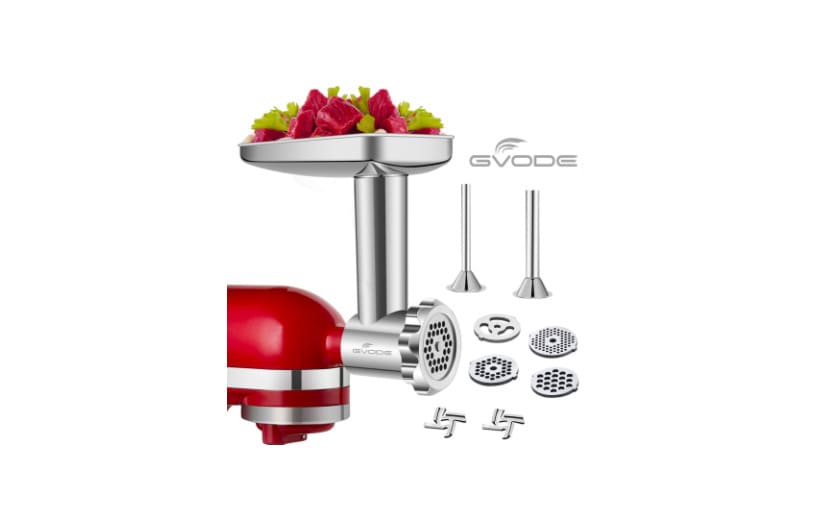 This grinding attachment unit from GVODE is specially designed to convert the average KitchenAid mixer into a kitchen grinder. It also works with other mixers of similar front power.
These GVODE attachments are made of food-grade materials per US standards. The main body is primarily composed of stainless steel – it can survive a little rough handling. This grinding unit is suitable for meats, vegetables, and nuts, making it excellent for homes looking to grind and mix different foods.
Buying grinding extensions is much cheaper than buying an entire grinding unit. If you already have a KitchenAid mixer and are on a budget, consider this product. If you don't have a KitchenAd mixer with you, a hand grinder like the LEM 821 #10 Hand Grinder may be more suited to your needs.
Things we like
Easy to set up: This GVODE grinding extension fits into KitchenAid mixers quite easily. You'll get grinding within a few short minutes.
Very versatile: Some grinders don't work well with vegetables and nuts, the GVODE extension does. Mix up different meats and veggies to give your loved ones healthy treats.
Easy to clean: This unit is made of dishwater safe components. The 4 grinding plates are exceptions to this rule, remember that when scrubbing your system.
Good gear design: The GVODE's gears are precision engineered to be at just the right distance apart. By design, your meats and vegetables will be ground faster than in most similar powered grinders.
Excellent sausage-making: It comes with two sausage stuffing tubes that convert your average KitchenAid mixer into an impressive sausage maker.
Things we don't like
Grind is a little messy: If you're looking to make very fine meat for your sausages and hot dogs, this unit may not be ideal.
Chute coating: Some customers found the chute on new units to contain some coating. Give your piece a thorough clean before grinding.
Metal Food Grinder Attachment for KitchenAid
The KENOME Grinder attachment fits well with all KitchenAid mixers I tried it on. I was also quite impressed by how seamlessly it fit onto other mixers with similar power hubs—despite being designed with KitchenAid equipment in mind.
This unit comes with an impressive set of accessories for an attachment:
4 grinding plates: Kidney grinding plates, fine, coarse, and medium.
2 grinding blades.
2 sausage stuffers.
1 pusher.
1 brush (cleaning).
1 tray.
KENOME also issues refunds and free replacements to customers who experience any quality issues within one year of purchasing their products. Such warranties are a sign that the manufacturer is confident of the product's quality.
Things we like
Built for durability: This KENOME attachment boasts of all-metal construction. It's sturdily constructed and should withstand the occasional fall—a great feature if you have kids or pets.
Engineered for food: All materials used in this item's construction are certified as food-grade in the US. It is free of lead, toxins, and allergens.
Easy to assemble: This rig is precision designed. Assembly is easy and straightforward, even to first-time users.
Good for homemade sausages: It's quite impressive how well this product grinds meats for sausages. Unlike similar attachments, the mince is well-done. The KENOME surprised me by how well it handled repeat grinding.
Detachable parts: All the pieces are removable, making this unit relatively easy to clean.
Things we don't like
Not dishwasher safe: Always hand-wash this grinding attachment.
Thin walls: Some customers found the walls to be a little too thin.
Meat Grinder: What Should You Look For?
There's only one sure way for landing the best meat grinder, know your needs. No equipment fits all users equally. You need to shop for the unit that addresses your unique needs at the most comfortable price.
The more features a grinder has, the higher its price. If you shop for features without considering your needs, you'll pay top dollar for qualities you'll never use—that's not too wise. Here are a few features to consider before settling for a unit.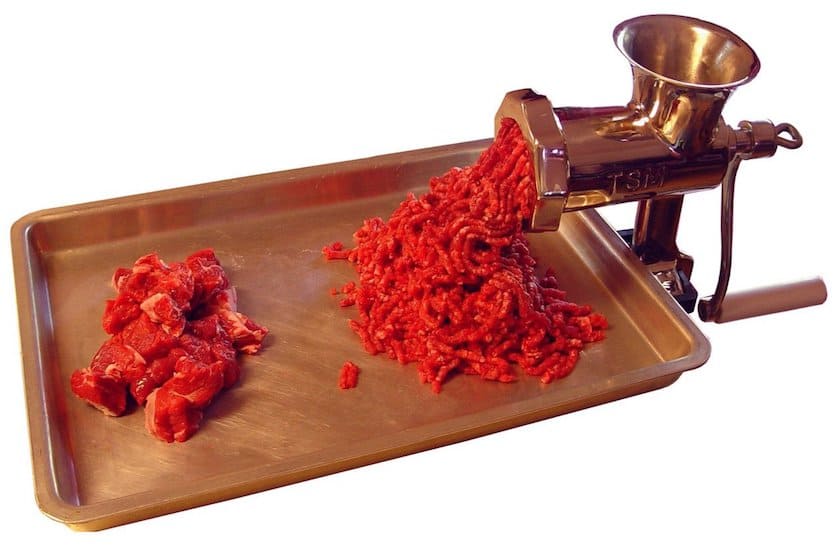 Grinding Power
Meat grinders are motorized rigs. A powerful motor translates into higher grinding power. It's not easy to determine the real potential of a grinder, though. Different units use different metrics to measure power. Here are a few terms you need to understand:
Power Drawn
Also known as power in, this is the amount of energy the rig consumes. Powerful meat grinders are heavy drawers. More power drawn doesn't necessarily mean that one unit is more powerful than another, however. Some energy is lost in the form of heat as the motor rotates. Therefore, the actionable wattage of a grinder is dependent on how much electricity the individual mincer wastes.
Power Output
This represents the actual operational wattage after adjusting for power wastage. It's more accurate to compare products on output than on power drawn. Meat mincers come in three broad categories, in relation to their optimal wattage:
High-Powered Grinders
Medium-Powered Grinders
Low-Powered Grinders
High-Powered Grinders have an operational output of 1200W–1400W or higher. They are designed to go through sinewy meats and soft bones. Used commercially, they are economical; in the home, not so much. You'll rack up quite the power bill.
Medium-Powered Grinders operate between 800W–1200W. They are excellent for hard meats, tendons, cartilage, and soft bones. When mincing the harder stuff, they're visibly slower than their high-powered equivalents.
I find these to be the best meat grinders for deer because they get the job done without costing me too much in terms of power. You'll have to be very patient, though. If you want more speed, cough up more money for the high-powered variants.
Low-Powered Grinders run between 400W–800W, sometimes lower than 400W. These are small meat grinders that grind meat relatively slower than the other two options. They may manage to mince hard meats with some effort, but it's not worth it.
Hard meats destroy these machines; I never had one last me through the hunting season. If you want a unit that will handle the occasional game meat, avoid all low-powered rigs, independent of what the manufacturer promises.
Grinding Size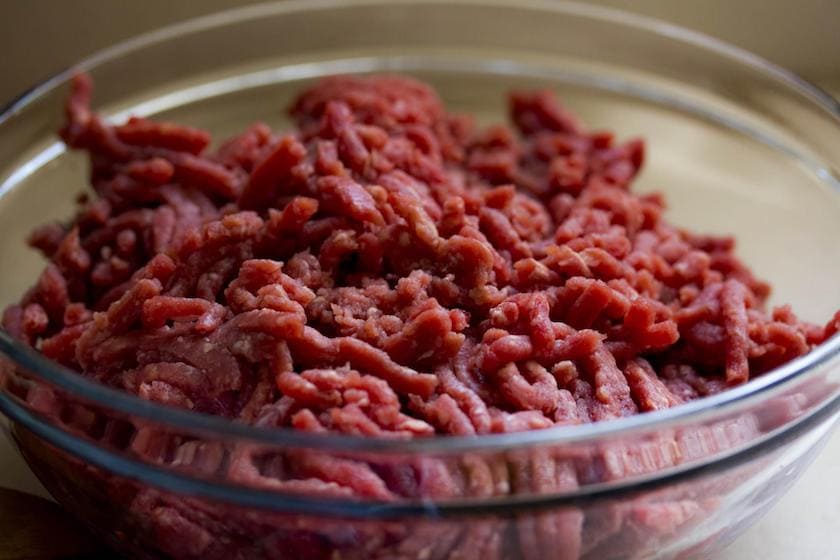 The best electric meat grinders allow you to accessorize with different plate sizes.
The smaller the holes, the finer the mince. For best results, I suggest that you always start with the bigger plates and work your way down. Regrinding coarse grind into fine mince is not as hard on the grinder as directly mincing tough meats.
I have found that my meat grinders last longer with this approach. Here's what to expect from each plate size:
¾ Inch to ½ Inch Grind: Very coarse grind that's good for stew meats
⅜ Inch Grind: Coarse grind that's good for stew ad chorizo
¼ Inch to ⅓ Inch Grind: Coarse grind that's good for hamburgers
⅙ Inch to ⅕ Inch Grind: Medium grind that's good for sausages
⅛ Inch Grind: Very fine grind that's good for bologna and jerky
With-Purchase Accessories
If you get a lot of accessories with the purchase, that's money well spent. Be on the lookout for three types of products:
Meat Mixers
Sausage Stuffers
Extra Grinding Plates
These three are especially important because, more likely than not, you'll need them. If you have children, sausage stuffers are a must-have. With a decent grinder, you'll make about 6 dozen sausages in one session. That's usually enough to keep the kids off my case—for a few days, at least.
Material and Design
Material determines how heavy, durable, and easy to clean your grinder will be. Aluminum is light and durable, but not as durable as stainless steel. Some units are composites of plastics and metals. In such cases, ensure that the parts that come in contact with the meat are metallic.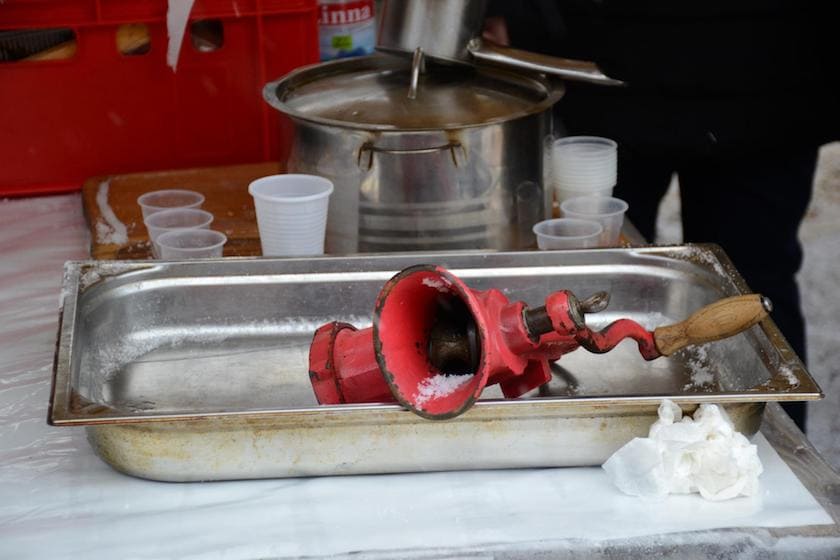 Metals are easier to clean than plastics, and you want to ensure you observe the highest standards of cleanliness with the parts that touch your food. On that note, consider buying a grinder with machine washable parts.
On design, go for something you can handle with ease. These rigs typically need to be mounted, so also consider the general aesthetics.
Conclusion
Your needs should inform your choice of a grinder. In a nutshell, the best meat grinder is one that meets your most pressing needs at the most reasonable price. Generally speaking, the more powerful a unit is, the more power it consumes. Always try to balance a product's power with your grinding needs for the best experience.
All the units reviewed in this article were chosen for their performance to price ratios.