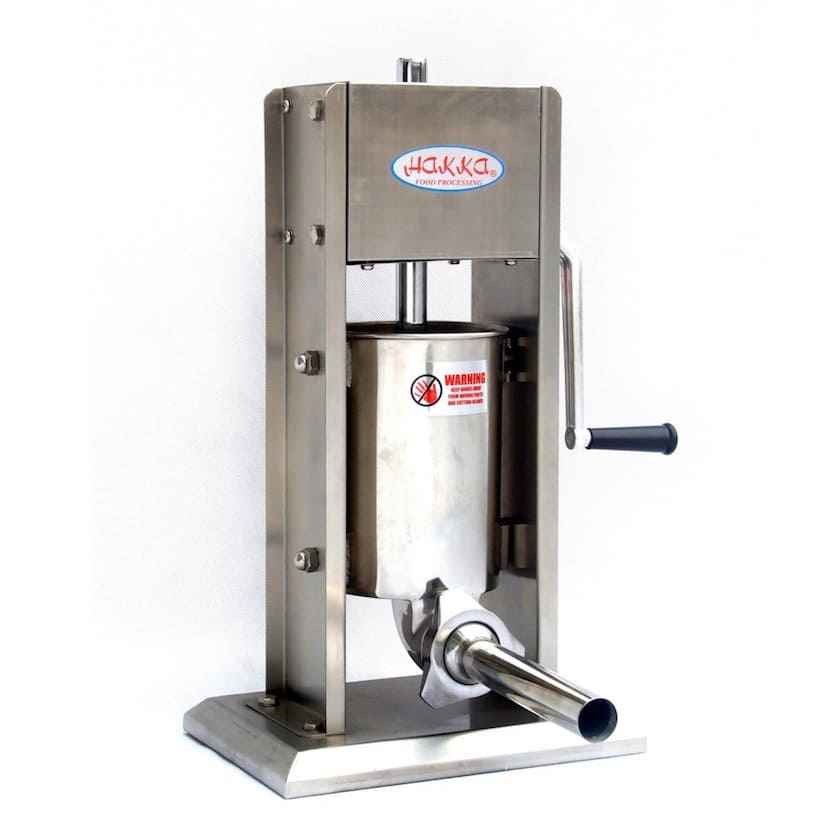 Hakka 7 Lb/3 L Sausage Stuffer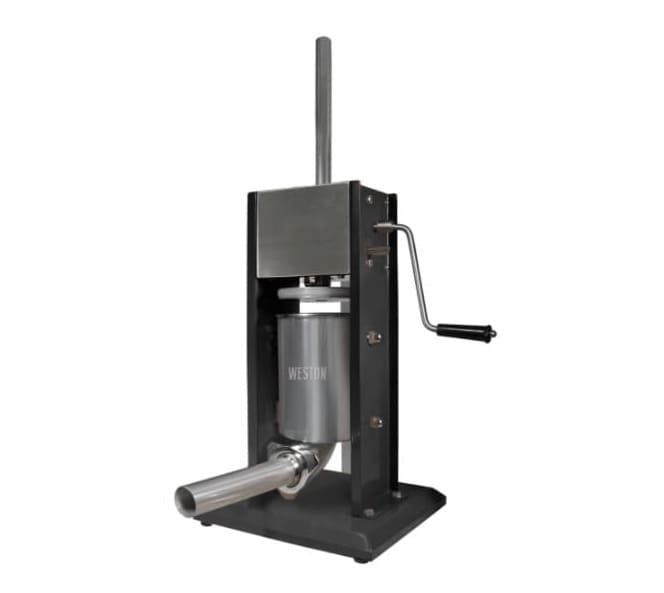 Weston Manual Vertical Sausage Stuffer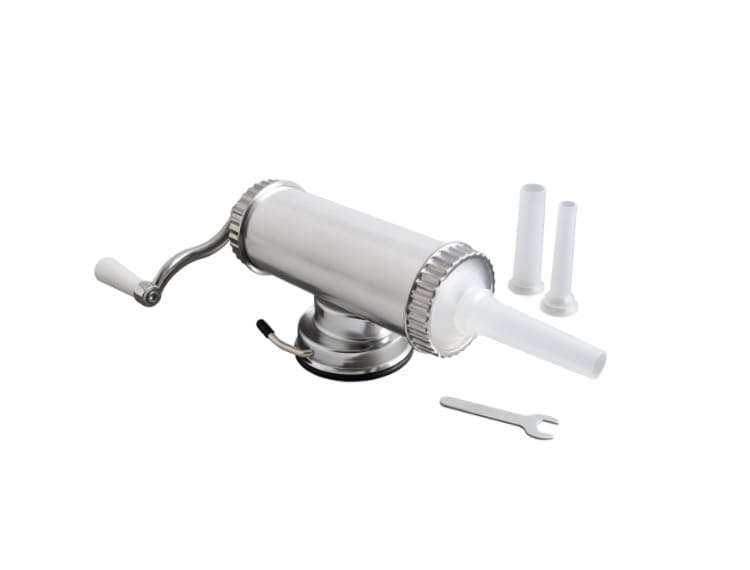 Fantes Sausage Maker with Suction Base and 3 Nozzles
If you're serious about making homemade sausage, then you know that having the right equipment is crucial. And when it comes to sausage stuffers, there are plenty of options available to suit every budget and skill level.
But which ones are truly the best? In this post, we've scoured the market and tested multiple sausage stuffers to bring you our top picks.
We'll cover the key features to look for and explain why these sausage stuffers stand out from the rest. Whether you're a seasoned sausage maker or a beginner, you'll find something here to suit your needs.
The 5 Best Sausage Stuffers on the Market
When I first decided to make my sausages, I turned to online reviews for direction. I hated the experience—too much misinformation!
To save you the headache, below are six of the best sausage stuffers you can buy. This list is the product of years of making bangers and hundreds of hours sifting through buyer reviews.
Best Overall: Hakka 7 Lb/3 L Sausage Stuffer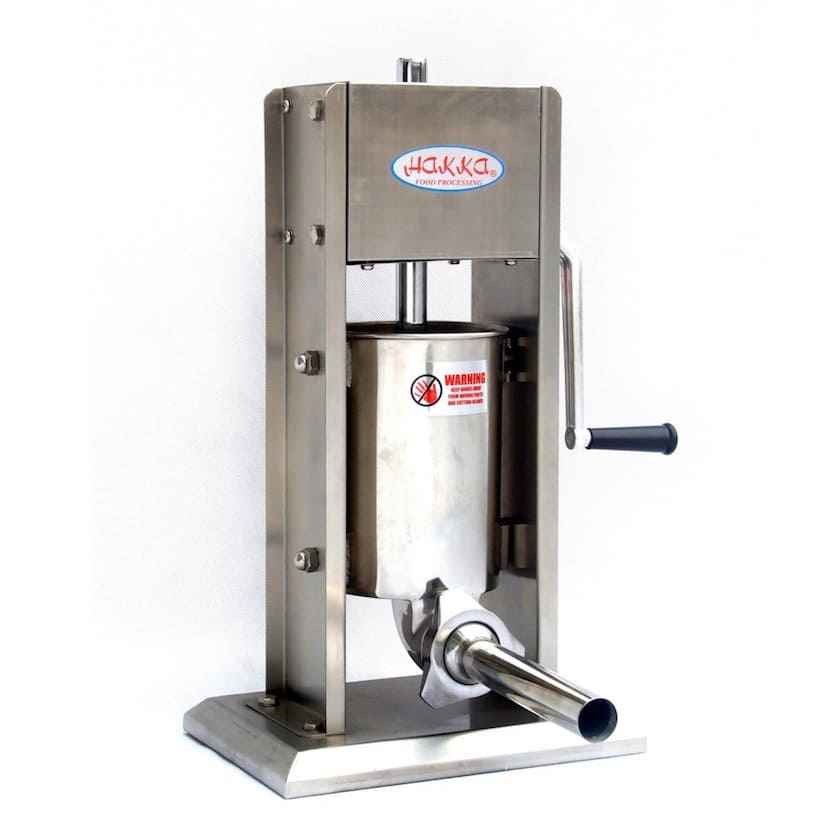 This stuffer is one of the very few manual units that can manage light commercial use. It's a very sturdy machine with all stainless steel parts. It has a very stable base and stayed in position even when I used it on a wet marble surface.
The Hakka is well-designed and looks and feels like a high-end rig. It's designed to complement any kitchen style with its shiny finish. Typical of manual stuffers, this system has no grinder function.
Things we like
Air release valve: The piston has an air release valve that removes air from the cylinder, keeping air out of your sausages.
SGS standard: All the parts that come into contact with the meat and casings satisfy SGS food standards. Also, they are all constructed of high-quality stainless steel to ensure they won't rust easily.
2-speed operation: This unit has two gears for speed control. The fast gear is excellent when you are making many sausages: The slow gear comes in handy when your meat is a little sticky.
4 different-sized tubes: This unit comes with four stuffing tubes: ⅔ ", ⅝ ", 1 ¼ ", and 1 ½ ". It comes ready to make different sausages right out of the box.
Tilting cylinder: The cylinder tilts for easy filling. Angled positioning also increases room for air to escape as meat enters the cylinder.
Things we don't like
Hopper tilts easily: Some customers complained that the hopper tilts and damages gear threads when grinding tough meats.
Sharp edges: This unit has a couple of sharp edges. Clean with care to avoid cuts.
Best Premium: Weston Manual Vertical Sausage Stuffer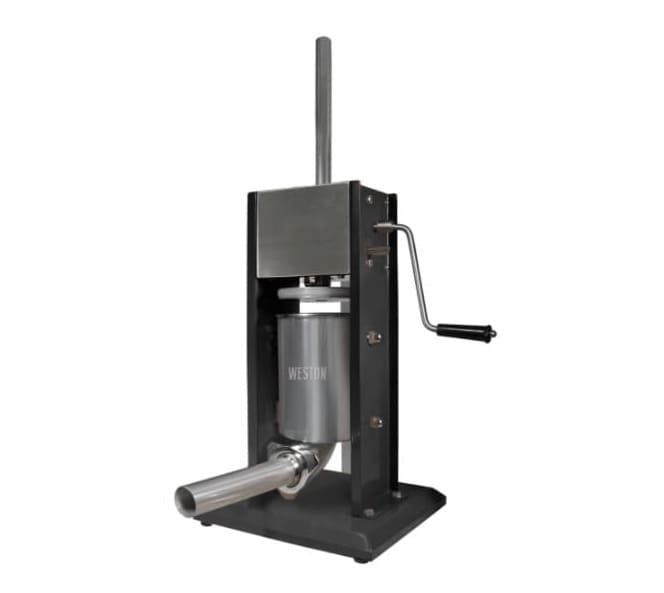 This sausage stuffer has a sturdy build and a well-designed base. You can crank it hard as you stuff sinewy meats without slippage. I tested it again on a wet marble surface, and it still didn't slip.
Its 7 lbs cylinder is large enough for making sausages for a small shop. I was very impressed by the fact that I could stuff 7 lbs of sausages in 30 minutes. I don't have a lot of elbow grease, so this was an excellent performance. It was still not as fast as the Hakka 7 Lb Sausage Stuffer, though.
Things we like
Rubber feet: It comes with rubber feet for added stability. The feet make it easy for one person to operate the unit as it doesn't move with the lever.
Stainless steel housing: The housing is aesthetically-designed, and it holds the cylinder firmly in place during operation. In turn, the cylinder and piston don't allow air to enter the meat.
Air-release valve: The valve on the piston is very efficient. Sausages made on this rig are excellent for barbecues because air doesn't make it into the casings.
Easy disassembly: It disassembles with minimal effort and expertise for easier cleaning.
Tilting canister: The meat cylinder tilts for easier filling. That's a very welcome feature for a unit of this size. You'd spend a lot more energy if you were to fill the canister in its vertical position.
Things we don't like
Little grease on cogs: Some users complained that their units arrived with inadequate lubrication. I suggest you grease new units before use.
Sharp edges: The edges are not too sharp, but they are still capable of cutting through the skin if the unit isn't handled with care.
Best Budget: Fantes Sausage Maker with Suction Base and 3 Nozzles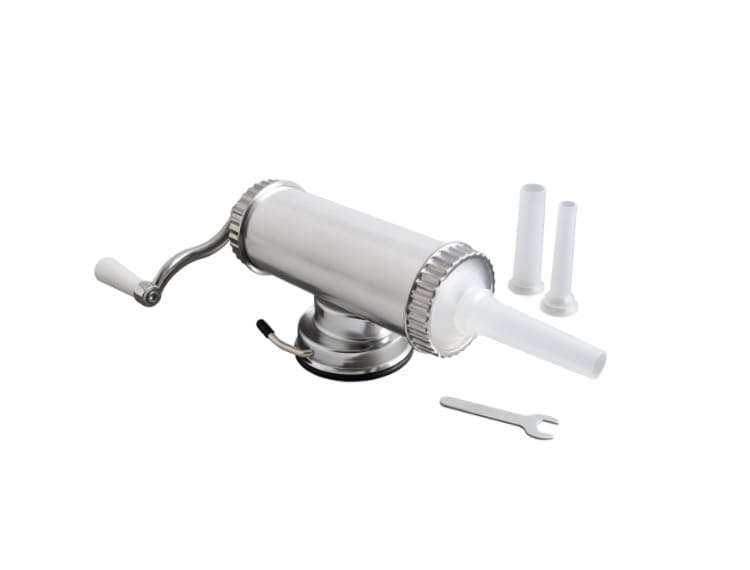 This stuffer is the first horizontal variant on the list. It's easy to operate and quite economical. If you plan to make sausages for a small family, this may be the unit for you. My kids love this unit because it's one of the few they can operate unsupervised.
The Fantes Sausage Maker weighs in at just 2.2 lbs, so it's probably your best option if you're looking to make bangers on the road.
On the flip side, it's mostly plastic; it won't handle too much rough handling.
Things we like
One person operation: The Fantes is a very small unit. It takes very little energy to operate it.
Bang for buck: This stuffer is easily the best bargain on the list. The design is pretty solid and impressive for its price range.
Suction base: I've always found it easier to use the Fantes when holding it with both hands like a gun. For those who prefer to use units fixed on their countertops, the suction base was made with you in mind. Just make sure the surface is flat and a little wet for the best results.
Three nozzles: Every unit comes with three nozzles: 15 mm, 19 mm, and 22 mm. The unit comes ready for three sausage sizes right out of the box.
Aluminum plastic construction: The Fantes has a sturdy aluminum and plastic construction. These parts are pretty easy to disassemble and clean.
Things we don't like
Slow operation: This unit is very slow and can't make sausages for large families.
No air valve: It could do with an air-release valve because, as is, air finds its way into your bangers.
LEM Products 1606 5-Pound Stainless Steel Vertical Sausage Stuffer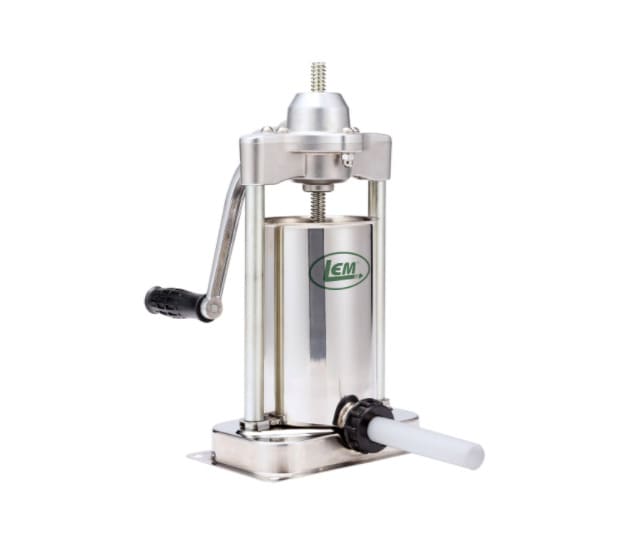 This 5 lbs stuffer has an aesthetic steel body. The handle is knurled for an enhanced grip, making cranking a lot easier. LEM 1606 is designed to handle tough meats, and I found it to work exceptionally well with game meat.
This stuffer is easily disassembled and cleaned. The plastic stuffing tubes fit firmly onto the cylinder and should manage a little rough handling. That said, this is not the unit for you if you want to make bangers on a large scale. For a manual unit with commercial capabilities, go for the Hakka 7 Lb Sausage Stuffer.
Things we like
Two clamps: This unit comes with two clamps for a firmer placement on your countertop.
Air-release valve: The air valve on this unit is very efficient when relieving pressure in the cylinder. For best results, move the piston up and down a couple of times before filling your casings.
Carbon-steel gears: The gears are rust-resistant. They are also designed for strong anti-slippage properties, making for smooth cranking.
Gear covers: These covers protect the gears from chipping and rust.
Three stuffing tubes: It comes with three stuffing tubes: ½ ", ¾ ", and 1". You also have the option of buying the 606A stuffing tube separately if you want thinner bangers.
Things we don't like
Clamps could be bigger: The clamps are rather small and can't work with thicker countertops.
Light base: You'll not be able to keep this stuffer still without the two clamps—the base is too light.
KitchenAid Sausage Stuffer Kit Attachment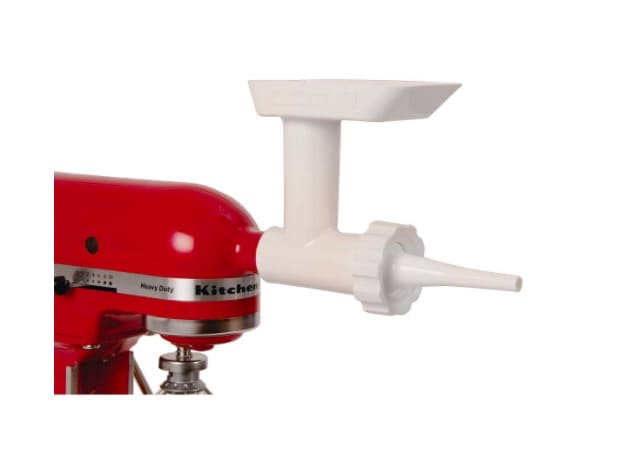 The SSA stuffer is probably the way to go if you already have a KitchenAid mixer. This attachment turns your KitchenAid into an electric stuffer. It's well-designed and will work with any mixer that matches KitchenAid's front power.
Stuffing speed is well-regulated to minimize air entry into the bangers. On the flip side, if you don't have a KitchenAid already, buying the unit in its entirety is quite expensive. If your budget is too limiting, consider the Fantes Sausage Maker.
Things we like
KitchenAid designed: This unit is made by KitchenAid, for KitchenAid.
Grinding function: This unit comes with a grinder function; you can grind your sausage meat.
Quite affordable: If you already have a KitchenAid mixer, this attachment gives you a stuffer and grinder for a very low price.
Easy to clean: The unit disassembles effortlessly for easy cleaning. Also, the plastic construction is food grade certified to enhance food safety.
High-quality plastic: The unit is made of very durable plastic.
Things we don't like
Slow operation: The unit is pretty slow and shouldn't be used for a big family.
Messy auger: Meat stuck on the augers can be a headache to clean.
Best Sausage Stuffers: What to Look For
Right of the bat, there's no one-size-fit-all best sausage stuffer. For the best experience, choose the equipment that best addresses your unique needs. Personal preference should always reign supreme, but here are a few more characteristics to consider: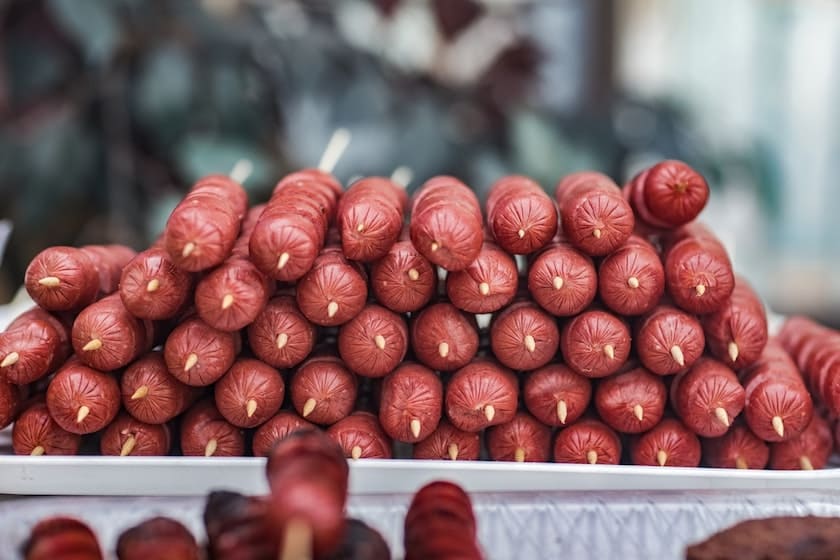 Type of Sausage Stuffer
There are three main types of stuffers on the market today:
Vertical Stuffers
Horizontal Stuffers
Horn Sausage Stuffers
Vertical Sausage Stuffers
With vertical stuffers, the cylinder holding the ground meat stands upright. When the stuffer is in operation, a piston pushes the mince into stuffing tubes. These tubes are typically attached perpendicular to the unit.
The main advantage of these settings is that you work with gravity. Consequently, these stuffers usually require less operational energy than their horizontal equivalents.
Horn Sausage Stuffers
There are no electric horn stuffers. These rigs are only an option if you don't mind spending a little elbow grease. Horn fillers hold mince in a slightly curved cylinder center. A manual lever system then pushes the ground meat into sausage skins.
Horizontal Sausage Stuffers
These sausages fillers are designed to operate laying flat. One slight disadvantage of this approach is that you have to place the unit at the table's edge. The placement gives your crank adequate room for rotation. It's, however, not an issue if you are planning to go for electric variants.
Warranty and After-Sales Services
You want a brand with excellent after-sales services. Consider their money-back and replacement policies, if any. On warranties, they are good for two things:
They show that the manufacturer is confident with the product.
You buy with the confidence that the manufacturer has your back if the unit breaks down too quickly.
The Release Valve
Air builds up in the filler cylinder as mince is pushed into stuffing tubes. Some units come with valves that release these air, lowering the pressure in the canister. Consequently, the unit is less resistant to meat movement. If the air should find its way into your bangers, they'll break when you cook them.
Speed Options
Filling speed is important if you want to make sausages on a commercial scale. If you're looking for a unit to use in your home, high-speed fillers are an overkill. Speed comes at the cost of more power consumption, so you want a rig that's perfectly balanced with your needs.
Go for a filler with power control for enhanced versatility. This way, you crank the speed up when making a lot of sausages, and turn it down when making a few—saving power.
The Nozzles
If you plan to make different types of bangers, you'll need a unit that comes with multiple nozzles. My eldest kid loves his Chipolatas, but my youngest is all about the thicker Chorizos. I always look for a stuffer with nozzles that can make the two.
You'll also want to avoid units that have proprietary-sized nozzles. With such stuffers, you can only use nozzles made by the product's manufacturer.
Grinder Function
Most electric stuffers have a grinder function. For most manual stuffers, you'll have to buy ground meat or a separate grinding unit. If you already have a decent meat grinder, there's no need for an expensive electric stuffer—unless you're stuffing sausages commercially, of course.
Also, remember that a grinder function comes at an extra cost and reduced portability. If your budget is limiting and you want to carry your unit around, forego the grinder function and purchase your mince from reputable outlets.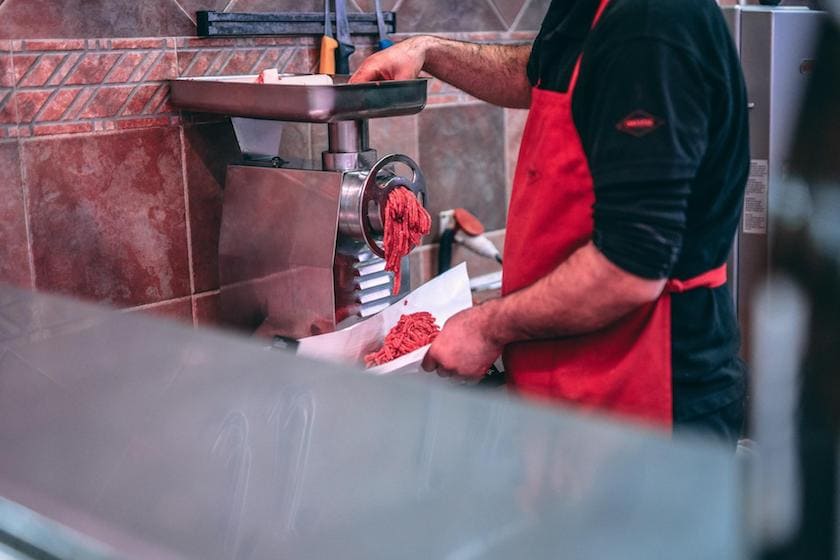 Manual Vs. Electric
Manual fillers are cheaper than their electric equivalents but are much slower. Some manual stuffers are very light and, therefore, easily portable. If you plan to use your unit in a camping environment, manual is the way to go.
If you want an electric unit but are still concerned about your carbon footprint, go for a sausage stuffer with power control. With these settings, you can adjust power consumption to match the task at hand so that you never use more than necessary.
Unit Size
Consider where you are going to place your stuffer. Do you have the need and space for a big sausage filler? If you don't, go small. Bigger units are usually much costlier and should only be purchased if you plan to make a lot of bangers. If not, you'll be paying top-dollar for a feature you can do without.
Cylinder Capacity
The bigger the cylinder size, the longer you'll work before having to refill. Big cylinders, over 10 lbs, are excellent if you're only making one type of sausage.
Material and Design
You want a product that's both appealing to the eye and durable. The most common materials for sausage fillers are plastic, stainless steel, and aluminum. Plastics are very light, but not too durable. Avoid rigs with too much plastic, unless you want a portable manual unit to use occasionally.
Aluminum is durable and light. Stainless steel is the most durable but quite heavy. Even with the same metal, you get many variants, some more durable than others. Aim for military-grade aluminum and stainless steel with high chromium content.
Chromium improves the rust-resistance of stainless steel, while military-grade aluminum is more durable than 'normal' aluminum.
FAQs
How Does a Sausage Stuffer Work?
At its most basic, a stuffer is a cylinder with a piston to push mince into casings. Electric and manual stuffers differ in how they move the piston. Electric variants automate piston movement while manual units require hands-on involvement.
Even with this knowledge, remember that sausage-making requires a little skill. If you are starting out, watch a few YouTube videos.
Sausage Stuffer Vs. Grinder
A good number of grinders also double as stuffers. Typically, however, a grinder minces meat while a filler stuffs the ground meat into sausage casings. You can get a single unit that does both, but that comes with a hefty price tag.
How Do You Use KitchenAid Sausage Stuffer Attachment?
Attach the stuffing unit to the KitchenAid's front power port. Put your mincemeat in the cylinder and fit your casings onto the nozzles. When you are comfortable with the setup, turn on the Kitchenaid mixer.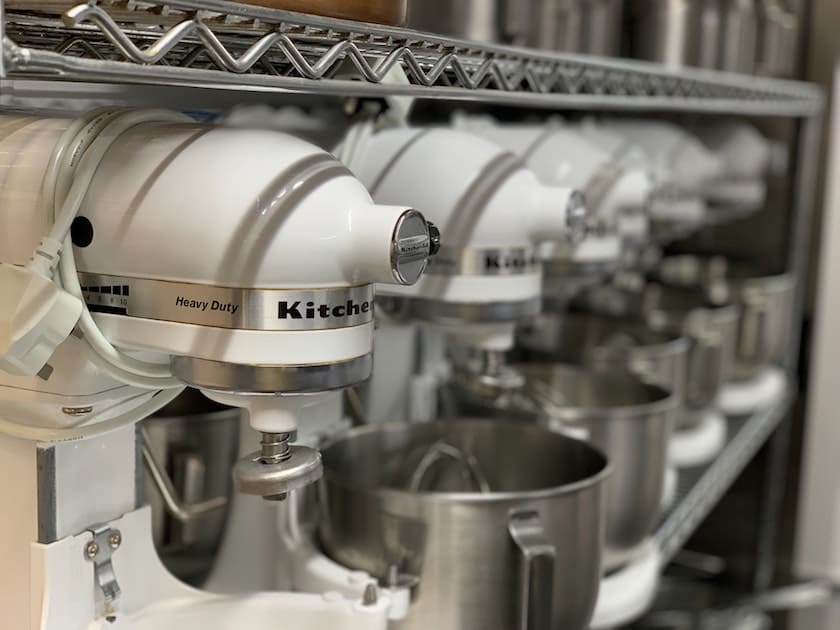 How Do You Use a Sausage Stuffer?
Put your casings around your desired nozzles, all the way through. Wet the table or countertop to ensure the sausage doesn't tear from friction. Squeeze your mince into balls and slap it into the cylinder to remove air. Now, run the stuffer while guiding the sausage with your free hand.
The Winners—Or Is It Weiners?
You need a sausage stuffer that's easy to operate and clean. It also needs to make your desired size of sausages at an acceptable speed. I've been making sausages for both home and commercial purposes for over 10 years. I can confidently tell you that the Hakka 7 Lb Sausage Stuffer is the best sausage stuffer for light home use to medium commercial usage.
It has two gears for speed control and an air-release valve in its piston. The Hakka's all-metal build should endure several years of heavy use. I found the LEM 1606 to be a close second. Like the Hakka, it has an air-release valve in its piston, and its body is made of stainless steel. It's, however, too slow for use in a commercial setting.