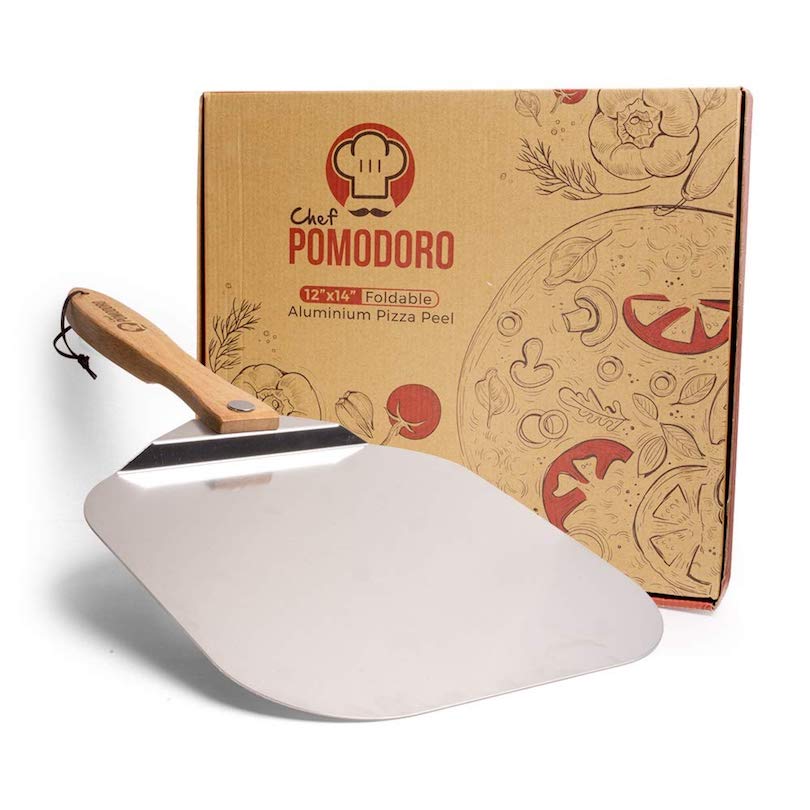 Chef Pomodoro Aluminum Pizza Peel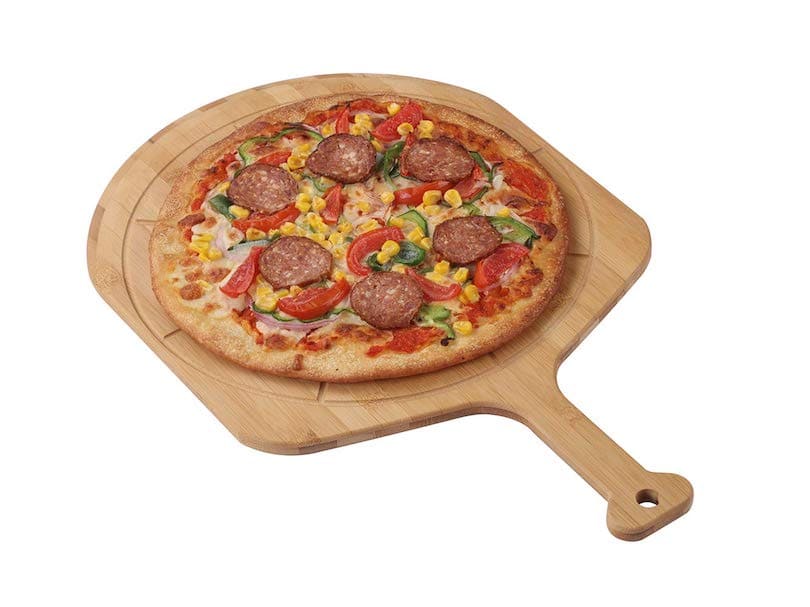 EXO Non-Stick Super Peel Pro Composite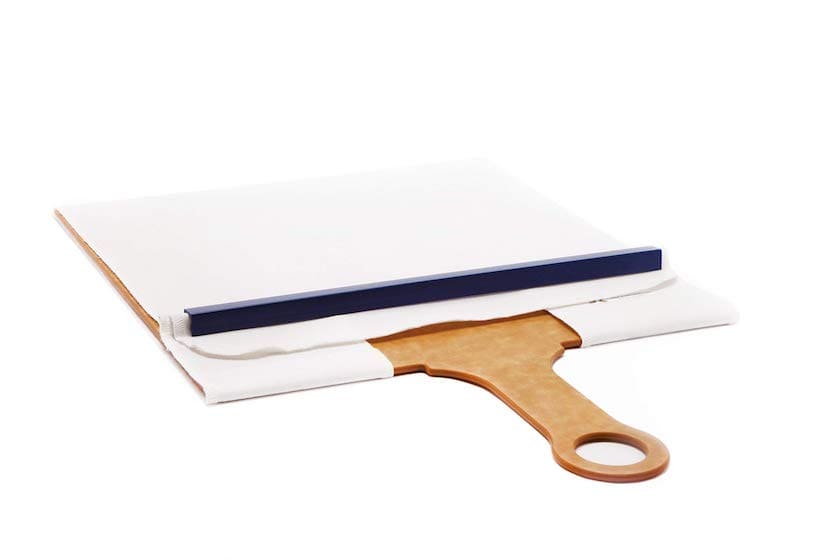 Fiery Chef Bamboo Pizza Peel
To make that perfect pizza, you need a good pizza peel (or two). It is an essential and yet often an overlooked piece of equipment. A peel is needed for launching the pizza and turning to cook it evenly. A good pizza peel enables you to slide in and out of the oven at ease.
While many pizza peels look almost identical, they are suited for different various applications. If you want a pizzeria-quality pie, having the right peel is critical. The pizza peel should be easy to use, versatile, and comfortable.
How to Choose the Right Pizza Peel
Deciding on the best pizza shouldn't be too hard. We narrowed down the essential things to look for in a good pizza peel.
Dimensions
Pizza peels range from 12" to 16". It depends on what you're looking for but a 14" pizza peel is ideal for anyone getting started. A pizza peel of this size handles well and does not spill its toppings.
Also, consider pizza peels with handles measuring between 10" to 12". They give excellent control and stability while keeping your hands safe from burning.
When buying a pizza peel, keep in mind the size of your oven's opening. The pizza peel should fit well in the oven without hitting the sides.
Thickness
Pizza peels can vary in thickness. A thin pizza peel is ideal as it gets under the pizza when removing it from the oven.
When shopping for a pizza peel, look for ones ranging between 1-3 mm. Metal peels tend to be much thinner than wooden ones. Find a thin one that can transfer pizza without the need for any lifting tools.
Wooden pizza peels are thicker since wood allows thinning to a certain level. However, there are many ideal ones with beveled edges that do the work similarly.
Weight
You should buy a pizza peel that you can handle with ease. There is no point in buying a cumbersome peel that you cannot maneuver. Other people in your kitchen should as well be able to use the peel effortlessly.
The weight of the pizza peel should be well distributed. Neither the handle nor the paddle should feel heavier than the other. Always aim for peels weighing less than 4 pounds. They are easy to maneuver around and do not make pizza baking feel like a huge task.
Handle
The handle is should provide a good grip. Pizza peel handles are made of different materials and lengths. Both the length and material used in the handle play a considerable part during pizza baking.
Handle Material
A peel handle material should remain cool during cooking. A handle material that stays cool keeps you safe from the high oven temperature. While there are a few metallic handles, wood makes the perfect handle for a modern pizza peel. It is comfortable to hold and does not get hot even after using in hot ovens.
Handle Length
The handle length is a critical factor that can help you choose the right pizza peel. If you are using the traditional wood-fired ovens, a long and sturdy handle is ideal. This is because wood-fired ovens are large and produce lots of heat.
Consider a shorter handle if you plan to use smaller and more modern ovens. All you need is to ensure that it does not burn your hands.
The handle length should be such that it does not become cumbersome. Long handles do well in pizza ovens, while short ones are ideal for home baking. The handle should always pop out about 5" from the oven's opening.
Material
You will find three types of pizza peels in the market; wooden, steel, and aluminum. Each type of material has its own perks.
Wood
Wooden pizza peels are the most common in the market. Wood is a classic option and has been around for long. It is sturdy and supports heavy pizzas.
The best thing with wood is that it withstands high temperature and offers quick release. However, wooden peels need special care. You cannot clean it in a dishwasher or soak in water. Also, wood tends to be heavy and unwieldy for some cooks.
Aluminum
Aluminum is a popular material for pizza peels, mainly due to its durability. It gets clean with water and soap and does not require special maintenance. Also, aluminum peels are light and easy to handle.
However, the raw dough tends to stick on its surface. If not careful, you might ruin the pizza shape and contents when transferring into the oven.
If you are buying aluminum peels, choose the ones marked as food safe. They have a special alloy treatment for better hygiene and more resistance.
Steel
Unlike wood, steel is sturdier and more durable. It is more resistant to shocks and can withstand many years of use.
Which Material Should You Buy?
All the above materials are ideal for a pizza peel. Because wood is non-stick and metal ones are lighter, having both peels is better.
A wooden pizza is ideal for launching. It is non-stick and doubles up as a serving board.
Whereas aluminum or steel pizza peels are ideal for an easy pull-out. Aluminum and steel peels have thin edges that handle pizza well while in the oven.
Personally, I own both wooden and steel pizza peels. This allows optimal launching and optimal retrieval.
Perforated
A perforated pizza peel has numerous holes on its surface. It does not come with the usual flat surface. The idea behind a perforated peel is to release as much flour as possible.
Perforated peels release the excess flour that sticks on the bottom of the dough. It eliminates both smoke and the bitter taste of pizza. They are also lightweight and easy to use.
The drawback of having a perforated peel is that it has a shorter lifetime. Also, maintaining hygiene in a perforated pizza peel is an uphill task. Food particles tend to stick on the holes, posing a cleaning challenge.
Dishwasher Safe
A pizza peel that can be cleaned in the dishwasher is an ideal one. Dishwasher safe peels have a worry-free cleanup. You can dip your peel into a dishwasher and enjoy effortless cleaning.
However, the majority of peels in the market are suitable for handwashing. With soap, water, and a scouring pad, you are good to go.
Which is the Best Pizza Peel to Buy?
Based on the above buying factors, we have picked a few of what we believe are the best pizza peels in the market.
Best Overall: Chef Pomodoro Aluminum Pizza Peel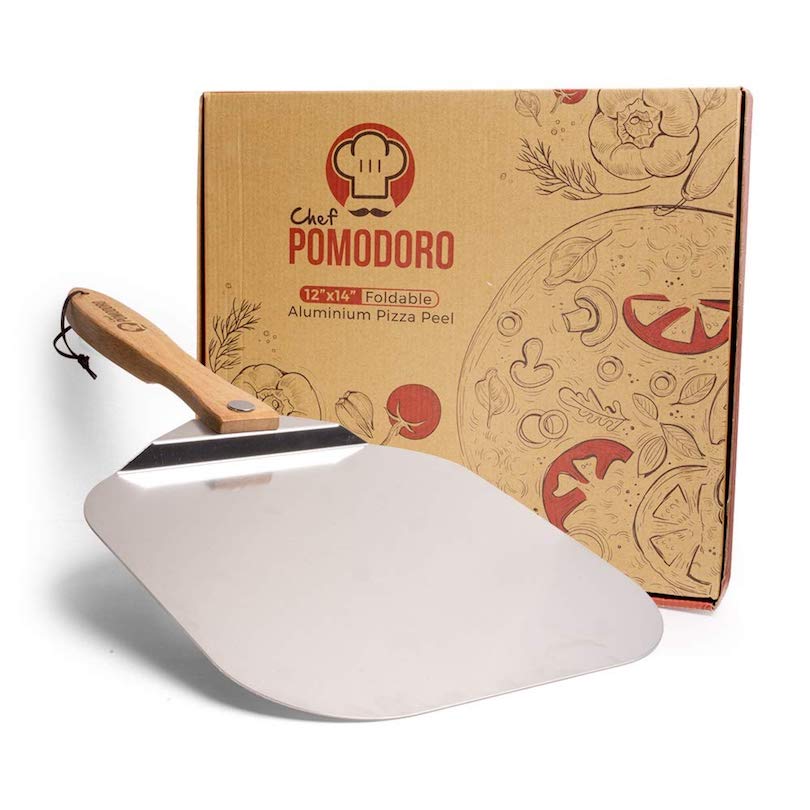 This our pick for the best pizza peel you can buy. It comes with all aspects of a great pizza peel. The Chef Pomodoro aluminum pizza peel was crafted with practicality in mind. Featuring an aesthetic design, it has a pine wood handle and an aluminum paddle.
The wooden handle provides a much-needed soft grip. It is elegant, unique, and joins firmly to the paddle through a wooden knob. Besides, the handle has a hole on its end to hang one wall.
The double aluminum paddle has thin edges that slide perfectly under the pizza to swoop it up. Unlike wood, aluminum is easy to clean and maintain. It is lightweight, and people with less physical strength can use it with ease.
This peel has a foldable design that allows easy storage. It can perfectly fit anywhere, from the kitchen rack to the backpack. The peel folds simply by loosening the knob on the handle.
Things we like
Simple Storage. You can simply fold the handle onto the paddle for easy storage. The foldable design makes it extremely compact and highly portable.
Easy to Use. This peel is not too heavy nor too light to use. The grip is sturdy but soft enough to hold. It feels great on the fingers and handles smoothly. Even when the paddle is loaded with pizza, it is lightweight, thanks to the thin aluminum paddle.
Convenient Swivel Handle. The Chef Pomodoro pizza peel has an ergonomic handle for comfort. The handle stays cool during the pizza-making process, giving a great grip and protecting your hand. The swiveling handle helps transfer pizza back and forth to achieve the ultimate bake.
Commercial Grade Aluminum Material. This peel's paddle is made of anodized aluminum to last longer. The paddle is well-polished and has thin edges to retrieve pizza easily. Coupled with the foldable handle, it looks elegant and classy.
Things we dont't like
Unstable Wooden Knob. Some users feel that the wooden knob is not well-screwed. In some instances, it might feel unstable.
Best Premium: EXO Non-Stick Super Peel Pro Composite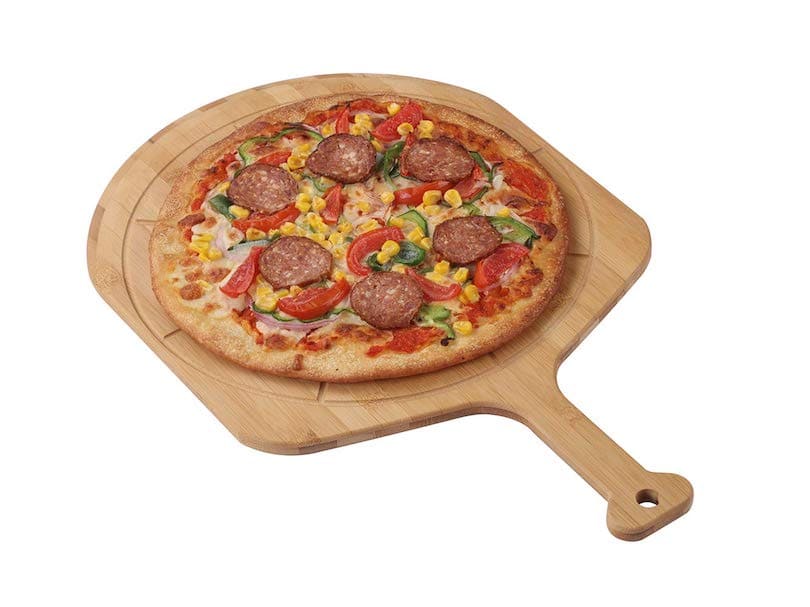 This Exo peel is a unique kitchen addition. It is not only highly ergonomic but also totally non-stick. We would pick this as the most ergonomic and best premium pizza peel
It has an innovative technology that slides pizza into the oven. This technology incorporates a pastry cloth conveyor belt that pushes pizza into the oven. All that is needed is to dust the cloth conveyor belt with flour. Pizza is placed on the lip of the peel, as the user pulls back on the slider.
The peel's new food-safe polymer seal coat makes it moisture-proof. Besides, it is dishwasher safe and does not warp like wood. With it, you can as well transfer anything, from pie crusts to freeform artisan bread.
Things we like
Effortless Transfer. The new cloth technology looks like the trend of the future. It makes work easier to use and feels a better option. Transferring pizza from the oven to the table is a downhill task as well.
Non-stick Performance. The cloth provides a great non-stick surface ideal for the production of a compact pizza.
Easy to Clean. This pizza peel is dishwasher safe and easy to clean. The cloth is also machine-washable and less cumbersome.
Things we dont't like
Requires Some Learning. To use this pizza peel conveniently, you need to take some to learn. It is not the best for beginners.
Best Budget: Fiery Chef Bamboo Pizza Peel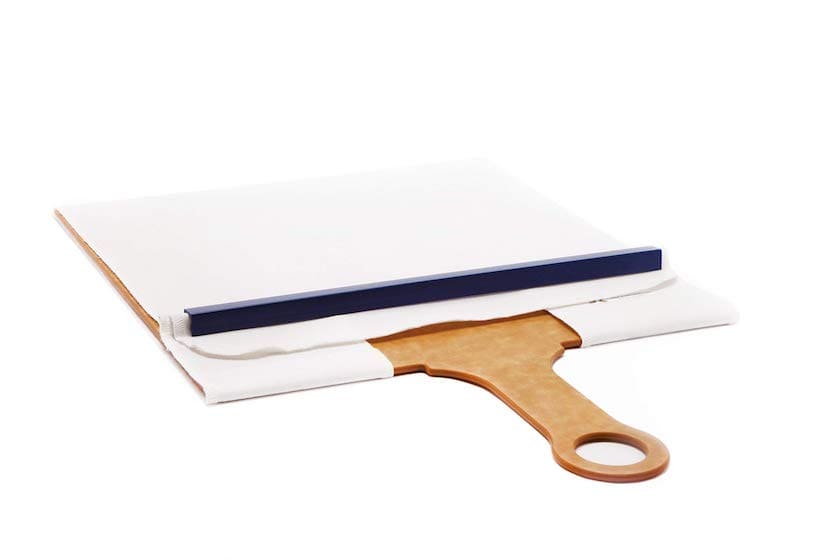 Made of organic bamboo, this is the best budget pizza peel you can buy. Going for a mere $25, it is affordable and long-lasting.
This peel features a natural bamboo laminate paddle and handle. The 19.7" x 12.6" surface is ideal for home ovens. It's non-stick, food-safe, and has guides on the surface to cut identical pizza pieces.

The thin 0.6" tapered edges are cleverly designed to make the pizza slide easily. The handle features a well-contoured design that allows secure and safe handling. Even when topped with a large pizza, it feels comfortable.
Things we like
Highly Durable. The Fiery Chef Bamboo Pizza Peel is exceptionally durable. It has a stable bamboo construction that does not burn or split. With proper care, it can serve you for many years.
Healthy. Thanks to the peel's antibacterial properties, it is healthy to use for preparing pizza. No bacteria can survive in the naturally treated bamboo surface. Besides, it does not form knife grooves that tend to hide bacteria.
Multipurpose. You can use this peel to cut bread or cheese. Also, it has an attractive finish, which makes it an ideal serving block.
Things we dont't like
Poor Slide. Some users feel that this peel is not so good when it comes to scooping pizza. It is tapered on both edges and does not provide the best angle against the oven stone.
American Metalcraft Large Blade Peel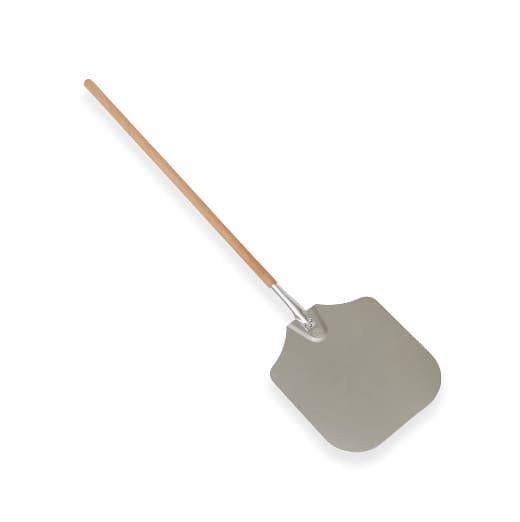 The American MetalCraft Aluminum Pizza Peel is a convenient tool for lifting pizza from backyard ovens. It is our pick for the best pizza peel with a long handle. With an expert construction, it ranks among the largest pizza peels in the market. It is large, smooth, and has an eye-catching finishing.
Thanks to its long 38" wooden handle, it is perfect for Sicilian and Neapolitan pizzas in large outdoor ovens. To make this peel more stable, the wooden handle is riveted to the peel's blade. The three rivets that join the handle to the blade create a perfect bonding.
It features a 14" x 16" aluminum blade that can unload a pizza from the oven's furthest end. The blade is specially designed to slide under the pizza without causing damage.
This peel does not absorb food particles or unwanted odors. It does not need seasoning and works well. Providing the traditional aesthetics, it doubles up as a serving and cutting board.
Things we like
Ideal for Stone Ovens. If you are using a stone oven, getting pizza into it might be a problem. However, this peel makes work easier for you. It is large enough, and its handle has a firm grip.
Durable. The handle is attached securely to the handle, and there is no fear of getting loose. Its aluminum is food-safe and can last for many years of cooking. The wooden material is highly resistant to breaking unless mishandled.
Come in 3 Variants. Besides the 38" handle, it also comes with 21" and 12" handles. You can choose the right one that fits your cooking needs. If your oven is a small one, you can go for the 12" option to avoid strain.
Things we dont't like
Requires a Lot of Flour. This pizza peel is sticky by nature. To prevent dough from sticking, you need to apply flour on it. Excess flour on the dough ruins the pizza test and brings some unwanted odors.
Ooni 12″ Perforated Pizza Peel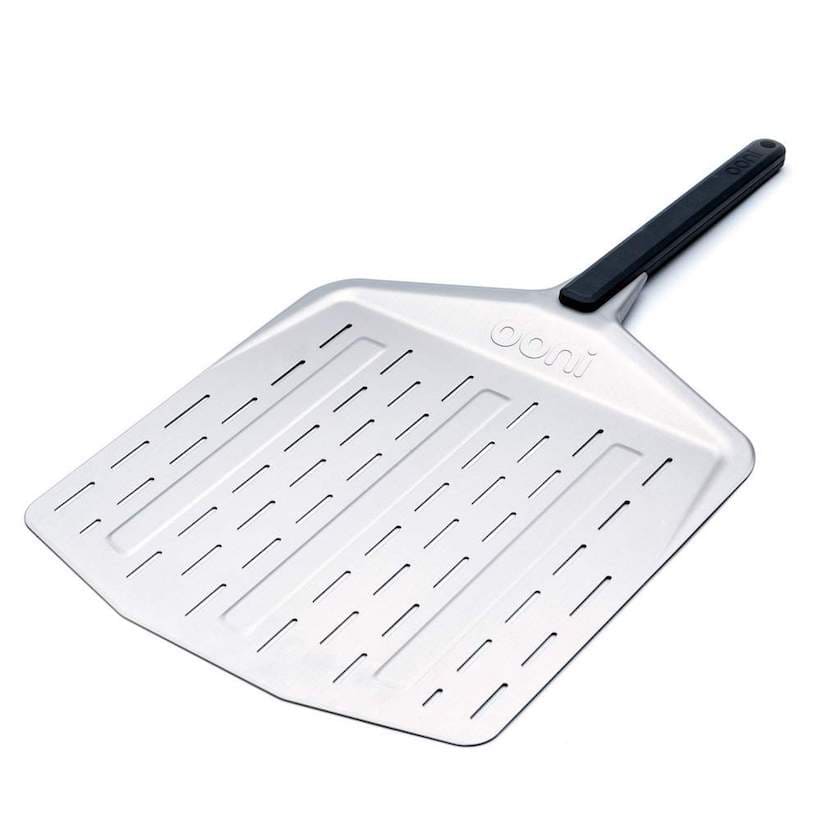 This our pick for the best perforated pizza peel. It is compact and offers an excellent surface for launching pizzas less than 12".
Made of aluminum, this peel turns and retrieves your pizza from the oven quickly. Its blade has an anodized coating that resists corrosion even after long periods of use. It is super sleek with a smooth surface that offers a seamless experience when baking pizza.
Unlike the conventional peels, it comes with a 12" glass-reinforced nylon handle. While it's lightweight, the handle is sturdy and firm. It allows the user to turn pizza without experiencing droppings.
This peel has a perforated blade that releases flour away from the dough. Besides, the perforations ensure that steam evaporates to allow the perfect bake. Its tapered edge slides straight under the pizza base, enabling smooth launch and retrieval.
Things we like
Lightweight and Compact. This pizza peel is 26" long and weighs a mere 585g. You do not need to use a lot of effort while preparing your pizza. Its compact nature makes it easy to store as it finds space in your kitchen rack.
Perforations Produce a Better Pizza. Unlike flat peel surfaces, a perforated one takes away excess flour under the dough. Also, it allows the evaporation of steam, producing a well-baked pizza.
Things we dont't like
Difficult to Clean. Its perforations' arrangement does not allow smooth cleaning. To get rid of all dirt on it, you have to spend quite some time scrubbing.
Cooks a Small Pizza. This peel's surface can only allow a small-sized pizza of up to 12". This makes it unideal for big families that need larger pieces.
Ooni 12″ Classic Pizza Peel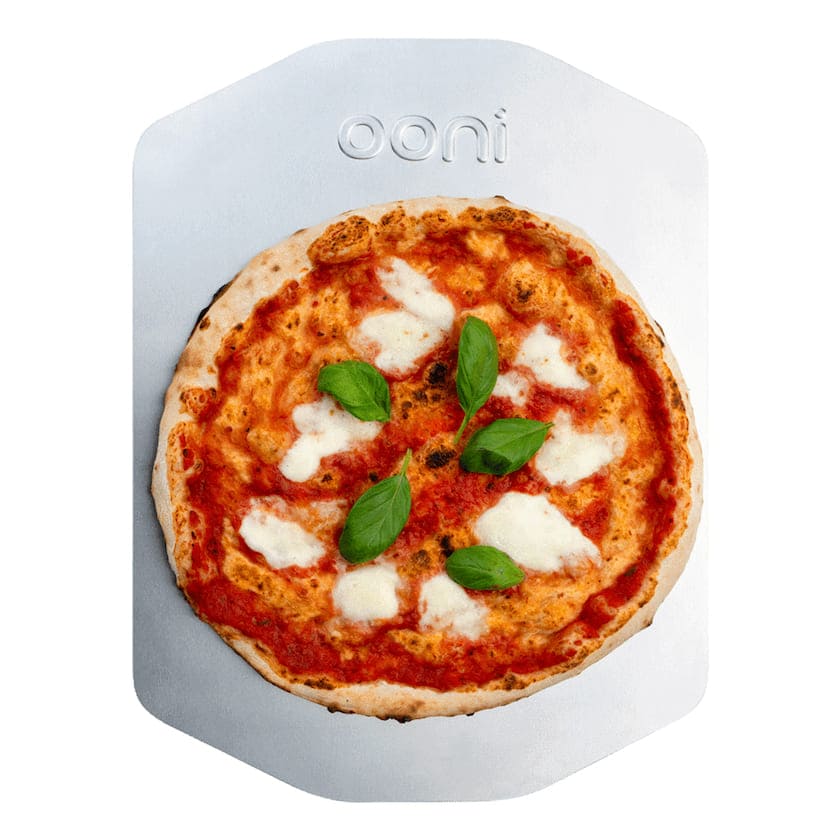 Made in a timeless classic design, this pizza peel ignites the passion for pizza. Made of aluminum, it is compatible with all Ooni pizza ovens.
This peel features a flat surface with no handle. It is designed to complement other peels by increasing the speed of launching pizza. Mostly, it's used on the worktop rather than inside the oven.
The Ooni 12" classic pizza peel minimizes wait time and maximizes output. With a sprinkle of semolina or floor, it slides pizza perfectly into the oven.
Things we like
Easy to Store. Due to its compact size and lack of and handle, it's easy to clean and store. Also, it's very lightweight and easy to carry around. If you want to prepare pizza outdoors, this is the perfect tool to carry.
Enables More Output. In case you want to prepare numerous pizzas, this peel maximizes output. With it, you can make the next pizza quickly as the other one cooks in the oven. This peel is thus suitable for commercial purposes.
Things we dont't like
Lack of Handle Makes It Rigid. Many users feel that this pizza is not as convenient as the ones with handles. It lacks some style and feels somehow awkward. Amateur users find it hard to prepare a pizza with a handleless peel.
Pizza Royale Bamboo Pizza Peel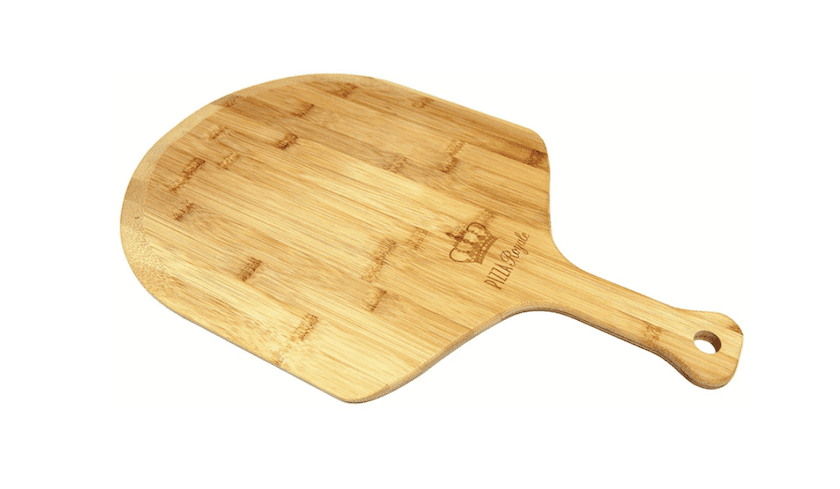 This is the best wooden pizza peel you can buy. It is a product of thoughtful design and a great passion for pizza. With excellent durability, appearance, and user-friendliness, this peel creates a lasting impression.
It is multipurpose, aesthetically beautiful. Made of bamboo, this peel does not chip, split, or warp. It is versatile and doubles as a cutting board and service block.
This peel features an antimicrobial surface that prevents bacterial growth. The 100% toxic-free surface is non-stick and launches pizza without causing deformations. The handle has a good grip and does not slip during cooking. It maneuvers well according to your needs.
Another standout feature is the peel's design. It has a large surface enough to bake pizza comfortably and fit into the oven. The handle has a hole on its end to hand after washing. Besides, the ends are tapered such that pizza can easily slide in and out of the oven.
Things we like
Resistant to Deformation. Unlike the majority of wooden materials, bamboo is resistant to deformity. Besides, this peel is designed to withstand deformation, chipping, and warping.
Has a Beautiful Serving Surface. The Pizza Royale Bamboo Peel has an attractive look that many users love. The great design is a game-changer if you are using the peel for commercial services.
Thin Enough to Load and Unload Pizza. Unlike typical wooden peels, the Pizza Royale bamboo peel has a flat edge to release pizza smoothly. Also, the thin edge slides under the pizza without causing deformation.
Multipurpose. This peel is not limited to cutting pizza only. You can use it for chopping herbs and cheese. It is practical and hence a great kitchen addition.
Things we dont't like
Does not Soak in Water. This peel cannot last long when soaked in water. It breaks in the middle as the bamboo expands when water-logged. You need a proper care routine if you want the peel to last long.
Frequently Asked Questions
Is Wood or Petal Pizza Peel Better?
Both surfaces are great for pizza peels. Wood is a better insulator than metal. It can withstand heat and is durable. Unlike in aluminum and steel peels, wooden ones are non-stick. On the other hand, aluminum peels are lighter and easy to maneuver. They work well in large ovens and do slide well under the pizza.
What is the Best Wood for a Pizza Peel?
Many pizza peels are made of bamboo and acacia. Bamboo is a far much better material than acacia. It is sturdy, aesthetically beautiful, and does not warp. Bamboo has antimicrobial properties that make it healthy for use. Unlike other woods, bamboo does not form knife grooves.
What is a Pizza Peel Used For?
A pizza peel is used to launch pizza into the oven and retrieve it back. It places a pizza into the oven without spilling its toppings. Also, it acts as a giant spatula that allows easy retrieval of pizza from hot ovens. Some pizza peels double as serving boards.
How Thick Should a Pizza Peel Be?
Pizza peels should be thin to scoop pizza more easily. An ideal pizza peel should be less than 0.5" thick. The thinner the peel, the easier the process of retrieving pizza from the oven.
The Bottom Line
These pizza peels will revolutionize your pizza preparation. They have great features to provide the ultimate pizza-making experience. If you are a pizza lover, grab a peel that suits all your needs, and you will be good to go.
The Chef Pomodoro Pizza Peel is the most outstanding in the market. It has a wide range of futuristic features such as swivel handle technology and commercial grade construction. It is attractive and has a great overall design. Made of anodized aluminum, this peel is durable, lightweight, and handles well. Its pine handle provides a comfortable grip and allows perfect control.
If you can get both wooden and metal (aluminum/steel) peels, the better. Wooden peels provide the perfect launching surface, while metals one ensures seamless retrieval. This ideal combination makes pizza baking fun and stress-free.